Back then . . . . '79 Mazda RX-7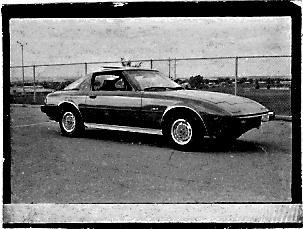 From 35 years ago this summer, I remember the rough shift of the automatic transmission from first gear to second in the 1979 Mazda RX-7 sports car with rotary engine, loaned to me by Buckingham Imports, 334 Havana St., Aurora. Excerpts from the review back then:
The addition of an automatic transmission to the 1979 Mazda RX-7 took none of the allure from that popular sports car. It's not as quick as a stick on getaway, though it's easier driving in the city, and at about 25 miles per hour or 3,500 rpm the automatic begins to run right along with the 4-speed. The ride offered by the two-seater is above average for a sports car, and handling is outstanding. Weight distribution is the key, as the compact rotary engine is mounted far back in the engine compartment behind the front axles. It was at its best on the hills and curves of the highway between Castle Rock and Franktown. Mazda's use of rotary engines was cut by poor ratings of the Environmental Protection Agency five years ago. The present rotary, free of most vibrations, averaged 15.6 miles per gallon in town driving and 20.6 on the highway. The 2,400-pound RX-7 is on a wheelbase of only 95 inches and is 169 inches in overall length. With its narrow track, turning circle is only 31.5 feet. Its window sticker of $9,739  included the automatic transmission, air conditioning, removable sunroof, AM/FM stereo radio with power antenna, alloy wheels and electric remote hatch release. Officials of Toyo Kogyo, the Japanese builder of the Mazda, compare the RX-7 to the 1947 MG-TC, the '53 Corvette and the '70 Datsun 240-Z. I don't know about that.