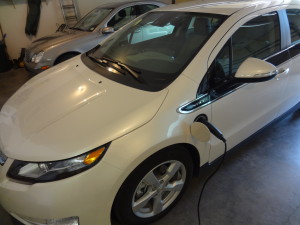 While tallying six-month sales totals for hybrids and electrics early this week, I took possession for a few days of the 2014 Chevy Volt. Its arrival was good timing, for the Volt is one of half a dozen strong competitors among plug-in hybrid electric and battery electric models.
The Volt outsold the Toyota Prius plug-in electric in June; surprisingly, though, both the Chevy and the Toyota were outsold for the month by the Ford Fusion Energi.
For the first half of this year, the Prius Plug-in leads sales of that category with 9,300, followed by the Volt with 8,615, the FusionEnergi with 6,235 and the Ford C-Max Energi with 3,928.
Among battery-powered electrics which have no gasoline engines, the Nissan Leaf has outsold the Tesla Model S, 12,736 to 8,200 for the first six months of the year.
Despite a sharp drop in sales of the Toyota Prius Liftback in the past year, it continues to dominate totals in the regular gas/electric hybrid market, as it has since it was introduced 14 years ago.
The Prius Liftback has sold 63,037 hybrids through the end of June, far ahead of the next three, the Toyota Camry and Prius C and the Ford Fusion, each of which has sold barely over 20,000. The Prius Liftback at this time last year had sold 76,809 hybrids.
Of 8,123,389 new cars and trucks sold thus far this year in the U.S., 287,761 are hybrids, plug-ins and electrics. That is 3.5 percent of the market. The 287,761 combined sales total for the three "hybrid" categories is slightly below the total of 298,517 for the same period of 2013.
Following are sales totals for leaders among the three categories of hybrids and electrics:
Hybrids
Toyota Prius Liftback 63,037; Toyota Camry 21,771; Ford Fusion 20,800; Toyota Prius C 20,283; Toyota Prius V 14,481; Hyundai Sonata 11,349; Ford C-Max 9,522; Lexus CT200h 8,337; Toyota Avalon 8,099; Lexus ES 6,947; Honda Accord 6,888; Kia Optima 6,417; Lincoln MKZ 6,018; Subaru XV Crosstrek 4,243; Lexus RX450h 4,206.
Plug-in Electrics
Toyota Prius 9,300; Chevrolet Volt 8,615; Ford Fusion Energi 6,235; Ford C-Max Energi 3,928; Porsche Panamera S E-Hybrid 481; Cadillac ELR 390; Honda Accord 180.
Fully Electrics
Nissan Leaf 12,736; Tesla Model S 8,200; Smart for Two EV 1,092; Ford Focus EV 896; Fiat 500E 726; BMW i3 694; Chevrolet Spark 636; Toyota RAV4 EV 546; Honda Fit EV 221; Mitsubishi i 97.