Ford, YMCA gather costumes for kids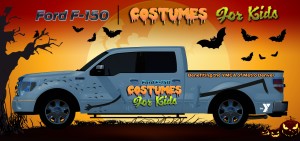 Five Denver-area Ford stores and several YMCA locations are accepting new and gently used Halloween costumes for kids in need.
Costumes for Kids, the Halloween drive, provided more than 150 costumes in the initial launch of the program last October by the Ford stores and YMCA of Metropolitan Denver.
"It was extremely meaningful to see all of the smiling faces of the children who benefited from this program last year," said Todd Rabourn, Denver regional manager for Ford Motor Co. "Every kid deserves to get dressed up and have fun on Halloween and Denver area Ford dealerships are excited to help make that happen."
"We are very grateful for the partnership with Ford again on the costume drive," said Jim Hiner, president and CEO, YMCA of Metropolitan Denver. "We look forward to the opportunity to help a number of children participate in Halloween this year with a new costume. The partnership is one more way we are able to strengthen our community."
Halloween costumes can be dropped off through Saturday, Oct. 11, at five Ford dealerships, including
Freeway Ford, 4471 E. Evans Ave., Denver;
Groove Ford, 10039 E. Arapahoe Rd., Centennial;
Longmont Ford, 235 Alpine St., Longmont;
Medved Ford, 1404 S. Wilcox St., Castle Rock, and
Sill-TerHar Ford, 150 Alter St., Broomfield.
Also at
Patton Boggs International Law Firm, 1801 California St., Denver;
YMCA of Metropolitan Denver, 2526 S. Colorado Blvd., Denver;
Downtown YMCA, 25 E. 16th Ave., Denver;
Duncan Family YMCA, 6350 Eldridge St., Arvada;
Littleton Family YMCA, 11 W. Dry Creek Ct., Littleton;
Schlessman Family YMCA, 3901 Yale Ave., Denver, and
Southwest Family YMCA, 5181 W. Kenyon Ave., Denver.