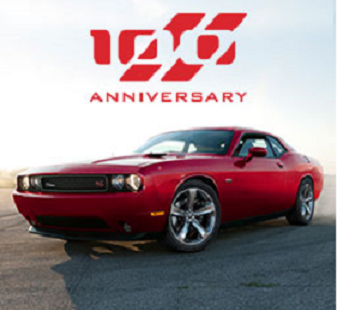 Memorable moments with Dodge
While Dodge celebrates its 100th anniversary this year, I look over the list of hundreds of new cars and trucks I've reviewed since the '70s and find that 80 have been of the Dodge brand.
The first was the little Omni in 1978, the most recent a 2014 Dodge Durango on a frigid (-11) morning in February.
Some of the more memorable include:
1978 Dodge Omni – Back in July of 1978, many of my Denver neighbors walked over into my driveway to take a look at Dodge's new Omni. It was interesting, for one thing, for the fact its engine and transmission sat sideways under the hood. For another, it was of front-wheel-drive configuration. These were the early days of the American auto industry's front-drive revolution in response to the gasoline shortages and price spikes of the '70s decade. Another unusual design for the Chrysler Corp. product was its suspension system. The company long had been a proponent of torsion bars for the front end and leaf springs on the rear, but the Omni had coil springs at all four wheels. The little four-door, weighing 2,200 pounds on a wheelbase of only 99 inches, averaged 30.6 miles per gallon on the highway with its 2.2-liter, 4-cylinder engine and 3-speed automatic transmission. Its base price of $3,804 was boosted to $5,490 with lots of options, including air conditioning, velour seats, undercoating and white-sidewall tires.
1981 Dodge Aries K Car – Dodge's family-size car of the future in the spring of 1981 was the Aries K Car, offering outstanding economy, roomy interior and, like the Omni, front-wheel drive. I parked it beside a 1956 Dodge Royal four-door sedan, which I owned at the time; the Aries was 3 feet shorter in overall length. With a 2.2-liter, 4-cylinder engine and 4-speed manual transmission, the Aries recorded fuel mileages as high as 38.6 miles per gallon. Power steering was among options on the Aries, which carried a sticker price of $7,963.
1991 Dodge Grand Caravan – The Dodge Grand Caravan provided a Christmas holiday drive from Pueblo to Denver and back. With 2 ½ million of them down the road by '91, there was little fault to find with the front-wheel-drive minivans built by Chrysler Corp. Handling was better than expected with the extended-length van. Providing decent power was a 3.3-liter V-6 engine with 4-speed automatic transmission, which delivered an average of 23.8 miles per gallon of fuel. Sticker price was $20,836.
1998 Dodge Viper – There was nothing stronger in this country at that time, October of 1998. Under the hood of the Viper GTS coupe was a 488-cubic-inch, V-10 engine producing 450 horsepower and 490 pound-feet of torque. With a 6-speed manual transmission, it would run from 0 to 60 in about 4 seconds, according to Dodge officials, and would attain speeds in the 180s. I averaged 11.9 miles per gallon. With the addition of a $3,000 gas-guzzler tax, its sticker price reached $70,000.
2002 Dodge Viper plant – In late January 2002, a day after attending the North American International Auto Show in Detroit's Cobo Hall, sons Dale and Brent and I toured the Conner Avenue Assembly Plant, where highly prized employees assembled by hand Dodge Vipers (production rate was eight Vipers per day). A highlight of the Conner visit was getting a peek at a restyled 2003 Viper atop a hoist in the factory. It showed up in the showrooms eight months later with a 505-cubic-inch, 500-horsepower V-10. Viper prices in 2002 began at $72,500. Red and yellow were the most popular colors.
2008 Dodge Challenger SRT8 – The Dodge Challenger returned, 35 years after it ended production of the original. The '08 model was a two-door hardtop and looked much like the earlier one, with wide hood stripes and dual hood scoops, high-riding rear deck and chrome gas cap. The SRT8 was equipped with a big Hemi, the 425-horsepower, 6.1-liter V-8 (standard Hemi was 5.7-liter), which would run 0 to 60 in less than 5 seconds. With the low-end thrust and the sound of old out its dual tailpipes, it was awesome to drive. The original Challenger made its debut in the fall of 1969 as a '70 model, and was built until April 1974. Almost 190,000 were sold, with engine choices of a 426-cubic-inch Hemi V-8, a 440 V-8, 383 V-8, 318 V-8 and Slant-6. The new Challenger, built on the platform of the Chrysler 300, was 6 inches longer than the '70 Challenger, and weighed 450 pounds more.
2013 Dodge Dart – The Dart returns to Dodge showrooms after an absence of 37 years. The Limited edition, with sticker price of $25,065, drops right into the middle of the compact class, battling popular names such as Focus, Cruze, Civic and Corolla. Jan and I drove the Dart to Vail in the fall of '12. The climb to Vail and, once there, the twisty roads made it an excellent test ground for new cars. The Dart is a merger product with Italy's Fiat, which rescued Chrysler Group from its financial collapse of four years ago.
2014 Ram 1500 EcoDiesel – The long-awaited turbodiesel engine in a half-ton pickup showed up in late March this year, just in time for the annual Denver Auto Show. The 2014 Ram 1500 Outdoorsman Crew Cab 4X4, equipped with a 3.0-liter EcoDiesel V-6 and 8-speed automatic transmission, carried an EPA estimate of 27 miles per gallon on the highway. In 425 miles, more than 300 on the highway, it averaged 23.9 mpg. It performs with strong torque from its Italian-built diesel engine and smooth shifts from the German-developed transmission. The half-ton crew cab offers 9,250 pounds of tow capacity. An optional electronically controlled air suspension with the push of a button will adjust height of the pickup. Aero mode will drop ground clearance an inch for improved fuel economy at highway speeds, offroad preparation raises it for better clearance in rugged going, and park mode lowers the truck 2 inches for easier access and exit. Ram several years ago was made its own division separate from Dodge; many automotive followers still associate the two.