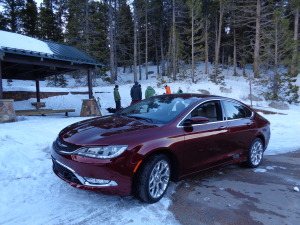 Today, I review a '15 on 12-13-14.
It's the Chrysler 200C all-wheel-drive midsize sedan, which posted the hottest sales gain in the auto industry last month.
Whether the numerically based lead of the column is liked, or disliked, it is the last one this century. Three years ago, in the fall of 2011, an opportunity arose when I wrote, "Two-doors continue to roll my direction, and I have a '12 for you on the morning of 9-10-11." It was the 2012 Honda Civic Coupe. The year 2015 will be a step beyond linking up consecutively with months (which, of course, end with 12) and date numericals. Something else will come to mind, I'm sure.
To put Chrysler's AWD system to some use, we drove it to 9,500-feet-high Bear Lake in Rocky Mountain National Park where 17 inches of snow was on the ground. That's 17 more than was in the lower lands of northern Colorado.
The all-wheel-drive option makes the 200C a nice entry in Colorado country. Few midsize sedans offer grip at all four wheels – Toyota Camry doesn't, nor does Honda Accord. It is available on the Ford Fusion and Subaru Legacy, and the Volkswagen Passat has recently added 4Motion. It is more common on luxury models.
The 200C handled easily the little bit of ice we encountered near the parking lot of Bear Lake. The new AWD system, when called upon, instantly splits torque between the front and rear wheels for optimal traction. When front-wheel-drive performance is sufficient, the system disengages power to the rear axle, gaining increased fuel efficiency.
A powertrain highlight is Chrysler's 9-speed automatic transmission, tied to its 295-horsepoower, 3.6-liter Pentastar V-6 engine. A rotary dial on the center console, something like that used by Jaguar, has replaced the traditional shifter for the 200. It simplifies the shift process and is enhanced by paddle shifters at the steering wheel. Using the paddles in manual mode, the driver controls limitless gearing possibilities among the nine speeds. A Sport mode increases throttle response, quickens shifts and lessens the normal traction control.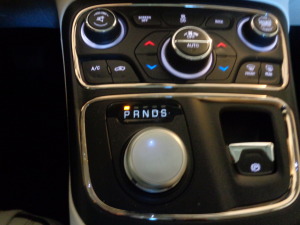 The Pentastar, smoothed by the 9-speed, seems to work very hard and noisily under stressful acceleration demands. A bit more oomph is needed on occasion. And that may soon be at hand. One afternoon while the 200 was in my possession, a daily Internet newscast from Detroit (Tom Worobec, Automotive News) informed me that Chrysler plans to turbocharge the Pentastar V-6 later in 2015.
This, if added to the 200C, will make it a leader among the midsize sedans.
Overall driving, including the climb to Bear Lake, averaged 26.9 miles per gallon.
With improved soft-touch, high-end materials, the 200's cabin has gained a spot on Ward's 10 Best Interiors List for the year. The upgraded 200C has power controls for both front seats; a complaint with lower-end models is that the front-passenger seat is positioned very low and there is no height adjustment. A large storage bin has been carved out in the center console, and another wide opening has opened beneath the center portion of the dash, designed somewhat like those in Volvos for a number of years.
A heated steering wheel is among interior niceties; the heat into the steering wheel can be set to turn on automatically when a temperature drops to a certain cold level.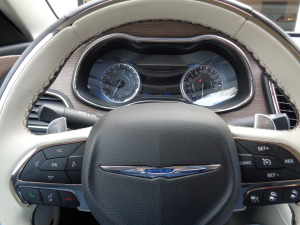 An impressive Uconnect 8.4 infotainment system, navigation, adaptive cruise, automatic high beams, park assist, premium leather heated and cooled seats and lane-departure system helped push sticker price of the Chrysler from a base of $30,425 to sticker of $35,900.
Base engine for the Chrysler 200 is a 184-hp, 2.4-liter 4-cylinder.
Sales of the 200 sedan last month totaled 14,317, a 156 percent increase over the previous month. It has been years since a Chrysler midsize model has sold that many units in a month. It outsold the Chevy Malibu, Subaru Outback, Kia Optima and Volkswagen Passat for the month.
Here are the specifications for the '15 Chrysler 200C AWD:
Capacity 5-passenger
Wheelbase 108 inches
Length 192.3 inches
Width 73.6 inches
Height 58.7 inches
Curb Weight 3,473 pounds
Track 62.1 inches front, 62 rear
Ground Clearance 5.8 inches
Turn Circle 39.8 feet
Drivetrain All-wheel-drive
Engine 3.6-liter V-6
Horsepower/Torque 295/262
Transmission 9-speed automatic
Steering variable-assist power
Suspension strut front, multilink rear
Fuel mileage estimate 18/29
Fuel mileage average 26.9
Fuel Tank 15.8 gallons, regular unleaded
Wheels 18-inch
Cargo Volume 16 cubic feet
Warranty 3 years/36,000 miles basic, 5/100,000 powertrain
Competitors: Ford Fusion, Acura ILX, Volkswagen Passat, Subaru Legacy, Toyota Camry
Assembly Plant: Sterling Heights, Mich.
Parts Content: U.S./Canadian 67%, Mexico 16%
Base Price of Lowest Model: $21,700; Base Price of Review Model: $30,425; Destination Charge: $995; Sticker Price: $35,900.