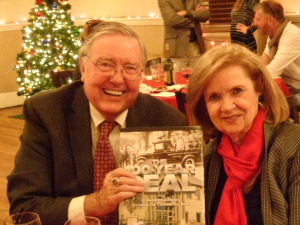 "What a deal," said an exuberant Bob Sweeney when his name was drawn as recipient of a copy of the just-published Colorado Automobile Dealers Association's 100th anniversary history book.
The 336-page, coffee-table-type book, "The 100-Year Deal," was handed to Sweeney and his wife, Gerri, during the annual holiday party of the Rocky Mountain Automotive Press at the Denver Press Club. Sweeneys are publishers of The Villager newspaper in Greenwood Village.
Included in the group of 40 persons at the party were writers, bloggers and photographers of automotive interest, along with several automobile manufacturer representatives.
Andre Smirnov, president of the automotive press association, directed the dinner party. Tim Jackson, who for 10 years has headed the state's dealer association, drew Sweeney's name from a collection of names of all those in attendance.
In addition to celebrating the 100 years of the Colorado car dealers association, the volume includes a reprint of The Colorado Car Book (1996) by Bud Wells.
For more information regarding the book, or to order it, visit cadaat100.org. The book is priced at $59.95.