Soft top suits lighter '16 Mazda Miata
A more muscular and sporty exterior is a noticeable highlight for the redesigned Mazda MX-5 Miata convertible for 2016; of more consequence, though, is a 25 percent boost in fuel mileage.
The pleasure of testing a Grand Touring version of the new Miata was enhanced by performance from a short-shifting 6-speed manual transmission.  The stick does upshifting or downshifting very quickly and smoothly. With its small size, the Miata probably seems faster than it might be from its 155-horsepower, 2.0-liter 4-cylinder engine. It's the same power as used in the popular Mazda3.
The rear-drive Miata has long been a favorite; it more closely than anything else took the places of the long-loved MGs and Triumphs of the '50s, '60s and '70s.
This review model displayed a soft top, which seems to better suit the looks of a Miata than does a hardtop. The black cloth looks good with the blue reflex (a new color for Mazda) exterior.
The Mazda does not offer a rearview camera, and with the soft top in place, it is difficult to see all areas to the rear. Of course, with the top down, the camera is of no great need. Regardless, the matter will soon be taken care of, for federal standards call for all new vehicles under 10,000 pounds to have backup cameras by mid-2018.
The top is easily dropped. Unhook a latch at the windshield header and push the cloth top down into the area behind the seatbacks, where one more good push latches it into the recessed area behind the small cabin space. The top fits down into the well behind the seats, preserving a precious 4 cubic feet of space in the trunk.
The new Miata sits low and has shed considerable weight, a couple hundred pounds, and now tips the scales at a fairly light 2,332 pounds. That adds to improved fuel mileage.
With the SkyActiv engine and lighter structure, the Miata carries an EPA rating of 27/34 miles per gallon, compared to 21/28 a year ago. My overall average in a 50/50 split of city/highway running was 31.8.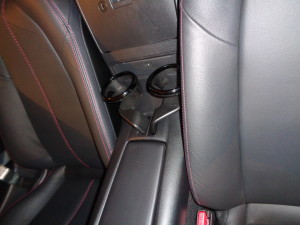 To enjoy a cup of coffee while driving the Miata, place it either between your legs or in one of two cupholders that sit between the seatbacks far behind the driver. To retrieve it from the cupholder, the driver must wrap the left arm around the body to the center between the seatbacks or lean forward and twist the right arm underhanded and fish for a grasp of the cup.
The Grand Touring trim pushed sticker price on the Miata to $31,015. This includes navigation with 7-inch display screen, Bose AM/FM/CD with nine speakers, Bluetooth hands-free phone and audio, two USB ports and SiriusXM satellite radio.
Other niceties include heated leather-trimmed seats, leather-wrapped steering wheel and shift knob, push-button ignition, cruise control, trip computer, automatic air conditioning, blind-spot and lane-departure warning systems.
Here are the specifications for the '16 Mazda Miata convertible:
Capacity 2-passenger
Wheelbase 90.9 inches
Length 154.1 inches
Width 68.3 inches
Height 48.8 inches
Curb Weight 2,332 pounds
Track 58.9 inches front, 59.17 rear
Ground Clearance 5.32 inches
Turn Circle 30.8 feet
Drivetrain Rear-wheel drive
Engine 2.0-liter 4-cylinder
Horsepower/Torque 155/148
Transmission 6-speeed manual
Steering electric power-assist rack-and-pinion
Suspension double-wishbone front, multilink rear
Fuel mileage estimate 27/34
Fuel mileage average 31.5
Fuel Tank 11.89 gallons, premium unleaded
Wheels 17-inch
Tires Bridgestone Potenza 205/45R17
Cargo Volume 4.59 cubic feet
Warranty 3years/36,000 miles basic, 5/60,000 powertrain
Competitors Mini Roadster, Ford Mustang, Audi TT, Nissan 370Z, BMW Z4
Assembly Plant Hiroshima, Japan
Parts Content Japan 95%
Base Price of Lowest Model $24,915; Base Price of Review Model $30,065; Destination Charge $820; Sticker Price $31,015.