Back then . . . .'82 Mercury LN7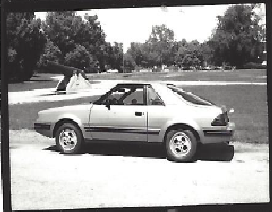 1982 Mercury LN7 sport coupe. (Bud Wells photo/1982)(Thirty-five years ago, I wrote this automotive review of the 1982 Mercury LN7 sport coupe for The Denver Post. It was borrowed by Kumpf Lincoln-Mercury, 5000 S. Broadway, for testing. Excerpts:)
A rear bubbleback door gives Mercury's new LN7 sport coupe one of the more distinct appearances among today's two-door automobiles. The little 2,100-pound car has sold very well since being introduced several months ago.
Front-wheel drive and independent rear suspension put it up there with the good ones in handling. Steering is extra quick, but with no oversteer tendency. The test model was equipped with power steering.
The LN7 even sounds sporty. It has been fitted with a "tuned" exhaust system, which makes it sound "throaty" and also improves performance at highway speeds.
Mercury says the two-seater has the lowest drag coefficient or wind resistance of any American car. It is only 50 inches high and has a low, sloping hood, wedge front and "fast" windshield.
The car averaged 32.6 miles per gallon in use about Denver, with lots of stop-and-go movement. EPA ratings are 29 in city driving and an amazing 46 on the highway.
The powertrain is a1.6-liter four-cylinder engine, two-barrel carburetor and four-speed manual transmission. A high-altitude emission system was added to the test car. The engine is fairly quick to 30 miles per hour, then sets a slower pace. Its 0 to 50 time is average. It works at just over 2,500 rpm at 55 miles per hour in fourth (overdrive) gear.
Base price of $7,750 swelled to a sticker price of $9,638 with the addition of air conditioning, leather trim, power steering, fingertip speed control, AM/FM cassette stereo, performance suspension with 13-inch aluminum wheels. Power  brakes and steel-belted radial tires are among standard equipment.
Wheelbase of the Mercury is 94.2 inches, with overall length of 170.3 inches and with of 66.