Back then. . . . .'79 Plymouth Arrow pickup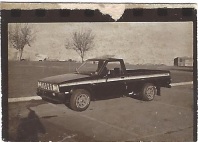 The 1979 Plymouth Arrow and its look-alike Dodge D-50 are the newest of the hot-selling mini-pickups, built in Japan and imported by manufacturers in the U.S.
A test of the Arrow Sport pickup showed it to be strong in economy and of good suspension with comfortable ride. It was equipped with one of the biggest 4-cylinder engines available in a mini-pickup – a 156-cubic-inch which develops 105 horsepower.
The powerplant, with two-barrel carburetor and automatic transmission, delivered 21.4 miles per gallon of fuel in town driving. Braking was good from front discs and rear drums, and the unit's front coils and rear leaf springs refused to bottom out on dips. A bit of understeer was felt.
The Arrow is built by Mitsubishi, which entered the U.S. market some years back with the Dodge Colt.
Base price is $5,608, with $167 added for destination charge. Total price was boosted to $6,742.55 with options of automatic transmission, low-mounted left and right mirrors, skylite sunroof, mud guards, rear step-type bumper and undercoating.
The mini-pickup field is one of the fastest-growing in sales. Besides the Arrow and D-50, it includes Chevrolet Luv, Ford Courier, Toyota, Datsun and Mazda.
The vehicle was provided for testing by Roger Mauro Chryslerville, 7200 W. Colfax.