Power, size, style – in plaid – added to Volvo V60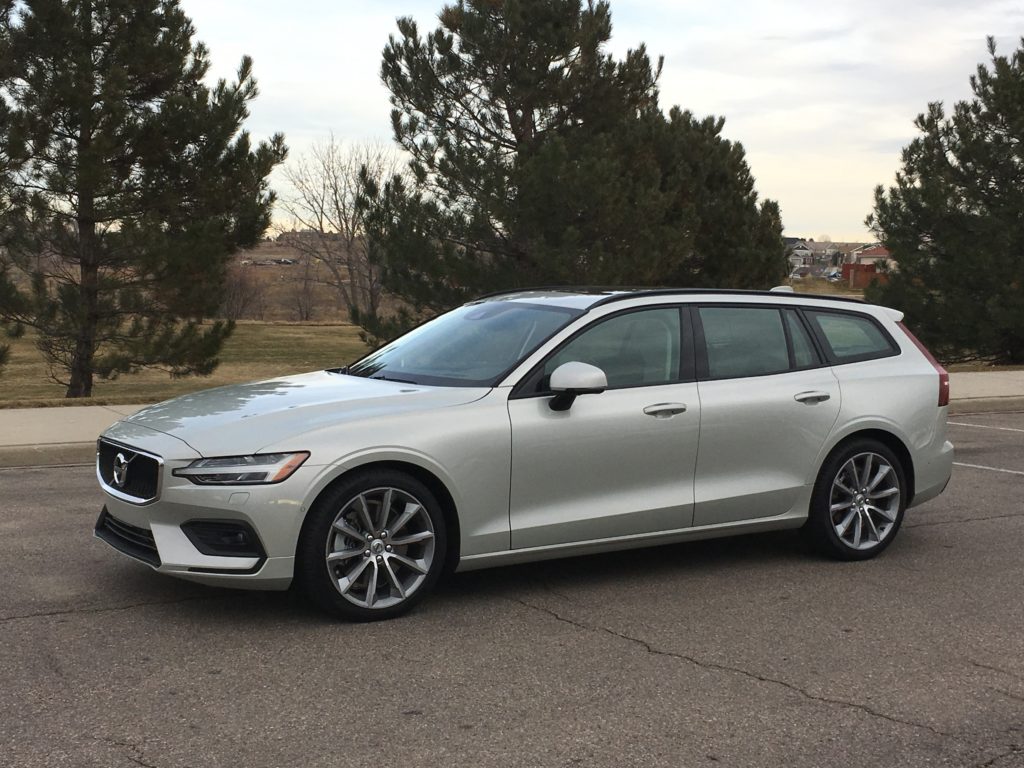 The beautifully styled 2019 Volvo V60 all-wheel-drive wagon, in its second-generation debut, showed up at my place with, of all things – plaid seats.
Pay no attention to what they're called, Blond City Weave Textile Upholstery; they're interwoven gray and white cloth stripes over the main cushion and backing, with beige leather sides. I like them.
The redesigned Volvo, built at Gothenburg, Sweden, will go on sale in the U.S. early next year.
With a turbocharged and supercharged, 316-horsepower, 2.0-liter 4-cylinder under the hood, mated to an 8-speed automatic transmission, the V60 T6 AWD carried Jan and me one evening to Denver and the Colorado Automobile Dealers Association (CADA) for the annual Christmas party of the Rocky Mountain Automotive Press.
As we walked in, Tim Jackson, head of the CADA, was leaving for another meeting; he hesitated long enough to place in my hands and those of Bob Sweeney, publisher of the Villager, a Colorado Auto Outlook publication revealing that sales of trucks and SUVs make up 75 percent of total new vehicles sales in Colorado this year.
Also of interest in the same publication was a look at individual-model sales in Colorado of alternatively fueled vehicles, led by the Toyota RAV4 hybrid.
Of the 157,734 new cars and trucks registered in Colorado through the end of September, 118,580 are trucks and SUVs, representing 75 percent of the market. Registration of passenger cars has declined by almost 15 percent during that period, while light trucks (including SUVs) have increased by 5 percent.
Regarding the Volvo V60, it's a sweet-performing, five-passenger midsize wagon with a supercharger added to the turbo to develop the 316 hp and 300 lb.-ft. of torque from the 2.0-liter, 4-cylinder engine. Low-end torque comes from the supercharger, which does away with normal turbo lag at lower speeds; the turbo power comes into play in higher-rpm demand.
Selecting Dynamic drive mode from the normal Comfort, through use of a small roller wheel on the center console, immediately sharpens throttle response and quickens shift points. An Eco mode will slow things down for improved economy. The mode defaults to Comfort on startup. The Volvo rides on Pirelli 235/40R19 tires.
The Volvo V60 T6 Momentum model I drove carries a base price of $44,395. For $6,000 more, the higher-end Inscription trim is available, but that one can't be bought with plaid seats. Don't get into a lather over leather, for the plaid is comfortable and, again, I remind that "beauty is in the eye of the beholder."
Among standard equipment on the Momentum review model are City Safety automatic emergency braking, panoramic moonroof, LED headlamps with Thor's Hammer design and the larger Sensus Connect touchscreen compatible with Apple CarPlay and Android Auto.
In its new platform, the Volvo is longer by 3.8 inches in wheelbase and 5 inches in overall length. Yet, it still matches up fairly closely with a prime European all-wheel-drive wagon contender, the Audi A4 allroad. Here are the specs –

Wheelbase
Volvo 112.8 inches,
Audi 110.9;
Length
Volvo 187,
Audi 187;
Width
Volvo 73,
Audi 72.5;
Height
Volvo 56,
Audi 58.8;
Curb Weight
Volvo 3,980 pounds,
Audi 3,850.