Back then. . . . .1979 Fiat Strada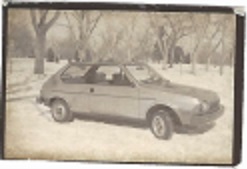 (Forty years ago this month, in January 1979, I reviewed in The Denver Post the Fiat Strada, a new front-wheel-drive model from Italy. Following are excerpts:)
Fiat's hopes for a strong comeback against a sharp slide in U.S. sales ride squarely upon its new subcompact, the Strada. Fiat's sales in this country skidded to 60,345 in 1978, sandwiching it between Mazda and Volvo for eighth place among importers. Only three years ago, the company was at the 100,000 sales figure.
With introduction of Strada, being shown in Denver dealerships this month, the slump is over, Fiat executives insist. In order for Fiat to climb back up the sales ladder, the Strada must be of superior quality to earlier models from the Italian car builder.
It's jumping into some impressive competition – Volkswagen Rabbit, Dodge Omni, Subaru and other low-priced front-wheel-drive subcompacts.
A test of a sharp-looking two-door hatchback showed the Strada's best features to be good handling characteristics, especially in the snow, comfortable seating with lots of legroom and a strong-performing engine. The 5-speed manual transmission shifted firmly, though smoothly.
The new engine is a variant of the high-performance one developed for the Fiat X1/9 sports car. It is of 1498cc (91.44 cubic inches) displacement, a single overhead-cam 4-cylinder with an aluminum cylinder head. The car ought to produce 28 miles per gallon in city driving and 41 on the highway, according to the EPA fuel estimates. My check averaged 27.8 mpg in half-town, half-highway driving.
The Strada weighs only slightly more than 2,000 pounds on a wheelbase of 96.4 inches and overall length of 161. It will turn in a 33-foot circle.
Added to the Strada Custom's base price of $4,296 were rear window wiper and washer, tachometer, roof rack, AM/FM radio and metallic paint, raising total cost to $5,652.