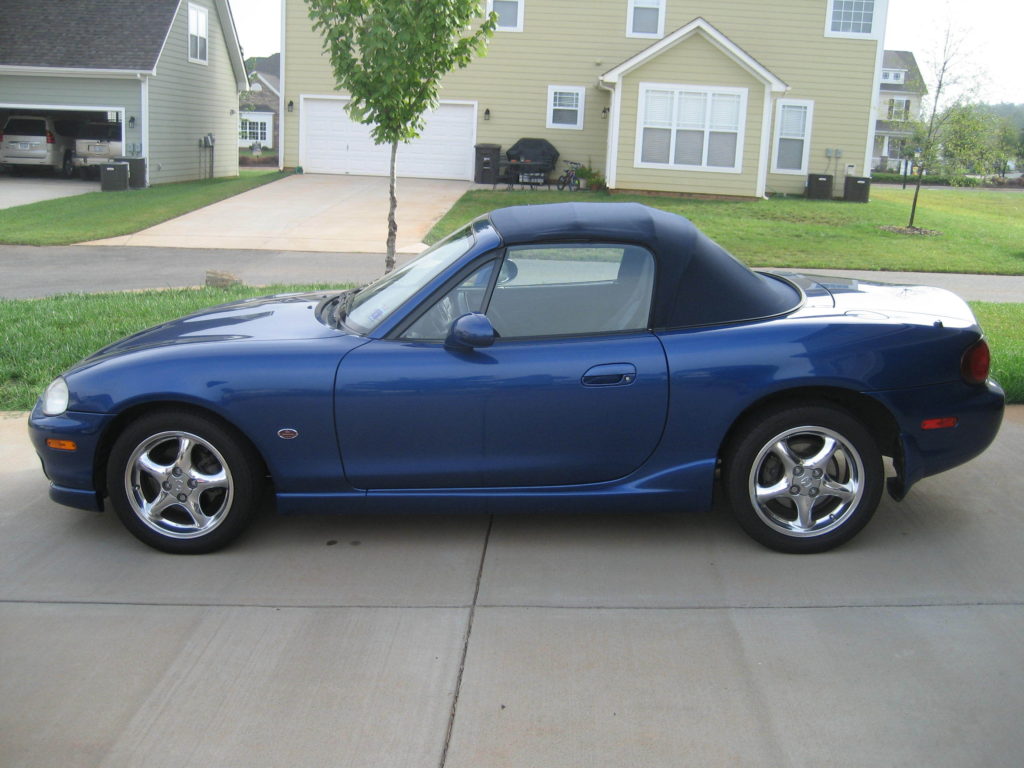 (Excerpts from a review of the 10th Anniversary Mazda Miata, April 17, 1999, by Bud Wells)
The Palace Arms' rack of lamb was luscious and a dozen fellow automotive writers lent conviviality to the evening. The highlight for me, though, was driving away from the Brown Palace Hotel in the 10th Anniversary Edition Mazda Miata.
Mazda executives Jay Amestoy, Shari Gold and Brian Betz came to town, set up shop at the Brown and discussed the Miata and plans for rebuilding Mazda's presence on the U.S. automotive scene.
The little Miata is outstanding in blue – sapphire blue exterior, blue suede center inserts on the two seats and even a blue convertible top and tonneau cover, the first time a production Miata has had anything other than a black or tan top.
Just as noticeable, once in the driver's seat, is a 6-speed manual transmission; standard Miatas are 5-speeds.
Of course, there's more shifting now. I upshifted and downshifted 95 times in the 8 miles from the Brown to my home. That's okay, for the short stick is one of very short throws. It is so quick and convenient in its shifts that a driver tends to frequently rest his right hand on the leather-covered shift knob, awaiting the next move.
In downshifting from 6th gear, however, you must quickly feel the way to 5th, for the return spring is strong enough that it will occasionally pull the shifter toward center and put it into 3rd gear instead of 5th.
Pricing for the special Miata begins at $26,875, with 1.8-liter, 4-cylinder engine of 140 horsepower. Prices for standard Miatas begin at just over $20,000.
The 10th anniversary auto is powered by Mazda's 1.8-liter, DOHC 4-cylinder engine, which develops 140 horsepower. It's a high-revving 4-cylinder, even in 6th gear at 60 miles per hour the engine turns 3000 rpm. I averaged 25.6 miles per gallon in 60 percent city driving.
The rear-wheel-drive Miata with four-wheel double-wishbone independent suspension, is an agile handler. Its turning circle is barely over 30 feet.