It's a Studebaker Lark, from the '60s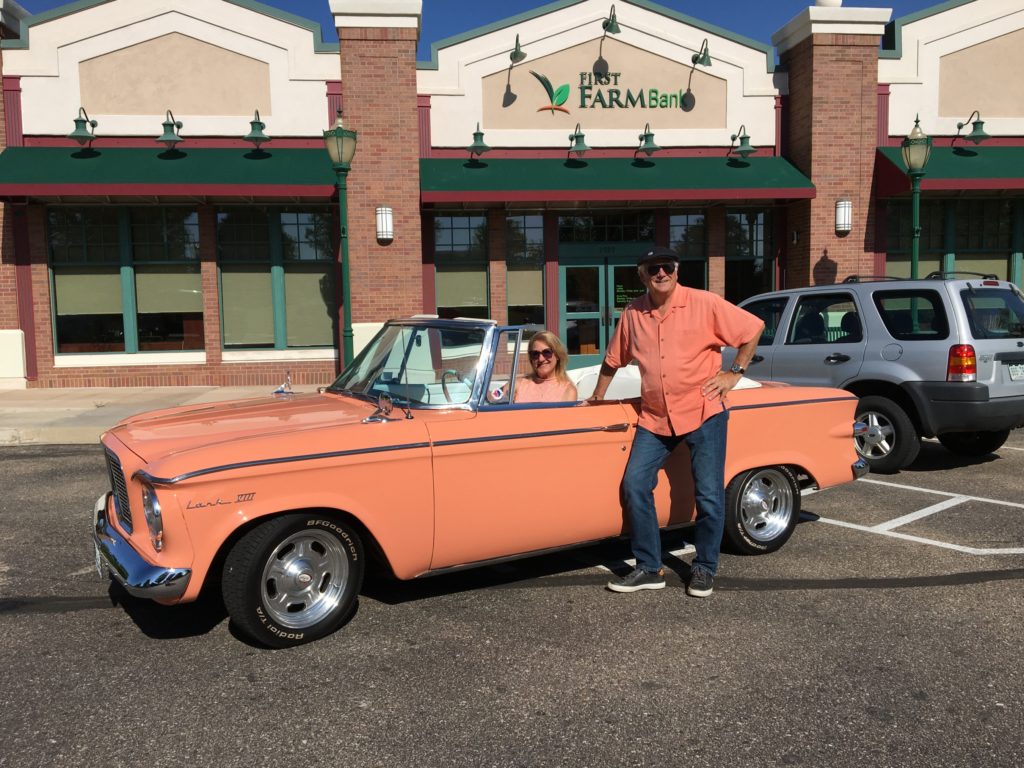 The little Lark, even in convertible form, wasn't enough to save Studebaker 50 or more years ago, but the return of one has brought miles of smiles and new avenues of retirement for a northern Colorado couple.
"My gosh, look at that," I said, and was referring to a pinkish-orange Studebaker Lark. I'd never seen a Lark at a car show. The show, at St. Michael's Town Square in Greeley, was for benefit of the Muscular Dystrophy Association, hosted by the Local Branch National Association of Letter Carriers.
As a man nearby in the hot Sunday sun broke away from his conversation and looked our direction, I asked, "Is this your car?" "It sure is," he said.
"How did you happen to select a Stude Lark for a classic," I asked. "It was my wife's choice," he responded, "and I like it." He is Dr. Robert Traynor, who for almost 45 years served as CEO and audiologist for Audiology Associates of Greeley. Retired now, he and his wife, Krista, who is also an audiologist, reside in Fort Collins.
The Traynors, barely into retirement in June 2018, were in the spectator section at the Mecum Denver Classic Car Auction at the Colorado Convention Center as the old cars rolled past. They knew they ought to own one, and began looking over dozens of the several hundred cars yet to go through the auction block.
"That's the one I want," Krista finally exclaimed, pointing to a faded pink 1961 Studebaker Lark VIII Regal convertible. "It was to be as much her car as mine," said Bob; "and she chose it, and I agreed."
Bob hurriedly purchased a bidder's badge, and soon found himself raising an arm when the auctioneer chanted "twenty, five," "twenty, five," "twenty thousand, five hundred." Then the bidding stopped and Bob and Krista knew they had their first "classic."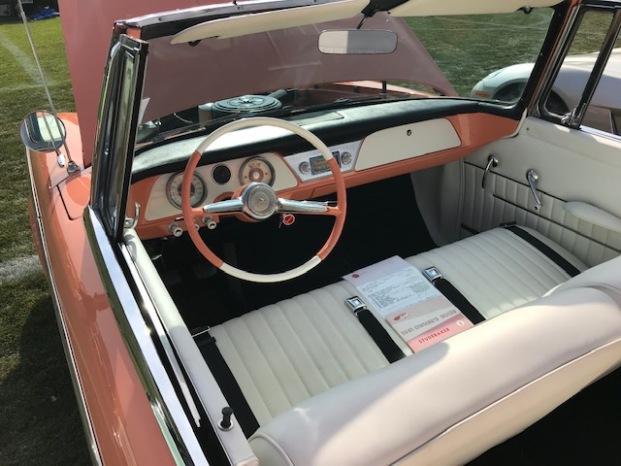 Over the past year, they've spent another $12,000 creating the lovely Lark, including a pinkish/orange flamingo exterior finish and the nice, white leather interior. It is powered by a 289-cubic-inch V-8 engine and automatic transmission. A technician, at Bob's request, replaced the generator with an alternator.
"That's a neat car; I hope that Bob and Krista are enjoying their ride," said David B. Morton, manager of communications and event marketing for Mecum Auctions, who remembered their purchase at last year's Denver sale.
In 1947, Studebaker completely redesigned its Champion and Commander models, making them the first new cars after World War II. Most other makes didn't launch new sheet metal until the 1949 model year.
Studebakers were light-bodied, high-fuel-mileaged vehicles, and through the 1950s their sales trailed only the Big Three Detroit companies (General Motors, Ford Motor Co. and Chrysler Corp.), yet serious financial problems persisted and Studebaker merged with Packard in 1954.
The number of sales reported for each significant American automotive brand during the 1950s included
Chevrolet 13,419,048;
Ford 12,282,492;
Plymouth 5,653,874;
Buick 4,858,961;
Oldsmobile 3,745,648;
Pontiac 3,706,959;
Mercury 2,588,472;
Dodge 2,413,239;
Studebaker 1,374,967;
Packard 1,300,835;
Chrysler 1,244,843;
Cadillac 1,217,032;
Nash 974,031;
DeSoto 972, 704;
Rambler 641,068;
Hudson 525,683;
Lincoln 317,371;
Kaiser 224,293;
Henry J 130,322;
Edsel 108,001;
Imperial 93,111;
Willys 91,841;
Continental 15,550;
Frazer 13,914.
The Lark, a compact car, was produced from 1959 to 1966, in an effort to save Studebaker from the graveyard, but the last of the company's cars rolled off the line in March 1966.