Audi unveils Q8 with traffic light info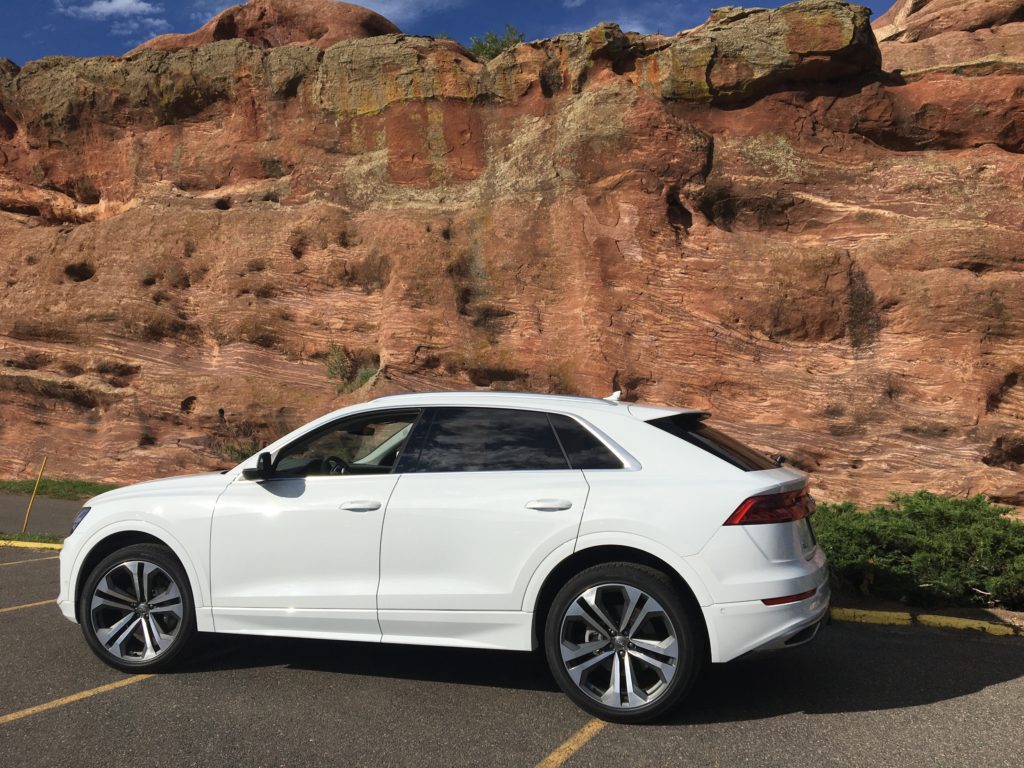 While Audi followers await arrival of the small, second-generation Q3, filling the spotlight from Ingolstadt headquarters is the Q8 midsize luxury offering.
Though numerically atop the SUV crossover line with the Q3/5/7 models, the Q8 is offered only with two rows of seating. The Q7, with three rows, remains the prime people hauler.
While the Q8 is 2 or 3 inches shorter than the Q7, it is wider and sits lower. The fact there is no concern for third-row headroom gives the two-row Q8 a nicely styled rear end, slope and all. It's better-looking than the Q7; pricier, too, and like all Audis, is filled with technological innovation.
Jan and I drove in to Denver on U.S. 85 from our home up north, crossed to the west via I76, then followed Wadsworth Boulevard south to Hampden Avenue enroute to dinner at The Fort at Morrison along U.S. 285.
Wadsworth, with numerous stoplights, was chosen to best test Audi's Traffic Light Information system.
At the first red light, on a display in front of me the car counted down the seconds remaining before the green light. This allows time for thought or discussion, anything besides staring at the red light. As our drive continued, the system indicated I should follow a speed of 45 miles per hour in order to clear the next stop light on green, and sure enough that worked. The traffic light information system taps into a city's traffic control setup and knows when the lights are going to change. Denver is one of 12 cities involved in a network with the Audi program.
The traffic light system is interesting, and fun to discuss with other motorists. When I told daughter Kathy and her husband Bill Allen of the experience, Kathy said, "My Q5 (2018) has the same feature."
On a level of importance, avoiding a red light probably doesn't measure up to lane-guidance, automatic emergency braking and reading and responding to traffic speed signs, which I first tested on a Q7 three years ago.
Built in Bratislava, Slovakia, the Q8 quattro performs from a 335-horsepower, 3.0-liter turbocharged V-6 with 369 lb.-ft. torque rating and mated to an 8-speed automatic transmission. Curb weight is a heavy 5,000 pounds on an overall length of 196.6 inches. The Q8 towing capacity is 7,700 pounds. It is somewhat sluggish in low-end torque; once the turbo kicks in the performance is impressive. Convenient and of quick, easy grip is the stubby-short shifter on the center console. Fuel mileage was a relatively low 19.6 miles per gallon (EPA estimate 17-22).
Its adaptive air suspension, slight all-wheel-steering, 22-inch wheels, seamless shifts, smooth acceleration and fairly soft lane control create great handling and ride. Valcona leather seats are well-contoured and are designed with very generous amount of movement, from lower to taller setting.
The infotainment system includes two touch screens, one atop the other. With all its high tech, including Audi MMI navigation and Bang & Olufsen premium sound, nothing is particularly easy about the system's selections and touch controls. Up-front air/heat vents are near-hidden across the dash's width beneath the stitched-leather-covered dashtop. An oddity is that, with the car stopped and windows rolled down, when either front door is opened the window glass raises 2 to 3 inches out of its recessed position. "This is a normal feature/function of the Q8," said an Audi representative. "Raising the window up a few inches automatically when opening and closing the door prevents the window from rattling." Numerous high-end options pushed the Q8 price from a base of $67,400 to an $88,690 sticker. Among the add-ons are illuminated door sills, four-zone climate controls, heated and cooled front seats and heated steering wheel, power-fold exterior mirrors, head-up display, sunshades, alcantra headliner, towing package.