'20 Outback Onyx adds 2.4 turbo; '96 model rolls over 400,000-mile mark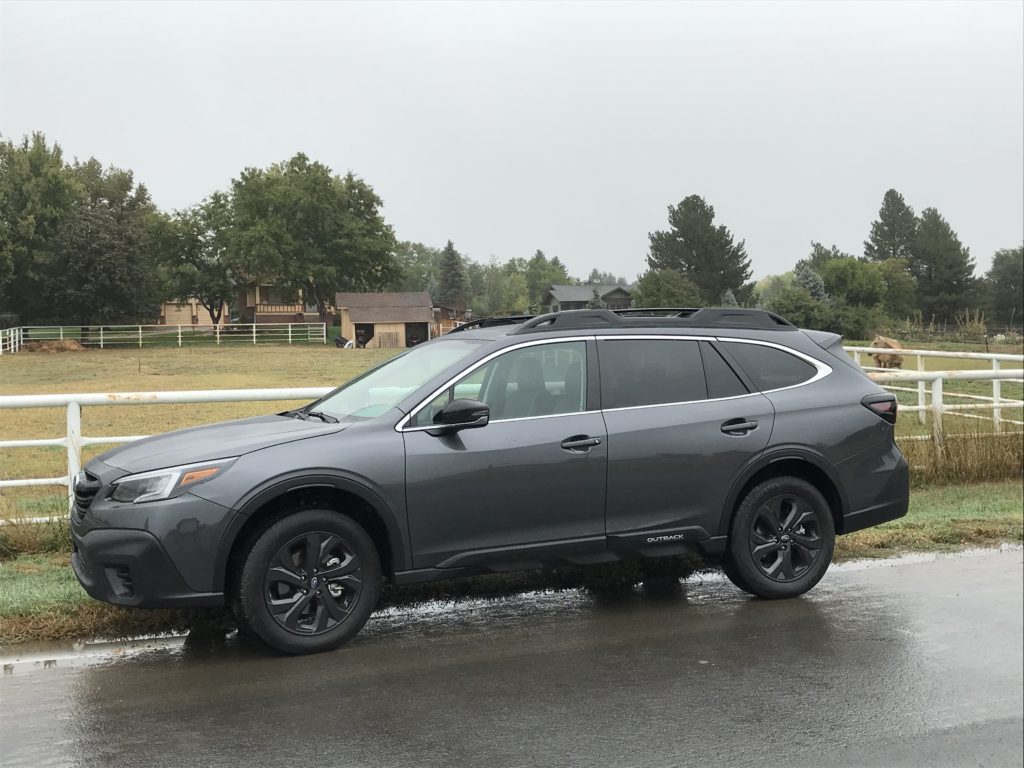 Subaru, with its new-model Outback wagon each fall, gets no greater reception in any state in the country than in Colorado. The 2020 Outback has shown up, a bit longer with a turbocharged 2.4-liter engine and the latest EyeSight safety assist system.
It is the Onyx edition, with a dominant black and gray finish accented only by an oblong ring of chrome around the windows. It features dark grille and wheels and blackout trim, "targeted to a younger and more active buyer," according to Subaru.
A 2.4-liter, turbocharged 4-cylinder boxer engine of 260 horsepower/277 torque, linked to a continuously variable transmission, is underhood of the big Sube.
The 2020 model is 191.3 inches in overall length, an increase of 1 ½ inches over the 2019 version. And the Onyx edition XT's tow capacity is lifted to 3,500 pounds with the newer engine. Other Outback trim levels continue to use the 2.5-liter boxer engine.
A power switch on the review model can raise and lower the passenger-side front seat; the lack of such has long been a complaint with previous Outbacks.
An unexpected glitch occurred while driving the Outback, disengaging EyeSight and its active cruise control and lane-centering assists.
With Starlink 11.6-inch navigation, moonroof, auto stop/start and symmetrical all-wheel drive, the Outback displayed a sticker price of $37,750.
This recent e-mail, "I'm a 34-year print subscriber to the Denver Post, I like to read your column in the Saturday paper, and I drive a 1996 Subaru Outback with more than 400,000 miles on its odometer," sent me across U.S. 34 to Loveland to meet David Selzler and take a look at his old Outback.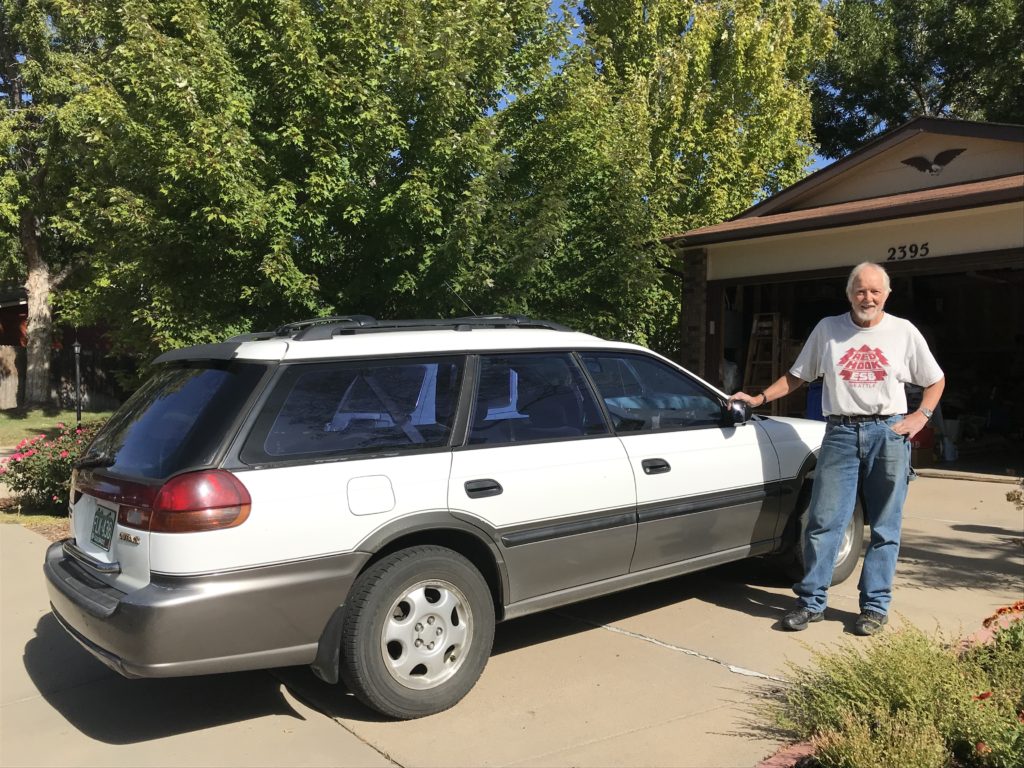 Selzler is 71; as a teenager and young man he first drove a '57 Chevy Bel Air hardtop, then a '62 Impala Super Sport, a '63 Impala four-door, a '64 Impala Super Sport ragtop and '66 Chevy Impala Super Sport. He was a "Chevy guy."
The automobile, though, that he's driven day after day for years and years is no Chevy, it's the old Subie Outback. The Outback's odometer registered 401,835 miles as of my visit. Imagine that, more than 400,000 miles. "I'm looking forward to the 500,000 mark," he said, and with the busy pace he follows, he may achieve that goal.
Retired the past 10 years from a career in technical writing and other responsibilities for software companies, Selzler today oversees four rental properties, two in Loveland, one in Fort Collins and the other in Greeley. And he travels frequently, driving the Subaru, of course.
Near the end of July, he made a 1,701-mile round-trip between Loveland and Minot, N.D., of which he is a native. He meticulously records on a note pad all expenses toward the car and every mile at gas fillups. Fuel mileages for his trip north ranged from a high of 30.51 miles per gallon from Lusk, Wyo., to Belle Fourche, S.D., to a low of 24.89 from Belfield to Minot in North Dakota.
"On a trip like that, I engage cruise control as much as I can," he said. "I'm still on the original clutch. When I'm at a stop light, I stick it in neutral and take my foot off the clutch."
The original engine and manual transmission are still in use beneath the hood. "Years ago, I replaced the radiator," he said. "Regular routine maintenance of the Sube by local shops is responsible for the enduring miles. After all these miles, the engine uses a little oil, but it runs great."
The Outback suits very well his lifestyle, as he can carry in the wagon 8-foot 2-by-4s, as well as his skis.
The all-wheel-drive Outback was introduced in 1995 as a more rugged trim level of the Legacy L wagon, with a 2.2-liter, boxer-4-cylinder engine. The Outback got a suspension lift the following year, along with an optional 2.5-liter, boxer-4. Selzler's 1996 model is equipped with the smaller 2.2-liter engine and 5-speed manual transmission.
Horsepower was 135 for the 2.2 engine and 155 for the 2.5. Prices ranged from $20,000 to $25,000 for the '96 models, which were 185.8 inches in overall length, with wheelbase of 103.5.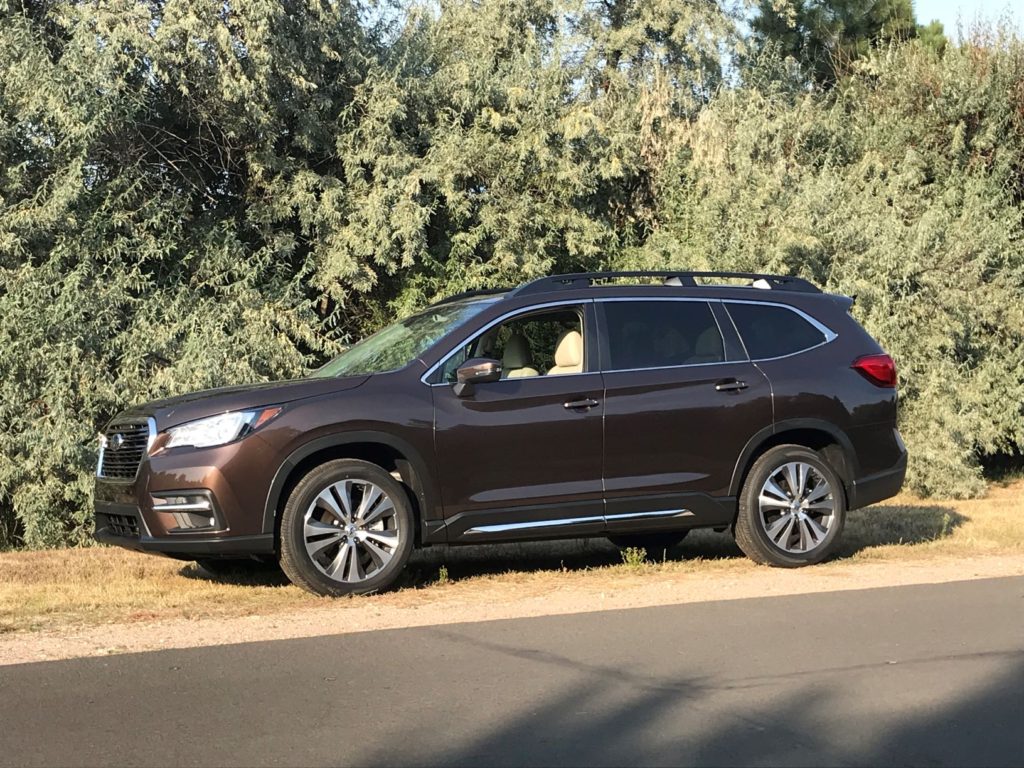 The Outback's new turbocharged boxer engine was introduced a year ago on the larger-sized Subaru Ascent. I was given keys to a 2020 Ascent for a late-night, 140-mile drive home to Greeley from the Cheyenne Mountain Resort at Colorado Springs after a meeting of members of the Rocky Mountain Automotive Press.
The model I drove home is finished in cinnamon brown pearl, a new color introduced with the Ascent last year. Inside, it is light colored, with perforated leather seats, power panoramic moonroof, Harman Kardon surround sound with 14 speakers.
The Ascent comes standard with EyeSight Driver Assist including automatic precollision braking, adaptive cruise control, lane-departure and sway warning, precollision throttle management, rear cross-traffic alert and a head-up display of EyeSight system warnings on the windshield.
And, yes, there really are 19 cupholders in the roomy Ascent – eight in the front row, six for the middle row's two bucket seats and five in the back.
Sticker price for the '20 Ascent Limited is $43,305. Built in Lafayette, Ind., it carries an EPA estimate of 20/26 miles per gallon. In addition to the Limited trim level, it is also offered in lesser-priced Base and Premium levels and upper-priced Touring.