Forefather of M-B SUVs still square deal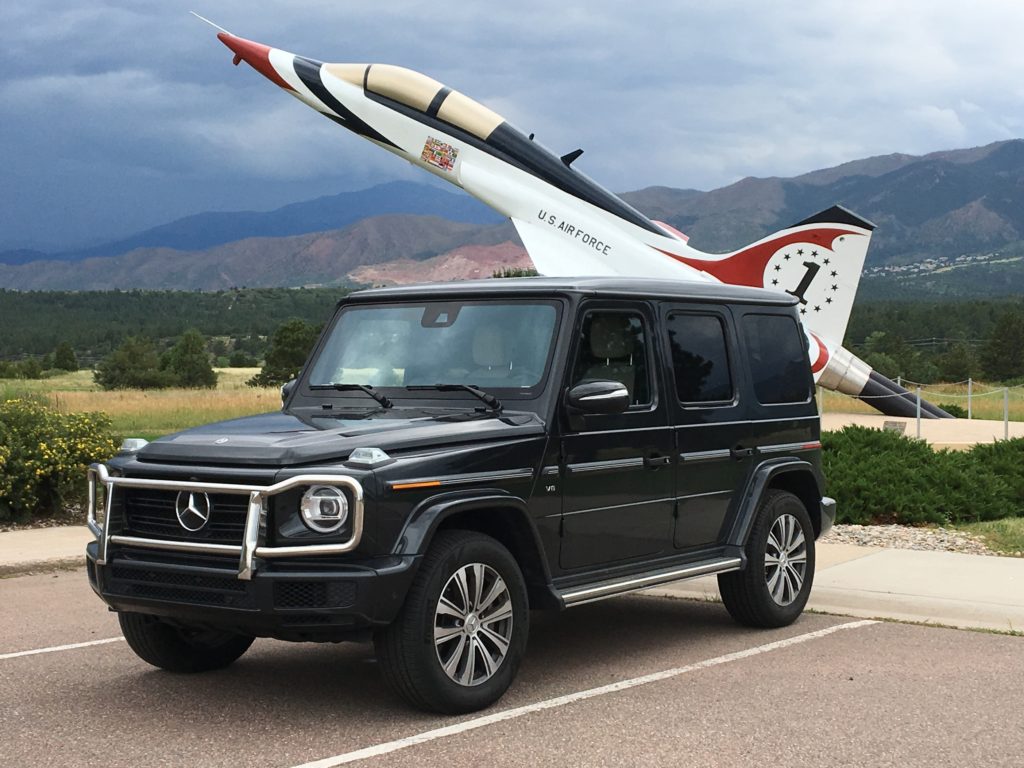 Mercedes' fabled G-Class sport ute, perhaps the most distinctively styled SUV in the world, has been redesigned for 2019. Don't fret, traditionalists. Though of larger dimensions, the G retains its decades-old posture, squared-off in big, rugged fashion.
The body-on-frame truck shows few changes on the outside; the interior, though, is updated, suspension is remarkedly improved and Dynamic Select offers choice of driving modes, adjusting responses of the engine, transmission, suspension, steering and assistance systems.
Though the big SUV originated in Germany in 1979 as the Gelaendewagen, a functional offroad vehicle for European military personnel, police departments and mining companies, it didn't go on sale in the U.S. until the 2001 model year. The first one to come my way was in January 2002 just in time to be tested in a snowstorm.
The '19 version is 6 inches longer, 7 inches wider and 5 inches taller than the one I drove in 2002. The new one offers noticeably more interior legroom and more shoulder width with the larger dimensions.
An old-fashioned swing gate somewhat dates the G550 from the rear, especially with the spare tire and cover mounted high enough on the gate to block a fourth of the vision out the rear window.
The G rides on Pirelli Scorpion 275/55R19 tires.
Jan and I one day drove the Mercedes to Colorado Springs in search of a replacement door for a 2004 Jeep Grand Cherokee. The G-Class would have easily carried the large door, had we found one, for its swing gate opens wide to 38 cubic feet of cargo space and the rear seats can be folded forward to double the space.
With a 4.0-liter biturbo V-8 engine of 416 horsepower and 450 lb.-ft. of torque, 9-speed automatic transmission, 4Matic all-wheel drive, front/rear and center locking differentials and curb weight of 5,700 pounds, the G-Class makes no claim toward improved fuel mileage. Lots of in-town maneuvering and the drive to Colorado Springs and back averaged 16.1 miles per gallon; its EPA rating is 13/17.
Besides a couple U.S. luxuries – the Lincoln Navigator and Cadillac Escalade – the big German G-Wagen competes with the BMW X7, Range Rover, Lexus LX and Infiniti QX80.
Kim Parker thought the G-Class looked right at home parked near Centennial Village at Island Grove during the Weld County Fair.
This special mountain-climbing Mercedes SUV, built in Graz, Austria, has climbed in sticker price from $73,145 in 2002 to $134,315 for this year's G. Lane-keeping, brake assist and blind-spot warning are standard, along with Burmester surround-sound system, Bluetooth, Android Auto and Apple CarPlay.
The new one, on a wheelbase of 113.8 inches, is 189.7 inches in overall length, 76 wide and 77.2 in height. It will tow 7,000 pounds. Turning circle is a wide 44.6 feet. Its ride comfort matches any full-size luxury SUV in the country.