Honda Civic Type R at Glen Haven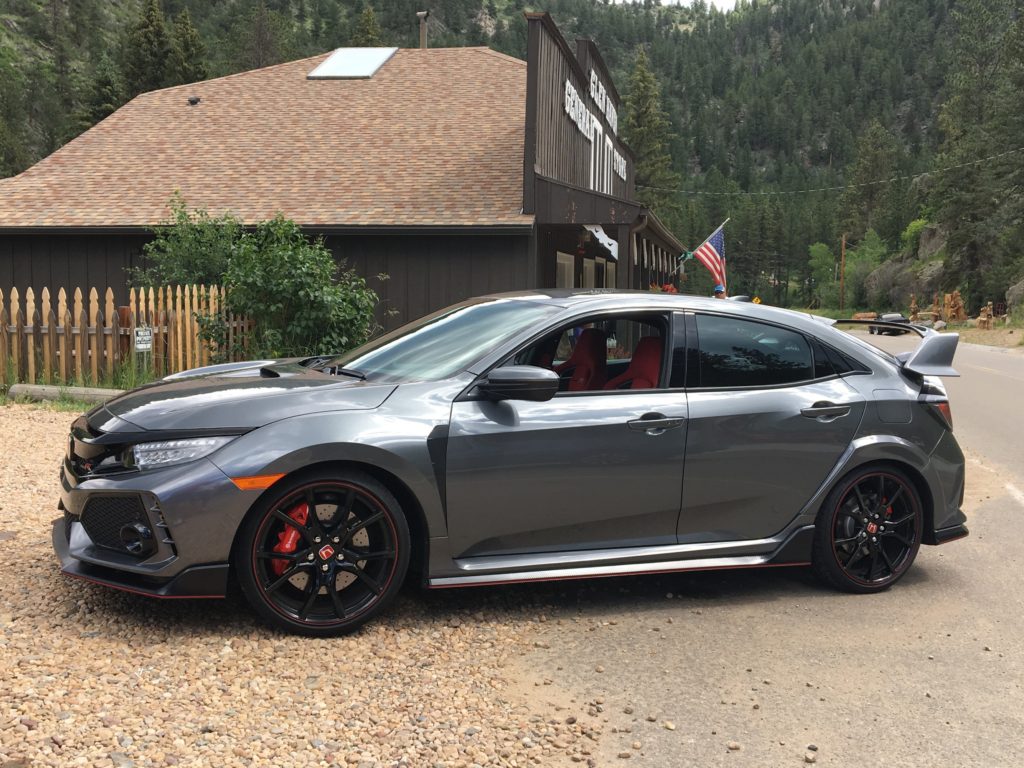 "Here it is mid-July," I said to Jan on a Monday morning, "and we haven't been to Glen Haven and the general store (yet this season)."
The fact that sitting in my driveway was the limited-production 2019 Honda Civic Type R surely was the thought-provoker, for 30 minutes later we were aboard the hatchback heading west out of Greeley on U.S. 34.
What a drive, with its twists and turns and climbs up the Big Thompson Canyon to Drake, then 8 more miles to Glen Haven. Few other roadways are more-suited to the spirited Type R; well, other than a race track, of course.
The powerful sport compact has been sold in Japan and Europe for more than 20 years; only since 2017 has it been imported to the U.S. Though produced by Honda, the Type R is assembled in Swindon, Wiltshire, England. It competes over here with the Subaru WRX STI, Ford Focus RS and Volkswagen Golf R.
The '19 Type R Touring hatchback gets its kicks from a 308-hosrepower, 2.0-liter, 4-cylinder engine and a very smooth, precise, 6-speed manual transmission. For a fairly quick, steady pace, with little braking, I opted for 2nd and 3rd gears much of the way to Glen Haven, and, later, the same for the descent.
The front-wheel-drive Type R, with stiffened body, is an impressive handler in Sport mode. A rev match feature allows smooth downshifts at relatively high rates of speed. It surpasses anything I've seen from Honda, and delivered 27 miles per gallon of fuel. It will burn either regular or premium.
After departing U.S. 34 onto the Devil's Gulch Road, we soon arrived at the little village, parked at the general store, where we bought and split a cinnamon roll to go with Jan's iced tea and my dark roast coffee. Outside, the Honda drew much attention, mostly from older tourists either enroute to Estes Park or departing the area.
It's an attention-getter, from its low-hanging air dam up front, past the red calipers and big Brembo brake discs at the front wheels, to the high-riding wing, which sits 9 inches above the deck at the rear. Suspension includes MacPherson strut front and multilink rear, with adaptive dampers and variable-ratio electric power steering. It rides on low-profile Continental 245/30ZR20 tires.
Deeply bolstered red suede sport seats and even brighter red seatbelts are interior highlights. It is also equipped with premium audio, navigation, Bluetooth and AppleCarplay/Android Auto integration. Sticker price is $36,620.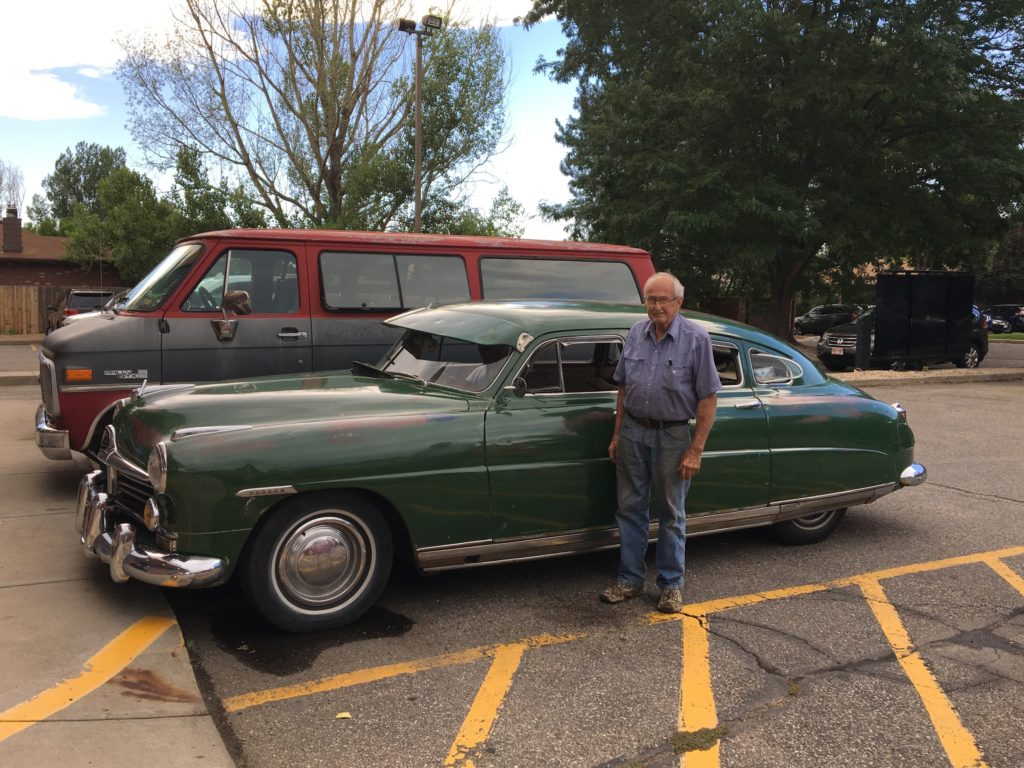 On our return, as we pulled into Runza parking lot in Loveland for a lunch stop, there sat an original-looking 1949 Hudson Commodore four-door. After slowly circling the big, old sedan three or four times and visiting with others who stopped to look it over, I walked into the restaurant.
In a corner, a fellow was waving at me with one hand and pointing with the other to the older guy at his table. The "older guy" was Tom Holden, a Loveland resident who owns the Hudson and does "mechanical and electrical repair, maintenance and restoration" of 1972-and-older vintage cars.
Of the Hudson, Holden said, "It will still run 100 miles per hour." It was one of only a few models in 1949 that could attain a top speed of 100 or more. In addition to driving about town in the Hudson, he also drives occasionally in a 1966 Oldsmobile Toronado.