Kia's quirky model prevails, bless its Soul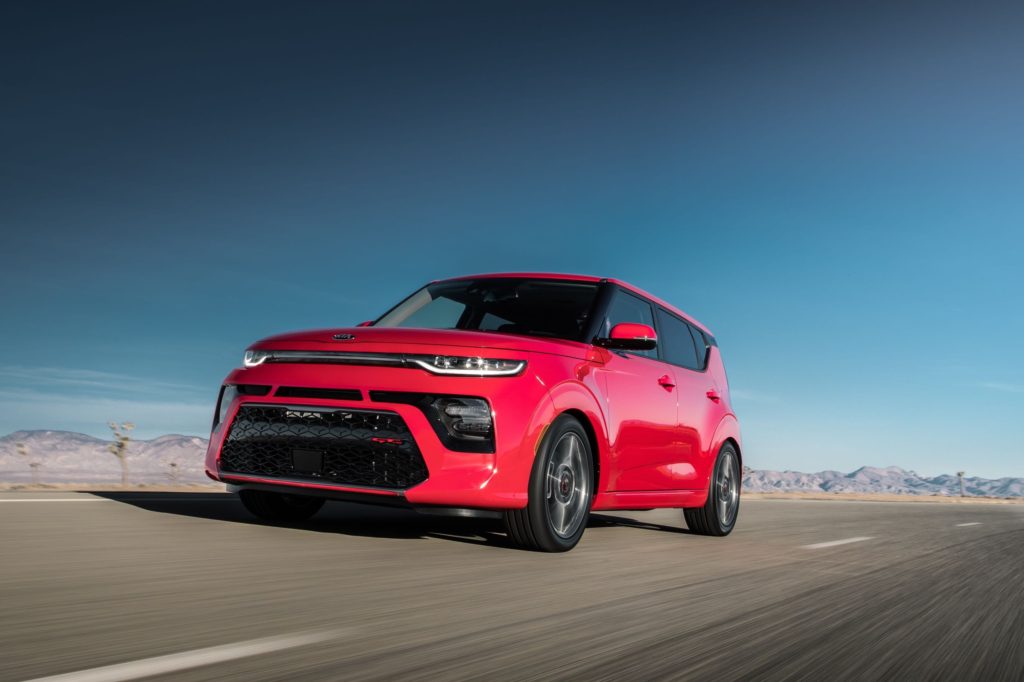 With a number of its competitive makes discontinued, the Kia Soul makes claim to "survivor," apparently strong and healthy.
The little Kia, you know, is one of those dozen or so subcompacts (and compacts) which were rushed through the automotive production lines in the past 10 to15 years – small, practical in their offerings, though in appearance "somewhat goofy," many observers said.
The PT Cruiser and Chevy HHR are long gone, so too are the Honda Element, Nissan Cube and Juke, Scion XB, and the VW Beetle is going, going, gone.
Yet, the Soul seems blessed; heck, it is the best-selling of all Kia models after 10 months this year, just ahead of Optima, Sorento and Forte.
It's been redesigned for 2020, though still boxy-shaped and uniquely styled. It has thinned its headlights, opened up its low-riding grille and shows off boomerang taillights at night.
The review model was shipped over here from Gwangju, Korea, finished in inferno red and oozing performance from beneath the hood – a 201-horsepower, 1.6-liter turbocharged 4-cylinder engine paired with a 7-speed dual-clutch automatic transmission.
It's quirky but quick. Oh, not quick like a BMW M2, but its turbo response is immediate and it will do 0-to-60 in 6.5 seconds.
That front-wheel-drive Soul GT (it is not available with all-wheel drive), which offers normal and sport driving modes, plus manual shifts and paddles for the 7-speed dual-clutch tranny, posted an impressive 30.8 miles per gallon overall for the week. On a wheelbase of 102.4 inches, it is 165.2 inches in overall length and barely tips over 3,000 pounds in curb weight. Its turn circle is a relatively narrow 34.8 feet.
Complementing lots of rear-seat legroom is plenty of headroom, thanks to its box-built style. Cargo area at the back measures 24.2 cubic feet and expands to 62 feet by folding down the rear seats.
Its $28,710 sticker price includes sunroof, heated steering wheel, smart cruise, lane-keeping assist, forward-collision avoidance, pedestrian detection, rear cross-traffic warning, head-up display, Harman Kardon audio, Android Auto and Apple CarPlay, Bluetooth, sunroof and GT-Line sport side sills.
Starting price for a Kia LX four-door is around $19,500; it is equipped with a 147-horsepower, 2.0-liter, 4-cylinder engine and 6-speed manual transmission. The 2.0 can also be mated to a continuously variable transmission.
Here is how the Kia Soul shapes up with the Toyota C-HR, one of its remaining direct competitors: Wheellbase Kia 102.4 inches, Toyota 103.9; Overall length Kia 165.2, Toyota 172.6; Cargo space behind rear seat Kia 24.2 cubic feet, Toyota 19.1; Ground clearance Kia 6.7 inches, Toyota 5.9; Curb weight Kia 3,036 pounds, Toyota 3,290.
Through the end of October 2019, the Kia Soul has sold 84,388 new vehicles, compared with 41,677 for the Toyota C-HR.