Elway dealerships' Christmas party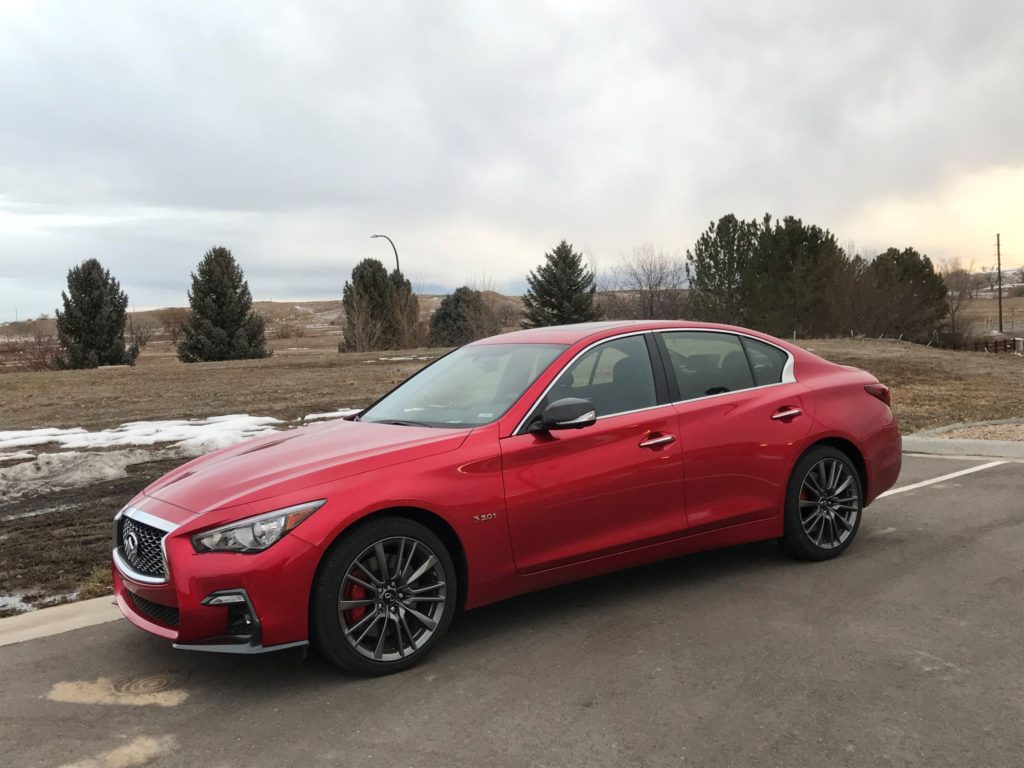 My occasional contacts in recent years with John Elway and his dealerships have been based mostly on automotive news, of course.
That tie continued on a Saturday night when Jan and I drove into Denver to the Sheraton Hotel downtown for the annual John Elway Dealerships' Christmas Party. We were invited by Todd Maul, an Elway dealer principal and partner, and enjoyed driving to the gathering aboard a 2020 Infiniti Q50 Red Sport 400 AWD sedan.
A couple hours' into the party, my wife, Jan, managed a photo of Elway laughing heartily in conversation with a Greeley father and son; it seemed appropriate to share the happy image.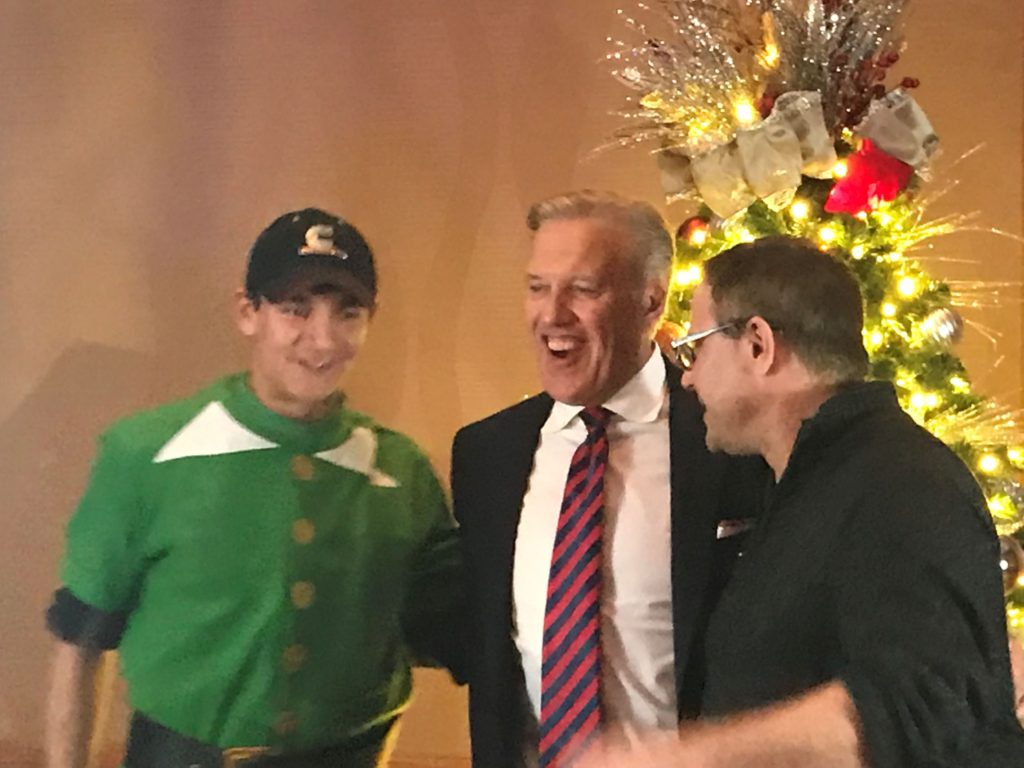 The moment occurred when Todd Buseman and Todd Buseman Jr. were standing on either side of Elway and visiting with him in anticipation of having their photo taken. Buseman Jr. is an automotive technician for the Elway shop in Greeley, and the elder accompanied his son to the Christmas event.
Elway employees and friends lined up halfway around the Grand Ballroom to have a photo with the two-time Super Bowl winner with the Denver Broncos. Yes, Jan and I got our turn.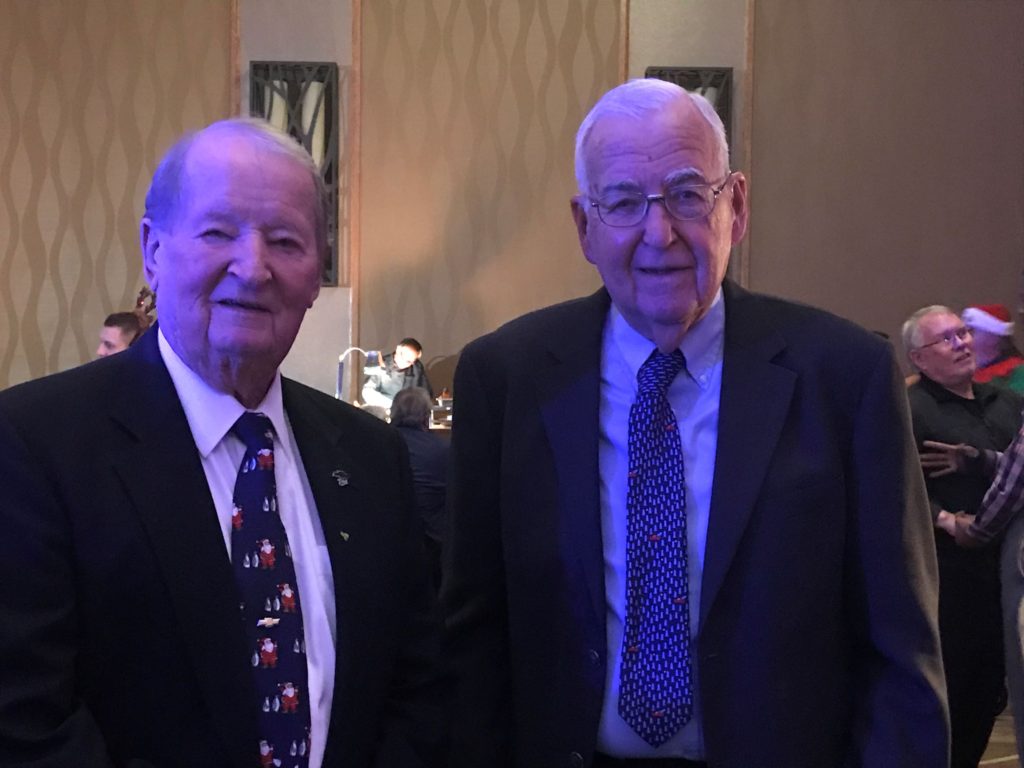 I enjoyed visits with Maul; A.J. Guanella, who as a sophomore in high school in 1949 began working for Burt Chevrolet and continues today as a leading associate with what has evolved into Elway Chevrolet, and Jason Stein, publisher of Automotive News in Detroit, who was in town for last Sunday's Lions/Denver Broncos NFL tussle.
A little more than 15 years ago, in the summer of 1994, I interviewed Elway and wrote a car column on his 1992 Dodge Viper, one of 189 numbered models of the original model. The old Viper is displayed today in the Elway Ram Jeep Chrysler Dodge showroom in Greeley. At its introduction into the U.S. market, the V-10-powered Viper was considered the quickest production car sold in this country. The limited-production Viper, a competitor of the Chevy Corvette, never approached the Vette in sales numbers. Production of the Viper ended two years ago.
Several years after the Elway Viper interview, through a close association with noted Colorado sculptor Raelee Frazier, I was given front-row view and opportunity for a sports-related column regarding the preparation and casting in bronze of Elway's hands around a football. Only 32 sets of the impressive bronze sculpture were cast. Frazier, with the assistance of her late husband, Frank Frazier, also cast hands of other football legends, including Dan Marino and Joe Montana, as well as Hitter's Hands for such baseball immortals as Ted Williams, Stan Musial and Ralph Kiner, and Todd Helton of the Colorado Rockies.
Maul, in his remarks at the party, acknowledged that the Elway Chrysler Jeep Ram Dodge store in Greeley is one of the stronger markets in the state for full-size trucks. Also finishing strong business years, he said, are John Elway Chevrolet on South Broadway (Englewood) and John Elway Cadillac of Park Meadows (Lone Tree). A third partner with Elway and Maul is Mitch Pierce.
As for the great-looking Infiniti, finished in dynamic sunstone red (perhaps the best color of the year),
it bellows out the dual, 4-inch exhaust ends at the rear bumper from a 400-horsepower, 3.0-liter V-6 engine and 7-speed automatic transmission with six drive modes. Built in Tochigi, Japan, it is sleek and beautiful and exteriorly trimmed with a $1,500 carbon fiber package of decklid spoiler and mirror covers.
For $60,475, it is loaded with comfort and convenience, though its seat belt receptacle is positioned so deeply and tightly into the separation of the driver seat and center console, it is difficult to connect the belt end. Fuel-mileage average for the Red Sport was 21.1.
.