V-6 EcoBoost, 10-speed power Expedition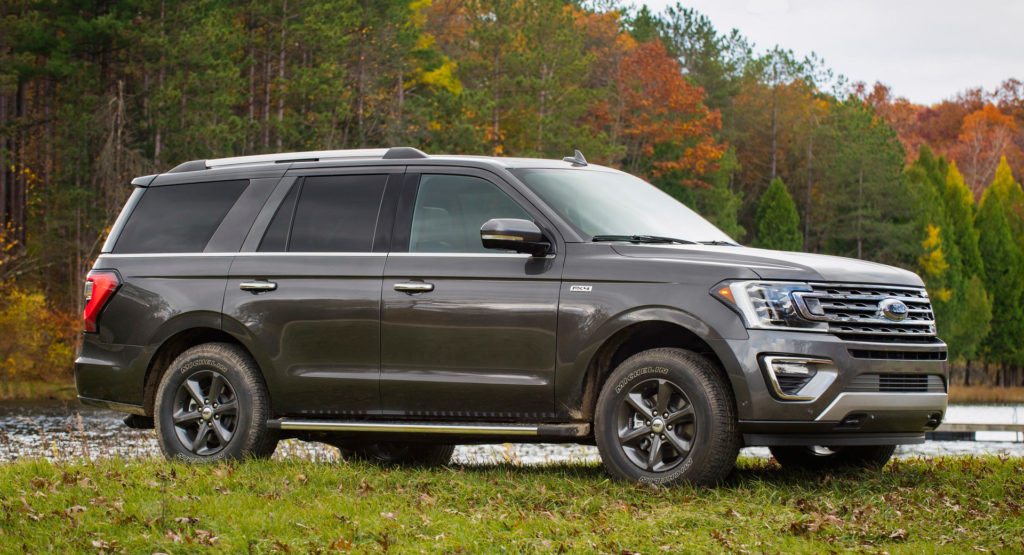 Almost a quarter-century ago, in the fall of 1996, two of my co-workers, Doug Freed and Karrie Mowen, excitedly took advantage of a blockbuster sale on the last of the big, 2-door Ford Broncos. Each bought one.
The Bronco exodus paved the way for the launch of the 1997 Ford Expedition, a roomy 4-door SUV aimed at stealing some sales from rival General Motors' long-successful Suburban-size sport utes.
One of the first Expeditions to show up in Denver in that fall long ago was loaned to me for a drive to Durango and Southwest Colorado and back. That one was 3 inches shorter than today's version in wheelbase, 6 inches shorter in overall length, was equipped with a 4.6-liter V-8 with tow capacity of 6,100 pounds compared to today's 9,200 tow capacity with the EcoBoost V-6, which has replaced the V-8. EPA fuel estimate back then was 14-18; today's is 17-23.
Derived from the F-150, the Expedition was a popular new entry. Sales surged for the first four years from 1997 through 2000, when more than 200,000 Expeditions were sold each year. Sales dipped below 100,000 in 2006 and have remained there since. Sales last year climbed to 86,422 from 54,661 the previous year.
Since 2018, when the fourth-generation model was introduced, the Expedition has been powered by the impressive 3.5-liter EcoBoost V-6 engine and 10-speed automatic transmission.
Delivered to me recently was a silver-metallic-finished 2020 Ford Expedition Limited 4X4, with a window sticker price of $71,865.
With a business matter awaiting me up north in Wyoming, Jan and I on a Monday afternoon drove the Expedition to Fort Collins, then followed U.S.  287 to the northwest. That road to Laramie, Wyo., is a swift highway and, over the 65 miles, the elevation gain is more than 2,000 feet, from 4,982 to 7,165. There are lots of truck traffic and numerous passing lanes, in which the Ford took advantage with its EcoBoost power. From a 78-degree reading in Fort Collins we got into falling temps and heavy rain by the time we reached the Wyoming state line. Temperature in Laramie was at a cool 41, unusual in June.
Response of the 5,600-pound Expedition with the EcoBoost V-6 was strong. The drive, which began and ended in Greeley, covered 202 miles; from Laramie we headed east to Cheyenne, then south to Greeley via U.S. 85. Fuel-mileage average for the drive was 20.9 and, when including some in-town trips, overall mpg was 19.5 (EPA estimate is 17-22).
The body-on-frame Expedition is equipped for offroad duty, with 9.8-inch ground clearance, terrain-management system, continuously controlled damping suspension, hill-descent control and push-button activation of four-wheel high and low. It's a tough competitor for the GMC Yukon, Chevy Tahoe and Suburban, Nissan Armada and Toyota Sequoia. It rides on Michelin 275/65R18 tires.
The three-row Expedition is an eight-passenger vehicle; behind its back row are 20 cubic feet of cargo space which can be expanded to around 60 by folding the third row. The fold can be accomplished by pushing a button inside the opened rear liftgate.
Among its options are the Ford Co-Pilot360 package of advanced driver-assistances, voice-activated and touchscreen navigation, panoramic roof, 360-degree camera and running boards.
Besides the Limited, cheaper trim levels are XL and XLT and upper levels King Ranch and Platinum. In addition to the standard Expedition, an extended-length Max version is offered; it is 12 inches longer