$233,000 McLaren shines on Father's Day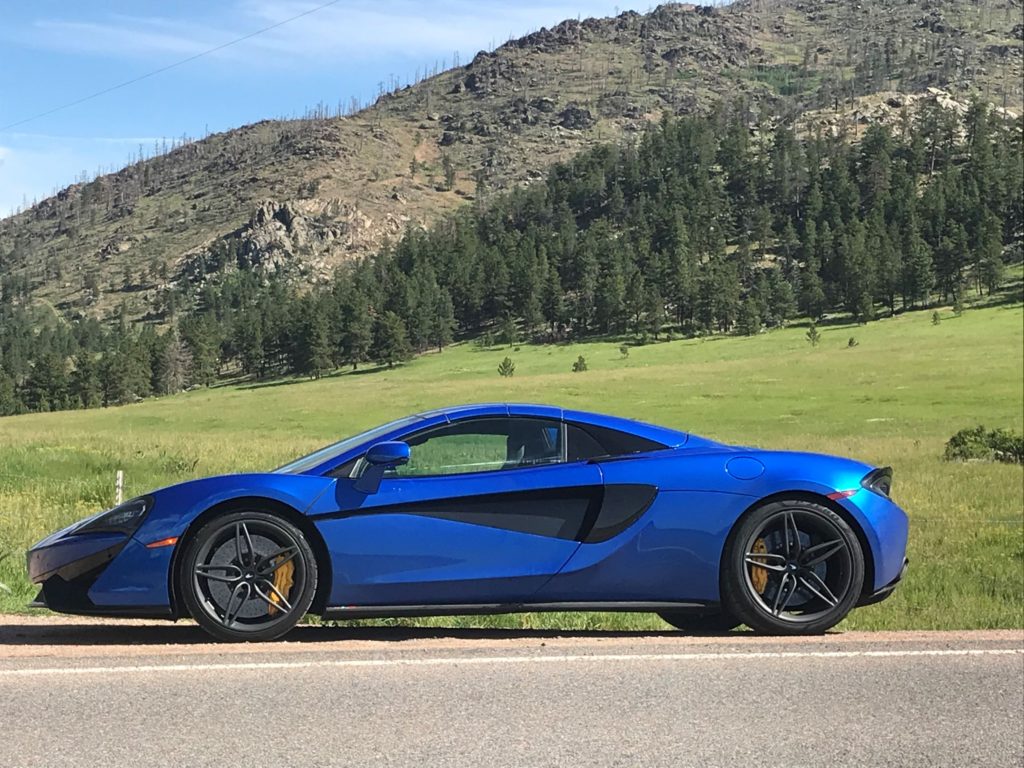 Roars from my garage on numerous startups during Father's Day weekend were from the English-built 2020 McLaren 570S Spider. What an absolute treat for this old dad.
This beautifully structured superperformer drew admiring stares and waves almost everywhere, from backing out of my garage to parking in a Starbucks lot to pausing among four women and a guy in a classy, age-restrictive neighborhood and out onto the roadways of northern Colorado.
Finished in elite vega blue, the $233,000 McLaren 570S boasts 562 horsepower/442 lb.-ft. of torque from a twin-turbocharged, 3.8-liter V-8 engine mounted midship and 7-speed dual-clutch seamless-shift automatic transmission in rear-wheel drive. It will run 0 to 60 in barely over 3 seconds, with a top speed of 204 miles per hour. Throttle and suspension can be set from normal to sport to track. Bright yellow calipers draw attention to its huge ceramic brake discs, 15.5 inches in front and 15 at the rear.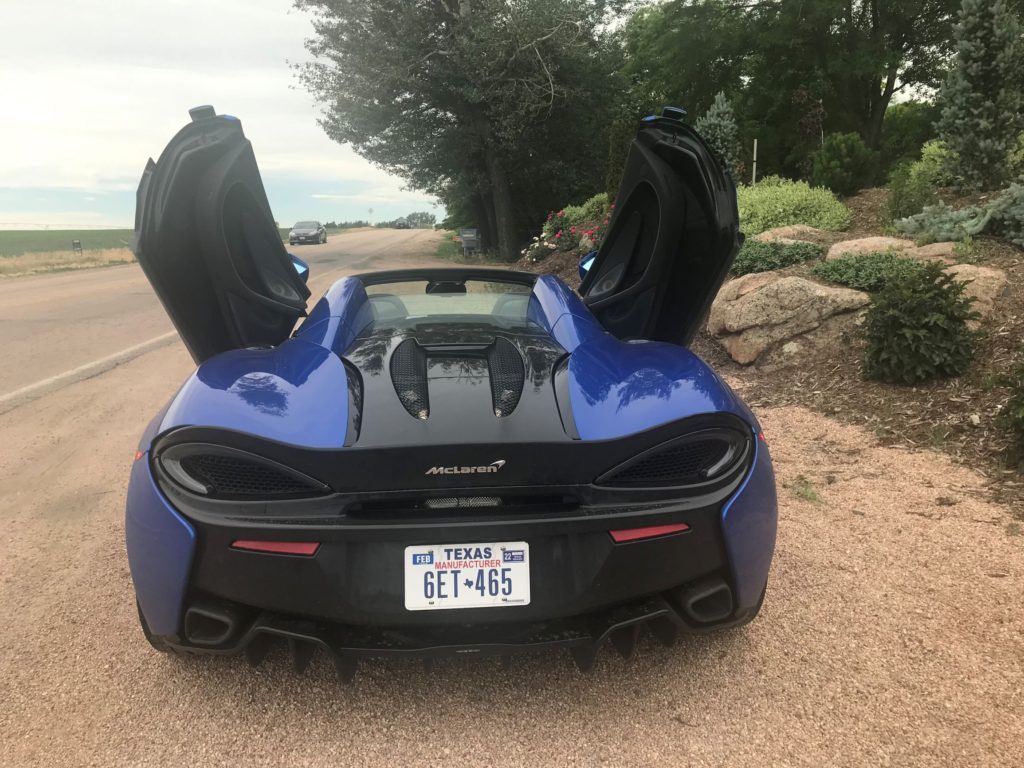 With its butterfly (dihedral) doors opened and the top in place, there is no smooth manner in or out of the driver seat; it is much less a chore with the top dropped. The spider stands just under 4 feet in height and its ground clearance is a tight 3.7 inches. With the touch of a button by the driver, the low-slung car will raise by 1 ½ inches and avoid scraping the driveway curbing, then as speed reaches just over 35 miles per hour the car lowers to normal diving height.
Mike Ward, the dealer out south near C-470 who operates McLaren Denver and six other luxury marques, mentioned that the 570S is the entry-level machine for McLaren. It is overshadowed by the 720S, with that much (720) horsepower. Ward said his store had sold 200 McLarens in three years. There are 26 McLaren dealerships in the U.S. The closest to Denver is at Scottsdale, Ariz., owned also by Ward. High-end businessmen and women are buyers of most McLarens, he said.
The McLaren company, launched by Bruce McLaren in 1963, today operates at Surrey, Woking, England, where the McLarens are hand-built. Among options pushing sticker price of the review model to $233,780 are Bowers & Wilkins audio and $4,780 for upgrade to twin-spoke lightweight wheels.
My final drive in the supercar was on a Monday morning, over through Loveland to Masonville and on north through Rist Canyon to Fort Collins. The well-planted McLaren, of carbon-fibre construction and responsive with adaptive dampers, fears no cornering, and it conquered every one of the hundreds of twists of Rist. Among others I've tested on Ritz road are Chevy Corvette Grand Sport Coupe, Porsche Carrera, Ford Mustang GT, Chrysler 300 SRT8 and Fiat 124 Abarth roadster. The McLaren's fuel mileage was 18.9.
Seat controls, out of sight at the front inner corner of the bottom cushion, made seat and seatback adjustments on the 2020 McLaren 570S Spider a guessing game at times. I questioned, too, the small, 2-inch-square brake pedal pad for a super-performing auto such as that.
From an onlooker's vantage, though, the McLaren drew nothing but "oohs" and "aahs."
Its fluid style was well-received. "What a beautiful car; I love it and I don't even know what it is," said Colleen Callahan of Greeley. After being told it is an English-built McLaren, she said, "My late husband had a Sunbeam Tiger," a rare sports car also from England in the mid-1960s.
Here are optional items which pushed the price of the McLaren from a base of $208,800 to sticker of $233,780:
Ignition key,
MSO Black Pack,
tyre pressure monitoring system,
Pirelli P Zero tires,
ceramic brakes with yellow calipers,
twin-spoke lightweight wheels,
nose life,
parking sensors,
rear parking camera,
battery charger,
branded floor mats,
carbon fibre interior components,
carbon black leather steering wheel,
carbon black alcantra headliner,
electric steering column,
electric and heated memory seats,
luxury pack,
jet black interior theme,
nappa sport interior trim,
soft-close doors,
stealth exhaust finisher,
sports exhaust,
vega blue exterior paint,
satellite radio,
Bowers & Wilkins audio,
transportation.
Laura Tilley, McLaren public relations manager, reminded me before delivery of the 570S that I am restricted to only 250 miles of use. I'd completed the Rist Canyon drive and was heading home when the odometer's trip computer registered 250.0, and I . . . . . the quick, brown fox jumped over the lazy dog's head, the quick, brown fox jumped over the lazy dog's head, the quick, brown fox jumped over the lazy dog's head, the quick,