Lexus expands with open-top LC500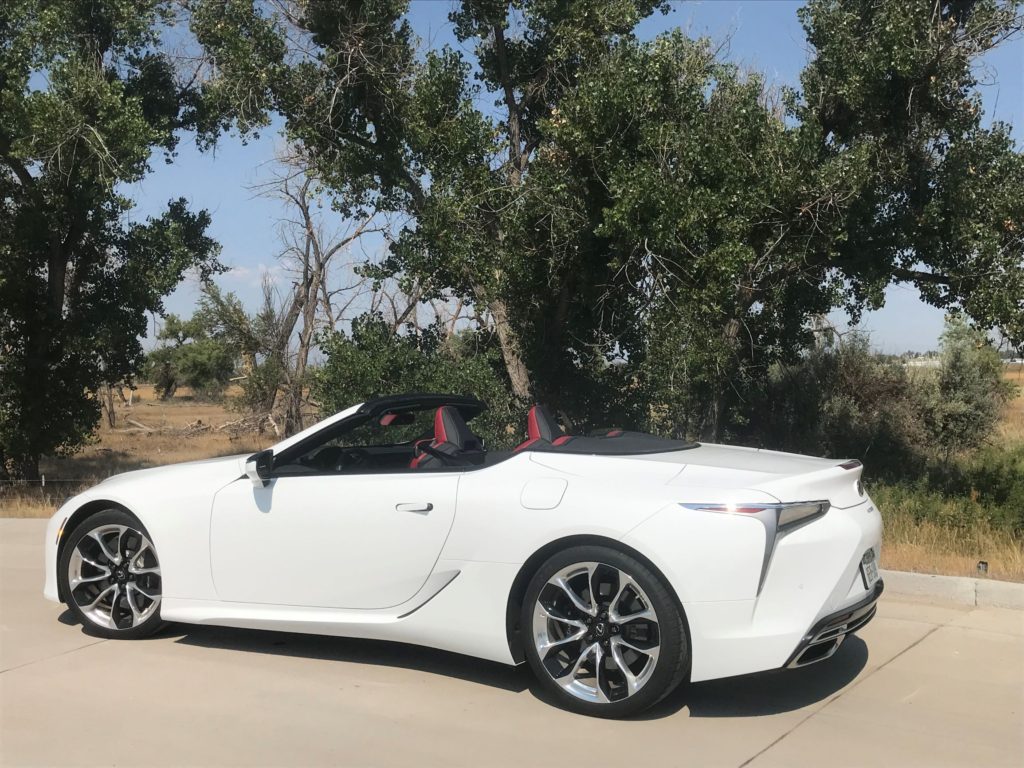 The 2021 Lexus LC500 Convertible, anticipated for a couple of years, has arrived – in style. Beautiful. With a top that drops in 15 seconds, the LC's appearance was timed perfectly for our warm days and cool-down evenings of August.
Lexus, when it introduced its LC500 coupe three years ago, labeled it a "world-class luxury coupe, with enhanced steering, suspension and braking."
Regarding the new convertible, add the attribute "stylish," as in world class leader, noted from its spindle grille and long, tapered hood back to the well-defined rear haunches. Smiles of admiration and awe highlighted faces of family members and friends who were escorted into my garage for viewing of the LC.
Top up or top down, it's the best-looker of new autos; better than the BMW 850i convertible, better than the Mercedes-Benz SL550, better than the Porsche 911 and, yes, better than the Acura NSX. That covers the main competitors for the LC500 convertible.
Those foes, particularly the three German firms, will lay claim to superior performance and comfort, with some merit.
Lexus will counter and wave its price tag – sticker price of $111,325. Compare the SL550 at $120,000, the 911 and 850i at $130,000 and the NSX at 150,000.
To build interest in the convertible, seven months ago prior to production, a bidding event at the Barrett-Jackson Auction at Scottsdale, Ariz., was to own the first LC500 convertible. A prototype was shown at the auction; winning bid was $2 million by Kent Stevinson, longtime Chevrolet/Toyota/Lexus dealer in the Denver area. The entire amount went to two charities, Boys & Girls Club of America and the Bob Woodruff Foundation.
Stevinson took delivery of the special Lexus, stamped No. 100001. It was finished in structural blue with white leather interior.
The review model I drove showed off very brightly circuit red seats inside against an ultrawhite exterior and black top.
Who wants turbo boost? When power is needed, this rear-wheel-drive Lexus delivers with a naturally aspirated, 471-horsepower, 5.0-liter V-8 engine and 10-speed sport direct-shift transmission with manual mode and magnesium paddleshifters at the steering wheel. Front brake discs are huge, 15.7 inches, with 14.1 at the rear. Strong acceleration is appreciated; so, too, the active sport exhaust.
The interior is enhanced with surround sound audio from Mark Levinson 13-speaker system. Tiny buttons for cruise control and driver information are frustrating.
Sticker price hit $111,325 with options of
21-inch forged wheels at $2,650,
head-up display $900,
limited-slip differential $460 and
a touring package of aniline leather-trimmed seats, heated steering wheel, climate concierge with upper-body heating and Levinson-embossed headrests.
Aiding the upper-body heat is warm air blowing from the headrests.
Included among safety features are precollision system with pedestrian-detection, radar cruise control, intelligent high beams and lane-keep assist and lane-departure alert with steering assist.
The Lexus LC500 convertible, built in Aichi, Japan, is on a wheelbase of 113 inches, 187.4 inches in overall length and curb weight of 4,540 pounds.