710-hp Durango Hellcat most powerful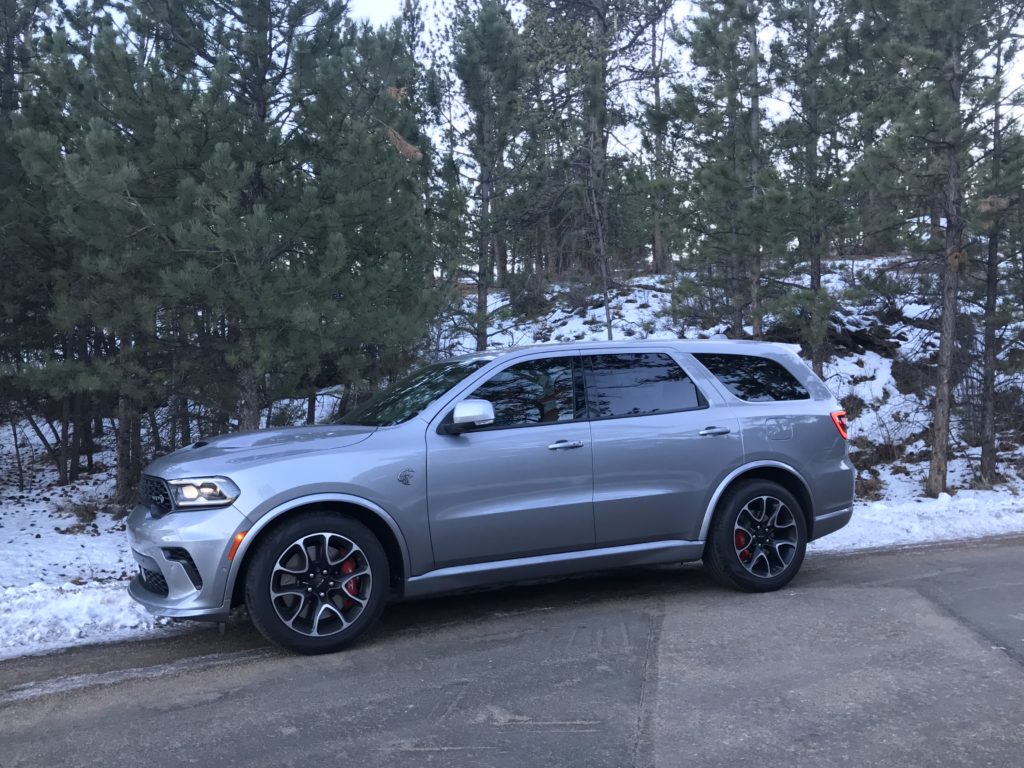 The 2021 Dodge Durango Hellcat is the most powerful SUV in the country; well, most powerful in the world, I guess. Its supercharged 6.2-liter Hemi Hellcat V-8 generates 710 horsepower and 645 lb.-ft. of torque. It will attain 180-miles-per-hour speeds and tow 8,700 pounds.
So, what was it doing in Estes Park on a Saturday afternoon in December?
It carried Jan and me west out of Greeley, through Loveland and into Big Thompson Canyon past the Dam Store. Oh, my gosh, the roar of the exhausts between the rock walls of the Narrows, even at the relatively tame miles-per-hour pace, was awesome (in my opinion). On up the canyon I drove, paddle-shifting between 4th, 5th and 6th gears to keep pace in the busy line of automobiles.
The silver-colored Durango, with the under-hood valve covers of orange hue, a favorite for Hemis 60 years ago, rolled into a somewhat nostalgic scene along Estes Park's Main Street, almost defying the facts of the country's pandemic. Happy shoppers, it seemed, some masked, some not, in and out of the stores and filling the sidewalks; lots of packages and shopping bags.
Our only departure of the Hellcat was a couple miles above the village, long enough for a photo of the Durango, then slowly back through Main Street and eventually, back home.
In a setting far from downtown shoppers on another day, I clocked a 4.2-seconds 0-to-60 time in the Durango. This was a blink-of-an-eye slower than a 3.9-seconds time I recorded with an '18 Jeep Grand Cherokee Trackhawk with a 707-hp Hellcat engine.
For the '21 Durango, this is the year of the Hellcat, and the only year; it won't be available in the Dodge SUV after the 2021 model year. Hellcat engines were originally offered only in the Dodge Charger and Challenger models, later added to the Grand Cherokee Trackhawk and this fall to the Ram TRX and Durango.
While base price on the Durango Hellcat is $80,995, sticker price soared to $93,150 with optional Laguna leather seats, full-speed forward-collision warning, adaptive cruise control, rear DVD, suede headliner, Harman Kardon sound and red seat belts.
The week preceding the Hellcat testing, I drove the '21 Dodge Durango R/T AWD model, sticker priced at $66,650. Since the R/T was equipped with the 360-hp Hemi V-8, this indicates a sizable chunk of the $27,000 difference in price from the Hellcat is the 710-hp engine.