Traditionally tough Defender returns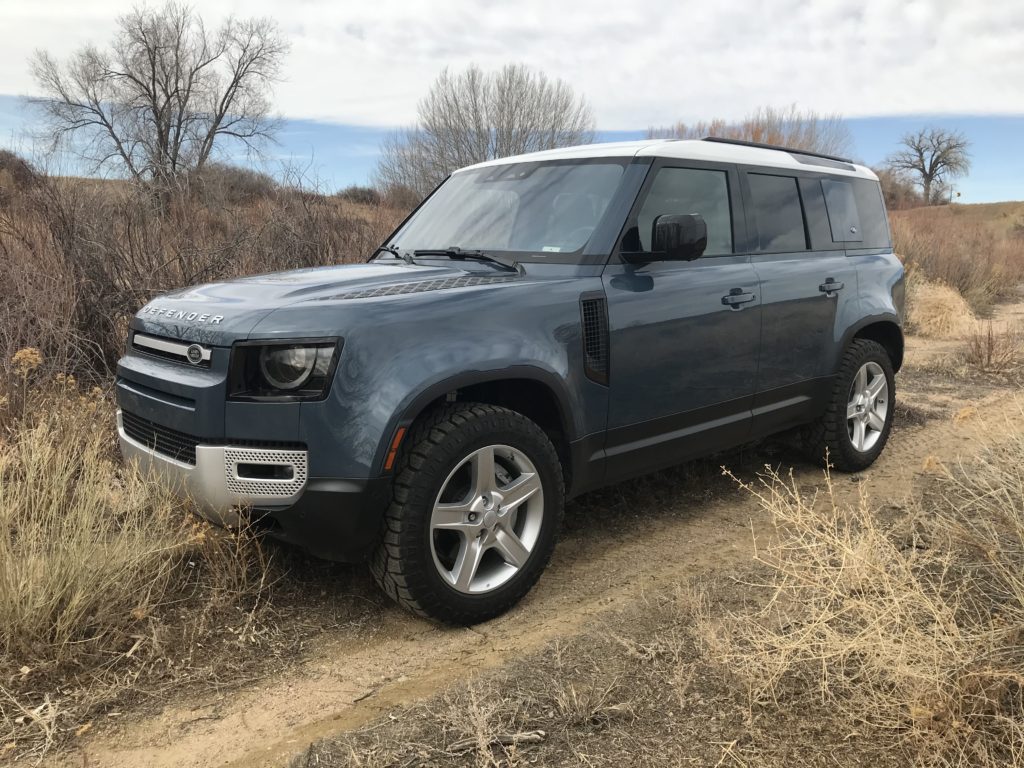 One of the toughest of Land Rovers, after a 23-year absence from the U.S., is back.
The Land Rover Defender 110, for which roots date to the original LR in1950, fits the role of terrain tamer and is pitted against Jeep Wrangler, Toyota Land Cruiser, Mercedes Gelaendewagen and a couple others as super offroaders.
Built on Land Rover's new all-aluminum D7x platform, the Defender is equipped with a powerful turbocharged, inline-6-cylinder of 395 horsepower and 408 lb.-ft. of torque, mated to an 8-speed automatic transmission with selectable driving and offroad modes. In Sport, tap shifter up or down for manual-mode swiftness. A direct-front camera aids its 4X4 prowess.
The Defender is built on a lengthy, 119-inch wheelbase; yet, in overall length it is the shortest of the six Land Rover/Range Rover models. From shortest to lengthiest overall are the Defender at 170.2 inches, the Range Rover Evoque at 172.1, the Land Rover Discovery Sport 181, Range Rover Sport 192.1, Land Rover Discovery 195.1 and the flagship Range Rover 196.9.
The five-passenger Defender sent my way was finished in tasman blue, a color particularly well-suited to the structurally tough-looking sport ute, with white top. The classic blue color was used on Range Rovers from 1982 to '87. In restyling, the square body of old has given way to a new grille and softening along the sides. The back end is chopped off at the rear corners as though to retain a bit of the traditional squared-off appearance.
With Jan, Bill and Kathy Allen aboard, I headed the Land Rover out northeast on a Saturday afternoon on a smooth drive (air suspension) 75 miles along Colo. 392 and 14. We slowed only on arrival at our destination, Stoneham and Dewey's Bar and Grill, where we joined Jon and Nancy Weaver and Will and Jody Kulp of Greeley for dinner. On leaving a couple hours later, I visited with two other couples from our area who had driven to the "prime-rib specialty house," Ron and Madge Randell of Greeley and Darrel and Debbie Dilley of LaSalle.
Overall fuel-mileage average for the Defender was 20.3 mpg; its EPA estimate is 17/22. Premium fuel is recommended. Its 360-mile test included another drive – to Denver – and lots of stop-and-go city maneuvering.
Added to that was some offroading to get a feel for the Defender's Terrain Response system, which is engaged by touching a button on the center stack, then pushing in the driver-side heater temperature control knob (yes, that is correct) and dialing in the proper terrain setting among normal, rock crawl, mud and ruts, grass/gravel/snow, sand and wade, for traversing low-spot water in roadways or small streams.
The turbocharged 3.0-liter V-6 is very responsive, plenty strong; yet, for the 2022 model year, Land Rover will add a 518-horsepower, supercharged 5.0-liter V-8 engine to both the 110 and the 90 two-door.
From a base price of $63,275, the 2020 Defender 110 SE climbed to sticker of $71,025 by adding adaptive cruise with stop-and-go, heated steering wheel and washer jets, configurable terrain response, electronic active differential, Goodyear Wrangler 255/60R20 tires, satellite radio and premium cabin lighting.
British-based, the Defender is built in Slovakia.