Big AMG Mercedes tests twists of Rist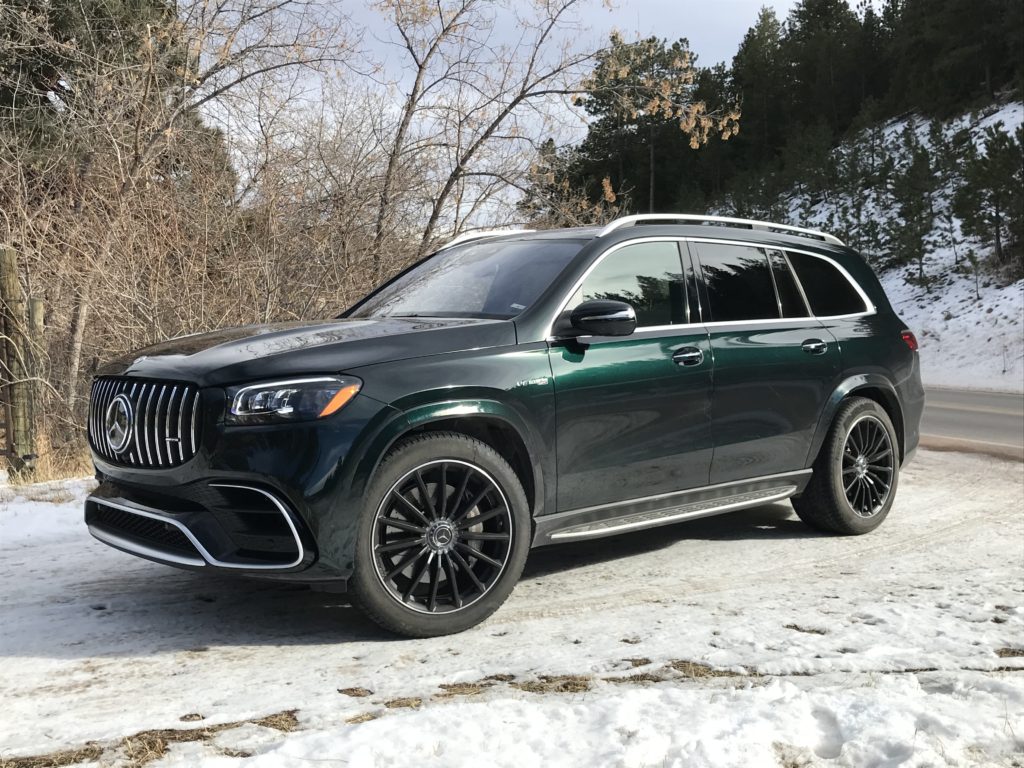 The twists of Rist provided a delightful start to Christmas week 2020 for Jan and me aboard the 2021 Mercedes AMG GLS63 sport ute.
This big full-sized beauty belies its size in driving the narrow, curvy roads of Rist Canyon from Masonville to Bellvue in Larimer County on Sunday morning.
Following a brief stop at the Stove Prairie School, we continued several miles down the road before a photo stop and opportunity for a short visit with Jeff and Michele Yarberry.
From Masonville to Stove Prairie to Bellvue, I drove in Sport mode, using 3rd and 4th gears manually for best control of the big Benz on the narrow curves, up and down the hills. Fuel mileage average was 17.1 miles per gallon.
AMG's hand-built 4.0-liter biturbo V-8 engine with EQ boost produces 603 horsepower, 627 torque with a 9-speed automatic transmission and 4Matic all-wheel drive. The mild-hybrid EQ boost improves efficiency and performance at the same time.
Considering that power, along with AMG Active Ride Control suspension, AMG Dynamic Select drive mode, AMG multi-spoke forged wheels at $4,450 extra and AMG silver brake calipers, surely the sticker price won't be a shocker. How about $149,740?
AMG is the high-performance division of Mercedes and independently engineers, manufactures and customizes M-B products.
The Burmester 3D Surround Sound system is a $4,550 optional add, and there are a carbon-fiber engine compartment cover, three rows of seats (sunshades for the middle row), and panorama roof. All three rows of seats are heated, as are the armrests and door panels, but you know what? The steering wheel is not heated.
The GLS is one of the finest seven-passenger sport utes in the country, with an exceptionally smooth ride and one of the most effective, least obtrusive stability control/curve control/lane-keeping assists of any on the market. Large, thick headrests can block driver vision to the rear side.
The Mercedes rides on a wheelbase of 123.4 inches, is 205 inches in overall length, with curb weight of 5,800 pounds. It is assembled in Vance, Ala. Engine and transmission are built in Germany.
Forty years ago, Mercedes-Benz previewed the first driver's airbag and seat belt tensioner, cutting-edge safety innovation. A limited number of S-Class sedans were delivered with the new technology, a joint development between Daimler-Benz AG and Bosch.
This ushered in the triumph of a restraint system which was quickly adopted by many automotive manufacturers across the world.
The airbag and seat-belt tensioner were available in 1982 as optional extras for all Mercedes-Benz passenger cars. By 1992, the driver's airbag was standard equipment in all of the brand's models, followed by a front passenger airbag as standard in 1994.