Rubicon 392 reinforces Jeep Wrangler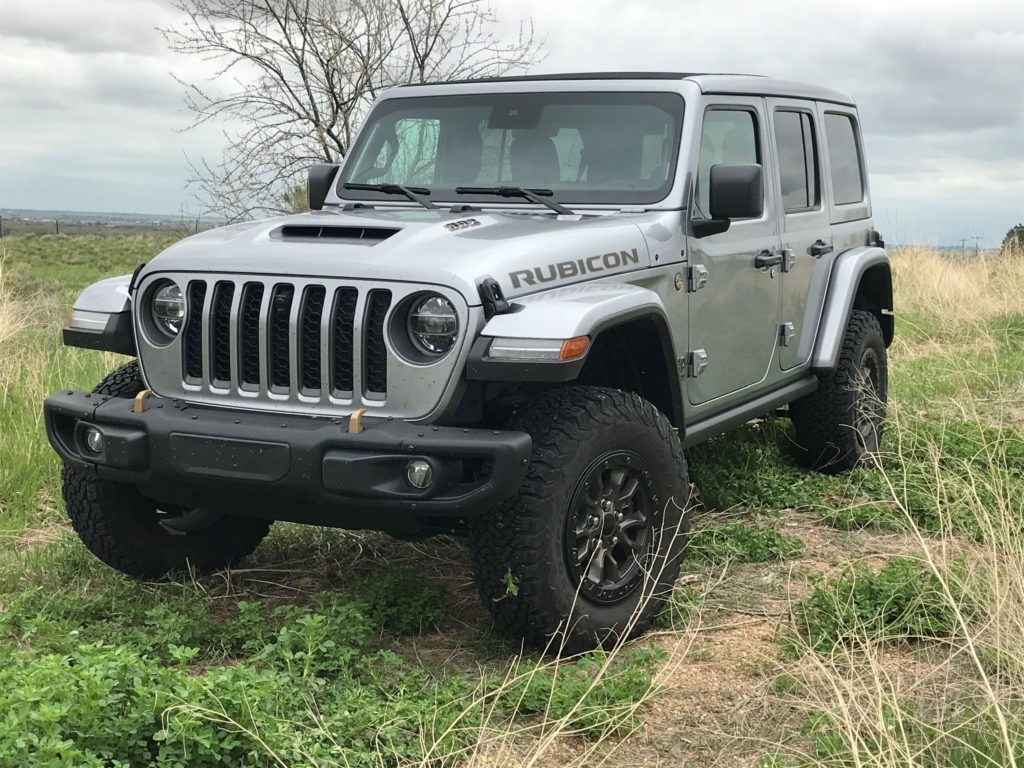 The idealized Hemi engine, on Memorial Day weekend, in return of V-8 power in the Wrangler Unlimited has swelled interest even beyond the multitude of Jeep enthusiasts.
The new 2021 Jeep Wrangler Unlimited Rubicon 392 has arrived with the 6.4-liter Hemi of 470 horsepower and torque, 8-speed automatic transmission and four-wheel drive.
The Jeep's timing and obvious offroad chops have drawn attention from the Ford followers awaiting arrival of the new Bronco. Those two will meet head-on into the fall and winter 4X4 seasons.
Both will ably handle whatever the outdoors has to offer, yet may often serve as cushy, well-mannered family haulers.
It has been 40 years since a V-8 block was mounted beneath the hood of a Wrangler/CJ – that was a 304-cubic-incher (150 horsepower) in the American Motors' days of 1981.
Fire up the 392 and, instantly, the rumble of the new, dual-mode exhaust with quad pipes will entertain. Early morning, it may wake a neighbor or two. A performance exhaust button will turn it off or on again.
Bronze tow hooks front and back adorn the bumpers and a functional hood with hydro-guide induction system cools the engine and boosts performance. It has locking axles front and rear.
Wrangler's new 392 has an inch lift over a standard Rubicon and 2-inch over the standard Wrangler, creating a very high step-in level. Once inside, large, firm, comfortable front seats of stitched leather are heated and roominess of the four-door 4X4 is appreciated.
Jeep's Sky One-Touch power soft top roof, with touch of a button, opens from the windshield header to the cargo area, a $2,000 option. The slide system appears better-built and of probable longer-lasting service than the one used 10 years ago on the Liberty.
Handy are tie-down slides in the cargo area, even on the inner side of the tailgate. Spare is mounted outside on the tailgate.
Impressive-looking on the Jeep's 17-inch wheels are beadlock-capable rings that help lock the tires' outer bead to the wheel. Brake rotor diameters are 12.9 inches at all four corners and Fox aluminum-bodied, 2-inch-diameter shocks are upgrades. Tires are B.F. Goodrich All-Terrain LT 285/70R17s.
The big Hemi in the big four-door Wrangler carries one of the lower EPA estimates of 13 in the city and 17 on the highway. My overall driving showed a 17.2 average.
The Rubicon 392, built at Toledo, Ohio, shows a sticker price of $78,740, including the two-grand for the sky top and $595 for an integrated offroad camera. Among standard items are Uconnect navigation, Alpine audio, Google Android Auto, Apple CarPlay and automatic headlamps.
Chrysler launched its first Hemi V-8 70 years ago in its 1951 full-sized sedan, and soon added them in DeSoto and Dodge. Chrysler's second-generation Hemi in 1964 was driven to Richard Petty's first big Nascar win, as Plymouths finished first, second and third.