Turbo added to Mazda3 AWD hatch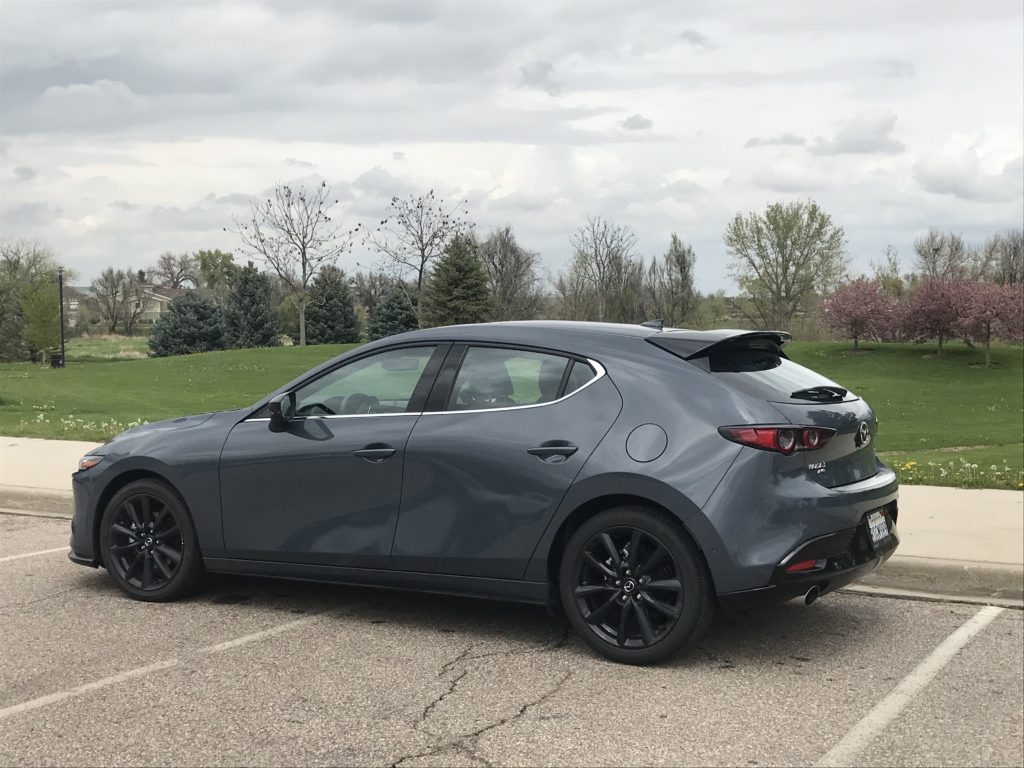 Delightful, spirited driving in the rain came my way in the form of the 2021 Mazda3 hatchback; after an eight-year absence, the little compact regains optional turbocharging.
Precise, light steering complements performance by the new turboed Skyactiv-G, 2.5-liter, 4-cylinder engine developing 227 horsepower and tied to a 6-speed automatic transmission with all-wheel drive. It offers normal and sport modes.
On a muddy, slippery road out east of Galeton, which is east of Eaton, the merits of its relatively new AWD system kept us pretty much in forward direction. The optional AWD was added two years ago, lending the little compact more suitability to driving in Colorado. It is called i-Activ AWD and uses "four-wheel vertical load detection" to control torque as needed between the front and rear wheels.
The turbo enhances the acceleration and twisting capabilities of the hatchback, which uses front strut suspension with coil springs and a rear torsion-beam setup.
The stylish "3" sports a distinctive rear end featuring a large spoiler over a raked rear window. Inside, it is finished in a more luxurious fashion than most competitors. Rear seating is somewhat cramped, though cargo space is 20 cubic feet and expands to 47 feet with the back seats folded.
The Mazda3 was chosen earlier this year as "car of the year" by Rocky Mountain Automotive Press and will be honored for the award at the Denver Auto Show in September.
Much as I like the little Mazda, it didn't get my vote for "top car." I cast my ballot for the Chevy Corvette Stingray. If ever the Vette earned recognition, this is the year, with its evolvement to Formula One racing style, midengine layout after all these years of front-engine placement, 495-horsepower and an 8-speed, dual-clutch automatic transmission, another first for the rear-drive Corvette.
Other honors from RMAP are the GMC Yukon Denali as No. 1 in SUV-of-the-Year competition and the Ram 1500 TRX Crew Cab as Truck of the Year.
Testing the turbo took a toll on the Mazda3's fuel mileage; overall it was 25.6, the lower half of its EPA estimate of 23-31. The hatchback is shod with Bridgestone Turanza low-profile 215/45R18 tires.
The hatchback's length of 175.6 inches is almost 8 inches shorter than a Mazda3 sedan. Wheelbase length is the same for both at 107.3 inches.
Besides the turboed engine, two others are available for the Mazda 3 – a base 2.0-liter, 4-cylinder of 155 horsepower and a naturally aspirated 2.5-liter of 186 horsepower.
Sticker price on the Mazda3 Turbo hatchback, built in Hofu, Japan, is $34,945, including Android Auto/Apple CarPlay capability, 18-inch black alloy wheels, heated seats and steering wheel, Mazda radar cruise control/lane-departure warning/traffic-sign recognition, 360-degree view monitor, Bose audio, navigation and moonroof.
Mazda entered the U.S. market 50 years ago with a rotary-powered R100 coupe. Today, with all its sleekness, high-tech and performance, the Mazda3 is far behind in sales of other Japanese-based and Korean compacts in the U.S. Over the first four months of 2021, Toyota Corolla has sold 103,742; Honda Civic 84,317; Hyundai Elantra 40,451; Kia Forte 37,354; Mazda3 13,786.