BMW softtop makes run to 'The Pod'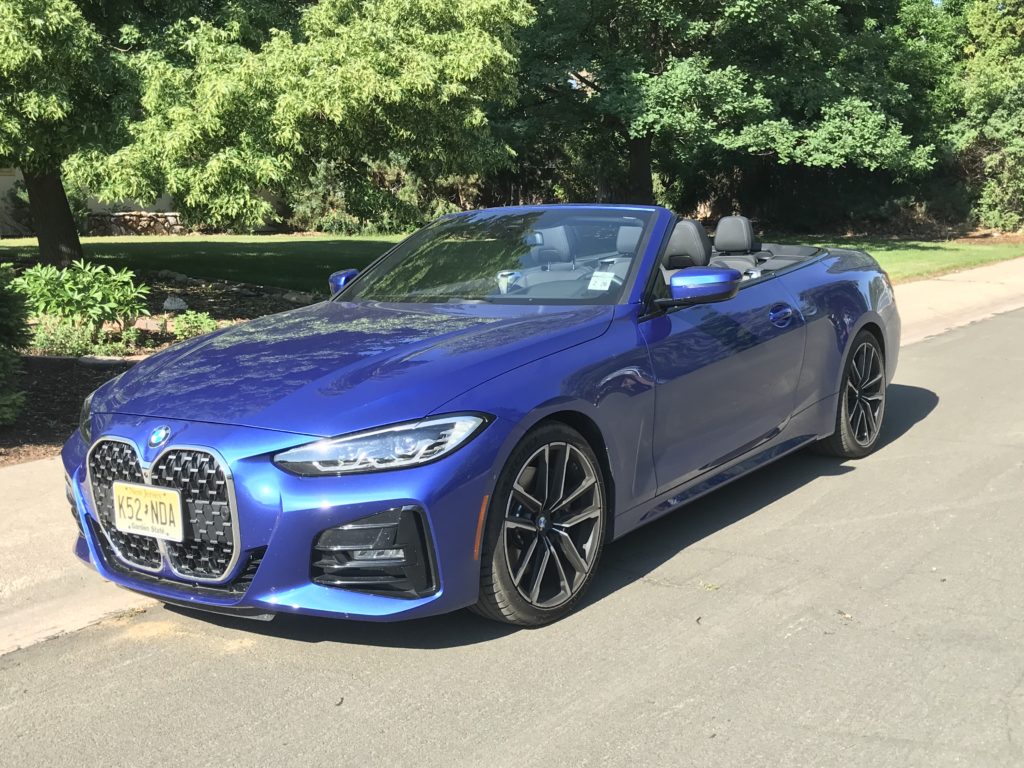 The 2021 BMW 430i portimao blue convertible, carrying me south from Greeley on U.S. 85, is beautifully restyled, at least to the point up front of its large, new grille, which has been called a detraction by some onlookers.
I turned the Bimmer to the east onto Colo. 52 at Fort Lupton and drove on to the Pepper Pod at Hudson, where I enjoyed morning coffee with Bob Smith, Hall of Fame wrestling coach from Wray. Smith, now retired out northeast of Denver, established one of the nation's best coaching records in the years 1958-1991 at Wray High School.
In 33 years with the Wray Eagles, Smith won 30 league titles, 10 state championships and was second at state seven times. After leaving Wray, Smith coached Fort Hays State University at Hays, Kan., into national rankings in wrestling before retiring.
Sports aside, there's another line of interest that merits Smith space in my column – automobiles. He's always been fascinated with cars. He has a North Denver High School graduation photo of him in his suit and tie and standing beside a 1936 Ford Cabriolet, his first car in 1954. A few years later, he acquired a 1930 Ford Model A Rumble Seat Coupe, which he helped overhaul in the Palmrose Ford shop at Wray in 1960.
Parked outside the Pepper Pod while we were coffeeing inside was a great-looking 2004 Chrysler PT Cruiser, Smith's current "car of choice." He likes its turbocharged 4-cylinder, and is especially proud of "door wraps" on both sides featuring three photos of the '36 Ford and three more of the Model A.
As for the 2021 BMW, the top will drop in 16 or 17 seconds. The 4 series convertible, formerly a hardtop, is equipped this year with a fabric softtop with multiple layers of insulation, which provide quicker heating of the cabin in cold weather. It is a bit noisier than the hardtop, though the softtop is lighter in weight and takes up less space in the trunk.
As for the grille, Peter Henrich, senior VP of Product Management for BMW, said most response to the bigger grille has been "very positive," but most feedback I received was of the "dislike" opinion. It is 18 inches in depth, about double the size of traditional BMW "twin-kidney grilles." Adding to disaffection is that license plates are bolted right onto the middle of the grille.
The rear-drive performance comes from a 2.0-liter, twin-power turbocharged 4-cylinder engine and 8-speed automatic transmission, not so smooth on acceleration as the former 6-cylinders. It was impressive in the fuel-mileage compilation, averaging 32.1 miles per gallon. Built in Dingolfing, Germany, the 430i rides on low-profile Michelin Pilot Sport 225/40R19 tires.
The 430i softtop base price of $53,100 jumps to $67,220 with addition of blue-stitched black leather interior, M-sport brakes with blue calipers, variable-sport steering, heated front seats and steering wheel and neck warmer.