McLaren 720S hits 100 in 5.3 seconds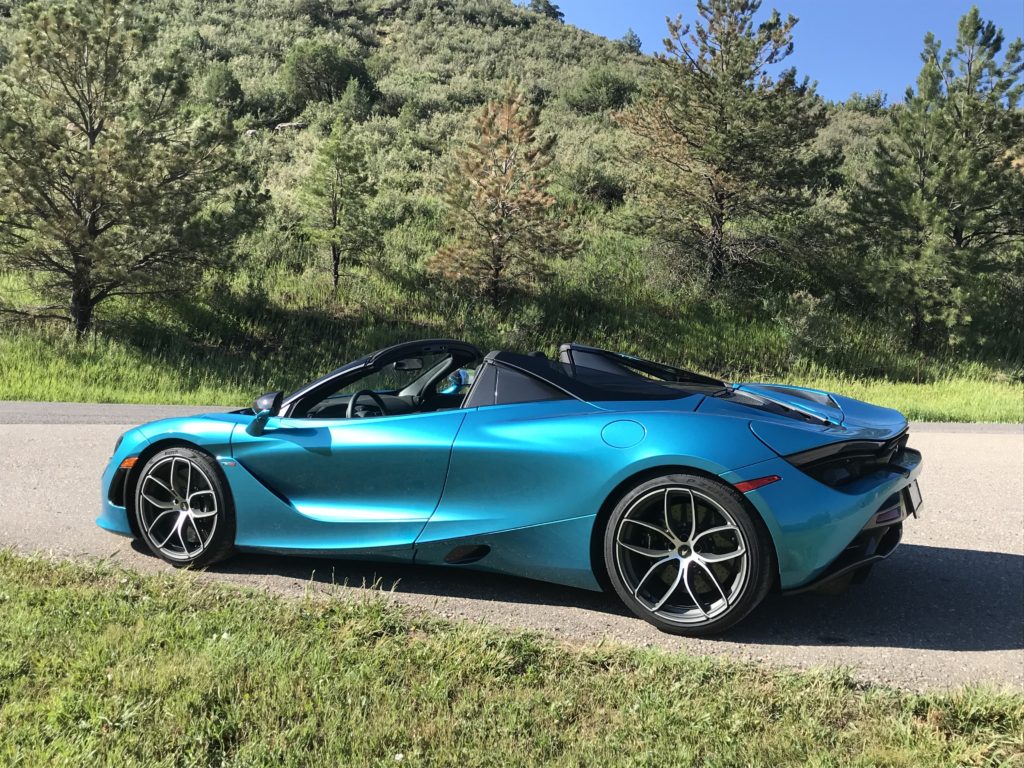 "If you liked that one, wait till you drive the 720S – it is so much more," said Mike Ward last summer after I'd driven and praised the experience in the McLaren 570S Spider.
The 720S, in convertible form, came my way in late June 2021 and it took about a quarter-mile for me to understand the declaration by Ward, owner of McLaren dealerships out south in Denver and at Scottsdale in Arizona.
The 720, styled along the lines of Ferrari and Lamborghini, is awesome in power, well-balanced for superb handling and precise steering.
Its twin-turbo 4.0-liter V-8 explodes with 710 horsepower and 568 lb.-ft. of torque with paddle-shifting 7-speed dual-clutch automatic transmission. It'll run 0-to-60 in 2.7 seconds, 0-to-100 in 5.3 seconds and attain top speed of 212 miles per hour. Backing up all that acceleration and power are carbon-ceramic 15.3-inch front brake rotors/15-inch rear. There is no pussyfooting around with the brake pedal; it is firm and insists on serious application.
It is a 720S Spider and its top will drop in 11 seconds. The open-air maneuvering of such a powerful rear-drive, two-seater supercar is exhilarating, even with its rough ride at times.
To the fact it sits only 47 inches high, with ground clearance barely over 4 inches, add its dihedral doors in which they open out and at the same time swing upward, requiring the driver and passenger to clamber out. It is an awkward exit. The midengine configuration allows a small luggage compartment under the up-front hood.
Almost anyone seems to recognize a McLaren; this one was finished in a beautiful belize blue. A few blocks before a pit stop in Johnstown, a mother followed me in the 720S several blocks in her car so her 10-year-old son could get close to the McLaren. Another mom and her 6-year-old walked up after he recognized it as "a McLaren."
The McLaren company was launched by Bruce McLaren as a racing enterprise in 1963. McLaren died in a car accident in 1970, though the company continued on and today hand-builds the supercars at its factory in Surrey, Woking, England.
The McLaren 720S Spider, sticker-priced at $362,960, is the second-priciest car I've driven; the costliest was last summer, the Rolls-Royce Cullinan SUV at $394,275.
Curb weight of the 2021 McLaren 720S Spider is 3,236 pounds, about 150 heavier than the 570S I drove a year ago. Both the 720 and 570 are about 179 inches in overall length on a wheelbase of 105 inches.
The 720S, with an EPA estimate of 18/22 miles per gallon, averaged 19.9 overall, including lots of strong acceleration.
The belize blue paint was a $5,270 option for the McLaren; another highlight was the 12-speaker Bowers & Wilkins surround sound,
A limited general and powertrain warranty cover three years and unlimited miles.