Mercedes unveils splendid Maybach SUV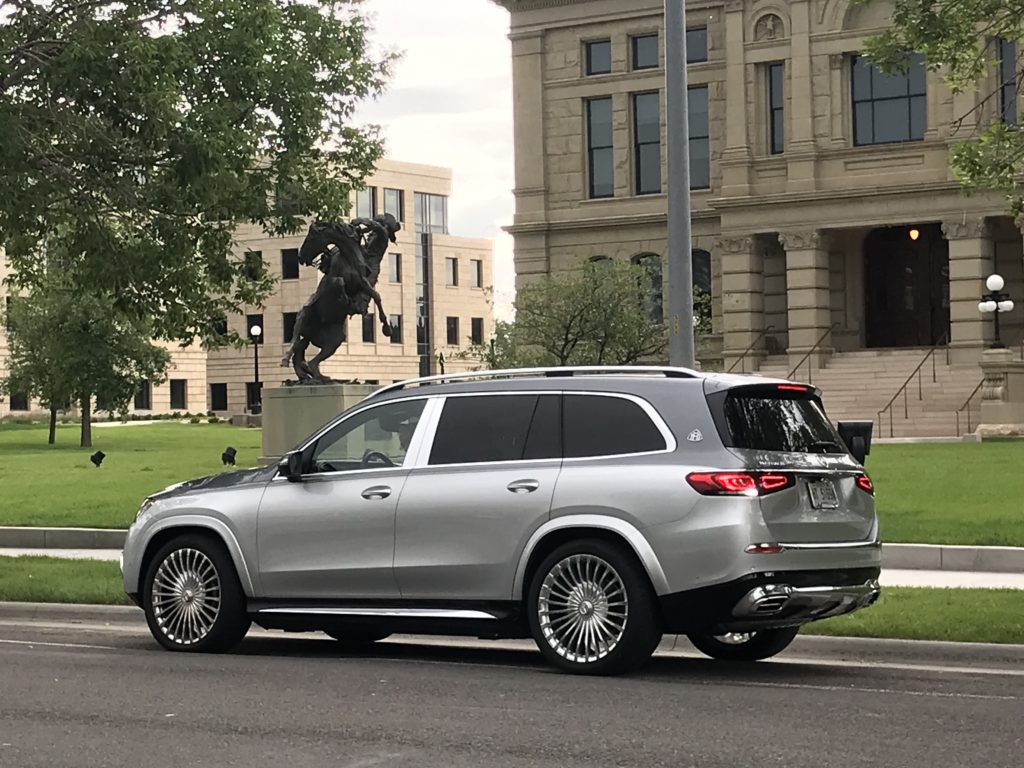 Step into the rear seating; I'll be driving and Jan will be up front with me.
It's the 2021 Mercedes Maybach GLS600 4Matic SUV, one of the finest luxury models available today.
Yes, only two rear seats, the center console dividing them is electronic; oh, behind them? It's a chill box refrigerator with two champagne flute glasses. Yes, the champagne is cooled.
Those are reclining, massaging seats with footrests, and rest your head upon the soft pillow lying back there. The fragrance; that's from up front, a mix of gentle leather and spicy tea. Should you need to work along the way, pull up those small folding tables.
We're heading out, northward bound, testing a 4.0-liter, biturbo V-8 engine of 550 horsepower, 538 lb.-ft. torque, 9-speed automatic transmission with paddles, permanent all-wheel drive, 23-inch wheels.
During an unusually pleasurable drive up north, with smoothness and quietness as good as I remember in any luxury vehicle, we stopped for a photo of the Maybach at the Wyoming State Capitol grounds at Cheyenne.
Delivery of this super-sensitive road control comes from Airmatic air suspension, which with sensors providing independent control for each wheel smooths the path ahead. In December 2019, I tested an early version of this E-Active Body Control while driving a Mercedes GLE450 4Matic SUV for three days to snowy Avon at Christmastime.
Electronically extending running boards, with surfaces of anodized aluminum marked with black rubber strips and wider at the rear doors than the front, are eye-catchers and offer safety for accessing and exiting the seating positions. The boards are designed to automatically swing into position as the SUV lowers slightly with the opening of any door; the running board system for the Maybach I drove was effective only about half the time, as someone apparently had messed with the menu.
Its 123.4-inch wheelbase is topped only by the 129.7 inches of the Rolls-Royce Cullinan. Other competitors are a bit shorter in wheelbase – the Cadillac Escalade at 120.9 inches, Aston Martin DBX at 120.5 and the Bentley Bentayga at 117.9.
It is finished in iridium silver metallic and selenite gray metallic special two-tone paint at an optional cost of $18,200, a Maybach-specific feature.
The optional two-tone paint helped push the Maybach's sticker price to $190,100; other costly add-ons were the 23-inch multispoke forged wheels at $5,500, the refrigerated compartment at $1,800 and the folding tables at $1,050.
Only four luxury models I've driven have been higher-priced: the 2020 Rolls-Royce Cullinan SUV at $394,275, the 2021 McLaren 720S Spider at $362,960, the 2010 Bentley Continental Supersports $286,845 and the 2020 McLaren 570S Spider $233,780.
While the Maybach is equipped with German-built Mercedes engine and transmission, the luxurious unit is assembled in the U.S. at Vance, Ala.
The original Maybach company was founded in Germany by Wilhelm Maybach, an early automotive designer. The company was acquired in 1960 by Daimler-Benz.