Redesigned 2022 Nissan Frontier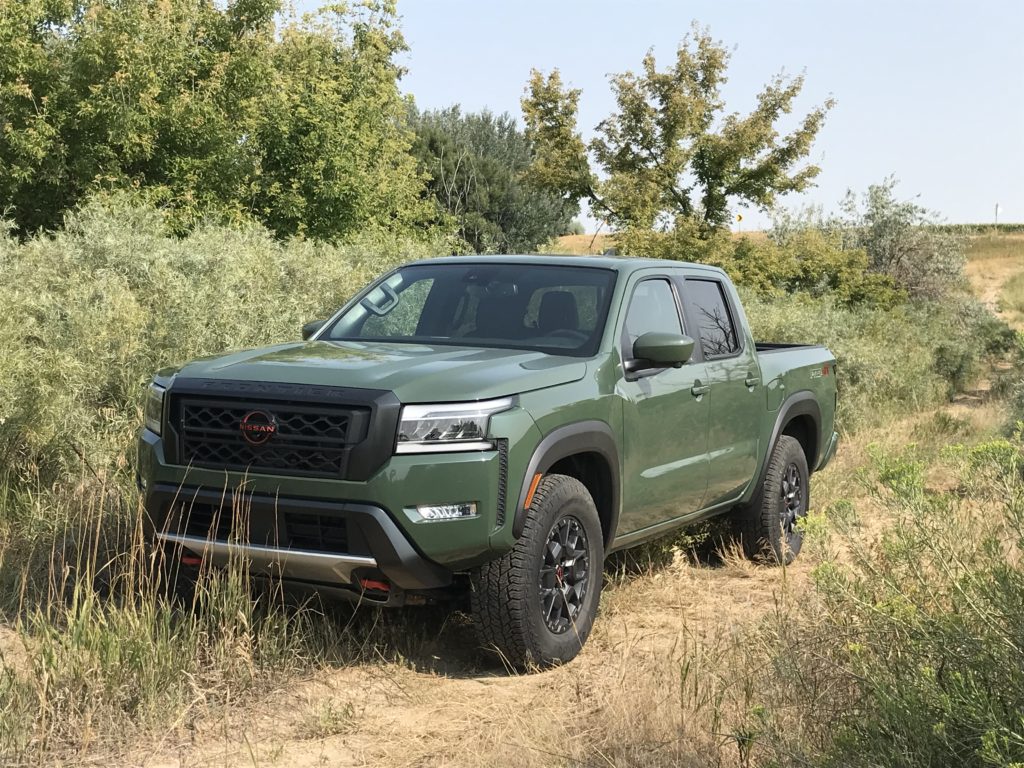 The 1984 Nissan pickup, owned by Rick Kussman of Fort Lupton, rests beside the new Frontier.
Fans of the Nissan Frontier, you've waited patiently, some of you for years for a new-look truck.
It's almost here – the all-new 2022 Frontier will arrive at Nissan dealerships in September.
It will be the first major overall redesign of the compact pickup since 2005. Its length has increased by 4 inches and height by 3 inches; it will greet you from a more rugged looking grille and front end.
There will be no lack of acceleration from the 310-horsepower, 3.8-liter V-6 engine and 9-speed automatic transmission with "shift-on-the-fly" 4-wheel-drive capability.
It's been a treat for me to drive one of the first 2022 Frontier Pro-4X models.
As I enjoyed a drive west on Colo. 52 in the 2022 Nissan Frontier from coffee at the Pepper Pod in Hudson with Bob Smith, I was nearing Fort Lupton when this older-looking little pickup pulled onto the road out front of me. I recognized it as an old Nissan (or Datsun), got closer and, sure enough, it read NISSAN across the tailgate. I followed it into a shopping center on the east side of Fort Lupton, parked beside it and asked of the two men exiting the vehicle, "What year is the Nissan?" It is a 1984, said Rick Kussman, who was riding with his son, J.D. Lest I assume it was junk, Kussman added, "The 4-wheel-drive is still in working order."
I'm not going to compare the new one with the '84, when all the compact pickups were much smaller and noisier, underpowered and rough riding.
For the first time in several years, the new-generation Frontier will be a legitimate competitor of the Toyota Tacoma, Ford Ranger, Chevy Colorado, GMC Canyon, Jeep Gladiator and Honda Ridgeline among compact pickups in the U.S.
Nissan's 310-hp, 3.8 V-6 is noticeably smoother and stronger than the old 4.0-liter V-6 of 261-hp, and the 9-speed tranny with its oft, quick shifts blows away the outdated 5-speed. Crawling about at the low speeds, though, the steering felt very heavy, seemingly lacking much power assist. The truck is equipped with Bilstein shocks.
A twist of a dial transfers the Frontier operation between 2-wheel-drive, 4-high and 4-low, and buttons for selecting hill-descent control and electronic locking rear differential. Low range exhibited sure, deliberate footing in a hill climb in offroad setting. Tow capacity for the Pro-4X is 6,290 pounds.
Back on the main road, the Frontier is very comfortable and especially quiet for a pickup with all-terrain tires. An interior highlight is its 9-inch color touchscreen with Intelligent Around-View Monitor. Its 5-foot bed is deeper by 1.4 inches for a bit more cargo area.
The '22 Nissan Frontier Pro-4X review model's base price of $38,390 climbed to $44,315 with addition of Fender Premium Audio, leather seats (heated in front), lane-departure warning, wireless charger, spray-in bedliner and other amenities.