'22 Kia Carnival makes run to Springs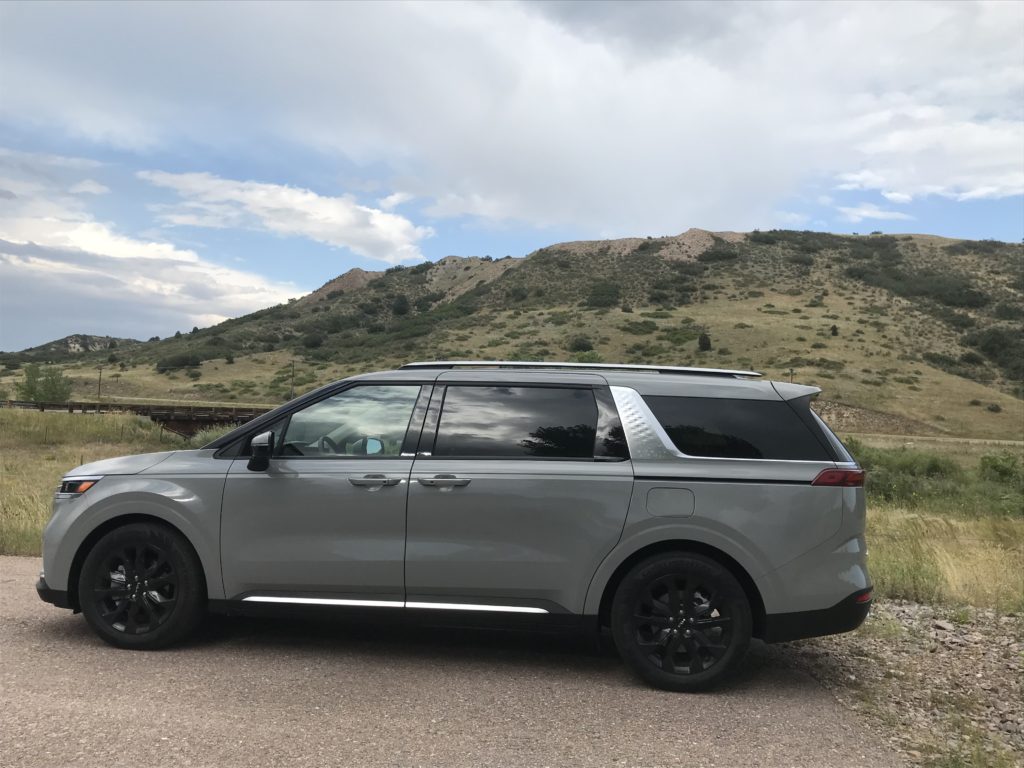 It wasn't enough that I drove the Carnival 130 miles to Colorado Springs and Manitou Springs; the Pikes Peak road to its new Visitor Center was closed on a Saturday in August, and I would have to come back another day.
That was okay, for we had other reasons to be there – to see an early preview of the 2023 Nissan Z Car at the Broadmoor World Center and to enjoy lunch nearby with a friend, Nissan manager of corporate communications Steve Parrett.
Shape of the new Z, expected to arrive next spring, is a throwback to the Datsun 240Z of the 1970s, and a twin-turbocharged V-6 will generate 400 horsepower, replacing a naturally aspirated 3.7-liter V-6 of 332-hp. The Z will challenge the Toyota GR Supra.
The Carnival referenced in the opening sentence is a new Kia minivan replacing the Sedona; it shares a platform with the Kia Sorento crossover. Kia refers to the Carnival as a multipurpose vehicle, citing exterior styling changes which give it a bigger look.
The more distinctive upgrades, though, appear to be inside, with room for up to eight occupants and cargo space behind the third row of seats is 40.2 cubic feet. It offers comfortable, supportive seats, with small-item cubbies throughout and 11 cupholders. The middle seat of three in the second row can be folded down into a table between the two outboards.
Navigation is tied to a 12.3-inch touchscreen, with Android Auto and Apple CarPlay smartphone integration and wireless phone charger. Its dual rear-seat entertainment system can play separate movies on the two screens mounted on the backs of the front-seat headrests.
It is of front-wheel-drive configuration, has no all-wheel-drive capability, nor does it offer a hybrid.
Its 290-horsepower, 3.5-liter V-6 engine and 8-speed automatic transmission, somewhat slow in low-end acceleration, perform very well in midrange torque and shift smoothly.
The fairly heavy van (4,600 pounds), in the I-25 drive to Colorado Springs and back and some stop-and-go travel in Manitou and Colorado City, averaged 24.4 miles per gallon overall. Its EPA estimate is 19 in city and 26 highway. The Carnival can tow up to 3,500 pounds.
Among driver-assist technology are forward-collision and blind-spot collision avoidance, rear cross-traffic alert, lane-keeping assist and smart cruise with stop-and-go.
The Carnival SX review model carries a base price of $42,275, with $495 added for the ceramic silver paint for a sticker price of $42,770. Three lesser-priced trim levels are the EX, beginning at $38,775, the LX and LXS. A higher-priced trim is the SX Prestige.
The Carnival carries a 10-year/100,000-mile limited powertrain warranty and a 5-year/60,000-mile limited basic warranty.
The Carnival, built at Sohari, Korea, will compete with the Chrysler Pacifica, Honda Odyssey and Toyota Sienna. Minivan sales, like those of midsize sedans, have been on the decline in recent years.