Bronco 4-door to pit Ford, Jeep in sales race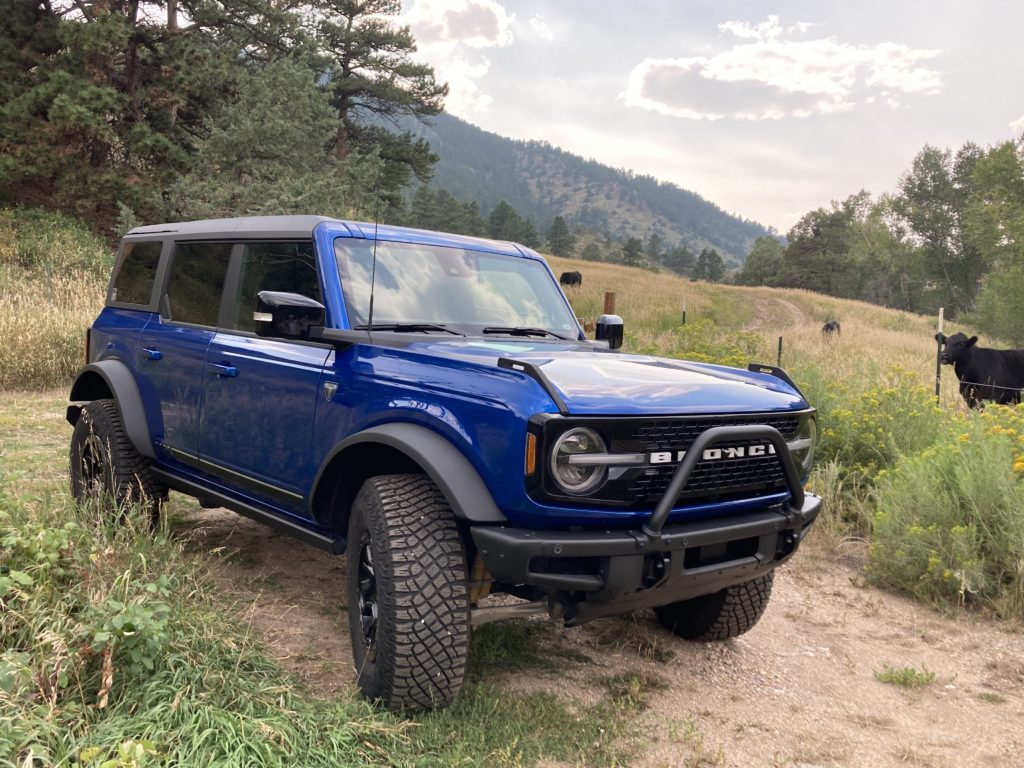 Ford vs. Ferrari, it's now on the shelf.
Ford may be stirring for another race – Ford vs. Jeep, subtitled Bronco against Wrangler Unlimited, 4-doors, of course.
Ford's been without a Bronco since 1996 and for the past 15 years has watched Jeep sell thousands of Wrangler Unlimiteds. So the Dearborn boys went back to the drawing board, got busy and created, first, the small Bronco Sport which we drove in May, and, now, the big, four-door Bronco.
Take a look at the Wrangler Unlimited; then another glance at the Bronco First Edition Sasquache. Yep, it's a sales race in the making.
The big Bronco gets up and down the hills with power to spare from Ford's optional 2.7-liter EcoBoost twin-turbo V-6 mated to a 10-speed automatic transmission; it delivers 310 horsepower and 400 lb.-ft. of torque. Standard engine is a 275-hp turbocharged EcoBoost 4-cylinder. Considering the Ford's near-5,000-pound weigh-in, the EcoBoost V-6 is definitely a more satisfactory choice.
We climbed and twisted our way in the Bronco to Glen Haven on the Devil's Gulch road between Drake and Estes Park. We stopped at the Glen Haven General Store, visited with Steve and Becky Childs, and shared one of her cinnamon rolls.
A switch on the shifter is used to engage manual-mode control of the 10-speed. Driver-selectable G.O.A.T. (goes over all types terrain) modes include Normal, Eco, Sport, Slippery and Sand, with Baja, Mud/Ruts and Rock Crawl for off-roading.
On our return drive back to the east, I stopped for 10 or 15 minutes, tossed a line into the North Fork of the Big Thompson River, and took home a brown trout.
Production of Ford's previous generations of Bronco ended in 1996; it was a big, two-door model. One Denver Ford dealer purchased dozens of the final model, staged a big sale. Doug Freed and Karrie Mowen, working associates of mine, rushed out and bought one each; both were well-satisfied. Manual mode shifting is engaged with a switch on the shifter.
The all-new Bronco family includes a Bronco two-door, first-ever Bronco four-door model and all-new rugged, small SUV, Bronco Sport
The First Edition Sasquatch I drove is equipped with an advanced 4X4 system with automatic on-demand engagement between 2Hi and 4Hi. With the auto engagement, the 4WD setup will send torque to the front wheels for improved performance under all types of road conditions. The doors and roof panels are removable on the Bronco.
The review model averaged 18.2 miles per gallon; its EPA estimate is 17 in city, 17 on highway.
Sticker price on the 2021 Ford Bronco First Edition Sasquatch is $63,210. It is built in Wayne, Mich. It rides on Goodyear Wrangler Territory MT LT315/70R17 tires.