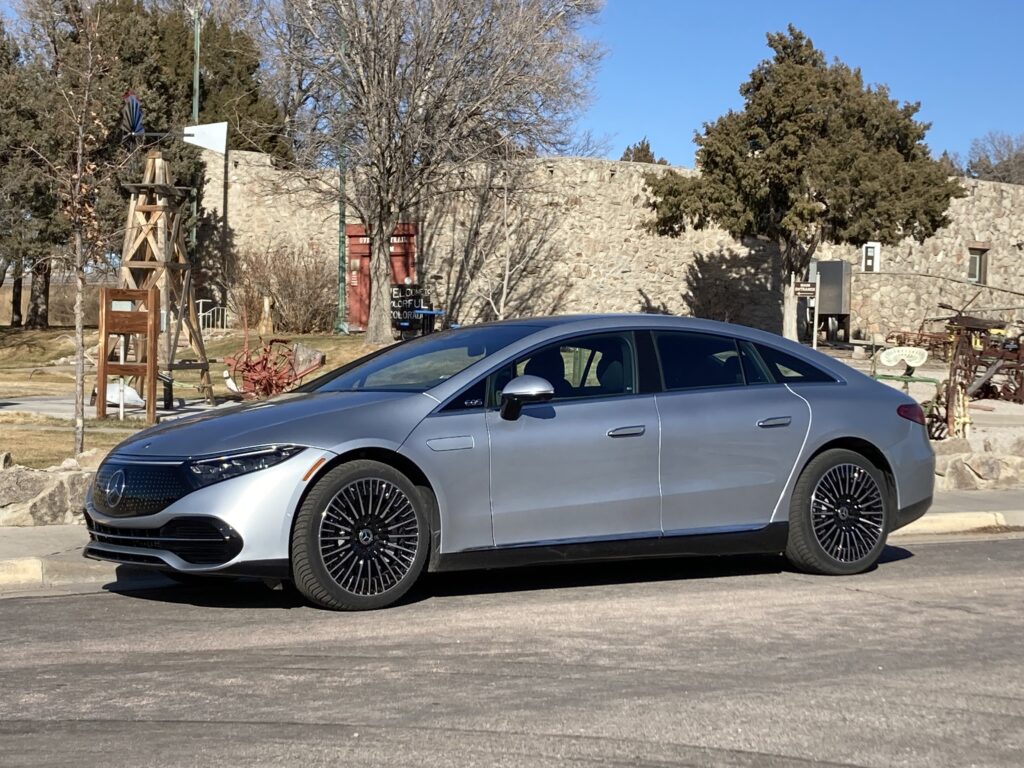 Its acceleration, perhaps, is the smoothest of anything I've driven, ever. And the quietness ranks right up there, too.
The 2022 Mercedes-Benz EQS450 all-electric luxury sedan, with air-spring suspension, uses rear-steering at low speeds in which the rear wheels turn up to 10 degrees in opposition of the fronts, cutting the turning radius from 42 feet to just under 36.
It is the most aerodynamic production car in the world with drag coefficient of 0.20.
The EQS is noticeably lengthy, 207.3 inches overall on a wheelbase of 126.4 inches, same as the new S Class four-door with internal-combustion engine.
The EQS450 rides atop a 107.8-kWh lithium-ion battery pack; driving its rear wheels is a single electric motor of 245 kW producing 419 lb.-ft. of torque and 329 horsepower. Transmission is direct-drive single-speed. Its estimated driving range is 350 miles.
For a comparative measure with the Ford Mustang Mach-e GT I drove last month, the Mercedes is 21 inches longer in overall length, with a 9-inch-longer wheelbase and curb weight of 5,700 pounds (700 more).
Sticker price on the rear-drive EQS450 is $122,100; for about $20,000 more the EQS580 will offer all-wheel-drive capability and an electric motor at each axle for an amazing performance from 516 horsepower and 631 torque.
The smooth operation of the EQS450 suited me just fine, and its soft leather and wood trim interior, with soft-pillow headrests and three large info screens across the 56-inch-wide glass-covered dashboard were superb.
With the help of Dylan Blanton and Brenden Broyles at Greeley Nissan and its ChargePoint connector, the Mercedes battery was charged with 291 miles by the time we left for a drive northeast to Sterling.
We enjoyed a birthday lunch with my sister, Norma Wagner and Dave, and a birthday dinner that evening with Jan's cousin, Don Carey and Audrey, at Hot Spot Smokehouse. Sterling is 100 miles northeast of Greeley, double that with the return drive and add some miles driven about town; on our completion we had 70 miles remaining on the Mercedes battery, so used 221 miles, which is approximately the amount of miles driven. Regenerative braking and descent of altitude brought savings of miles on the trip down, but that gain was erased by some climb and use of headlights on the return.
Mercedes information says with DC Fast Charging, the battery can be recharged from 10 percent to 80 percent in 31 minutes, and that charging with a 240-volt connection takes a little more than 11 hours. I added 90 miles to the EQS in a 24-hour charge from a regular 120-volt outlet at home.
A fixed hood covers a cabin air filter and other items. Since there is no opening, a small cup swings out from the driver-side fender as a receptacle for pouring fluid into the windshield-washer reservoir.
The hyperscreen package, head-up display, black microfiber headliner, air control with fragrance, ambient lighting and other options raised the price from a base of $103,560 to the $122,000 mark. The EQS is built at Sindelfingen, Germany.