Wind cuts charge in all-electric Volvo XC40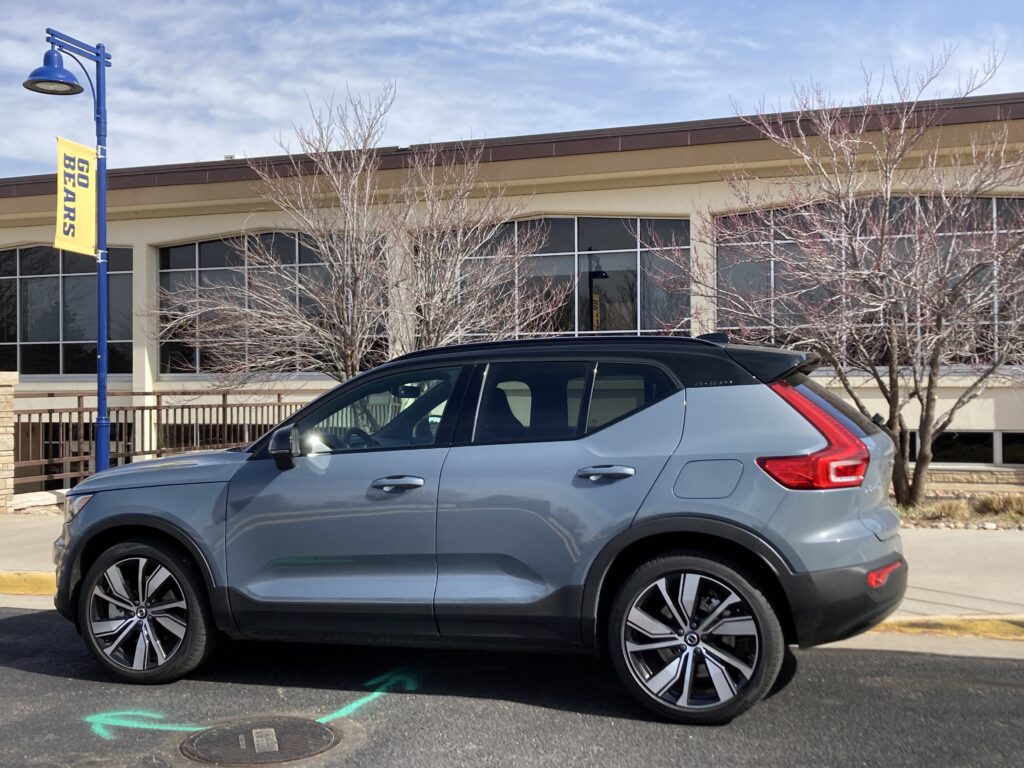 Another all-electric, the '22 Volvo XC40 Recharge Twin Ultimate, rolled quietly into my driveway, the fourth fully-electric I've driven in March and April 2022.
The Recharge is Volvo's compact offering, beautifully styled from its short hood up front, over its sharply raked windshield and black cap roof, to its high-riding spoiler and large, wavy taillights at the rear.
And performance-wise, things were going so well, from Greeley to DIA for dropping off a passenger for her flight to Atlanta, on down south to pick up our finished tax returns, back east for lunch stop at New York Deli News, then over to AB&C for supplies.
Heading out of Denver northward toward home, the driver-information center estimated the Volvo had 80 miles of energy stored in its big battery pack. "That's plenty to get us home (50 miles away)," I reassured Jan.
But those terrible winds which have dominated our spring weather thus far hit us at about 120th Avenue.
The all-important digital reading of projected miles began rapidly dropping by 5's, to 75, to 70, to 65, to 60. At about 25, most all the excess mileage from the easy morning drive had been eaten up and we weren't yet to the Berthoud Exit. Thinking of where I might find a charger in Loveland, if we made it that far, the message center asked, "Want to locate a charging station?" "Yes," I punched.
"12 miles to one on Berthoud Parkway (west of I-25)," we were informed and followed the map guidance to a ChargePoint station at the Berthoud Recreation Center at Waggener Farm Park.
We connected the heavy charge cord from the cargo space in the Volvo, and in 28 minutes a total of 82 miles had been added to the car's battery at a cost of $11.57. We headed home with no problem. Volvo claims maximum range for the Recharge of 210 miles.
The XC40 Recharge uses electric motors totaling a combined 402 horsepower and 486 lb.-ft. of torque at its axles, with single-speed transmission and a 78 kWh lithium ion battery pack; it is easily handled and acceleration is very quick. It also makes available 4Motion all-wheel drive. It rides on Pirelli Scorpion all-season 235/45R20 tires. Much of my drive was in one-pedal mode with regenerative braking in effect.
Getting used to lack of a start/stop button took some time. With keypod in pocket, slip into the driver seat, buckle up, move shifter to D or R, push accelerator and drive away. After parking, simply push the P button and exit the vehicle (with pod still in pocket).
Seats are comfortable, with stitched leather bolsters on either side of the semi-suede cushion inserts. The Recharge is 174.2 inches in overall length, with wheelbase of 106.4 and a hefty curb weight of 4,700 pounds.
Price tag is somewhat heavy, too, at sticker of $60,090, including surround-view camera, Harman Kardon premium audio, inductive smartphone charging, adaptive cruise, park assist, headlight high-pressure cleaning.
The XC40 Recharge is built in Ghent, Belgium.