Corolla adds style to hybrid mpg for Toyota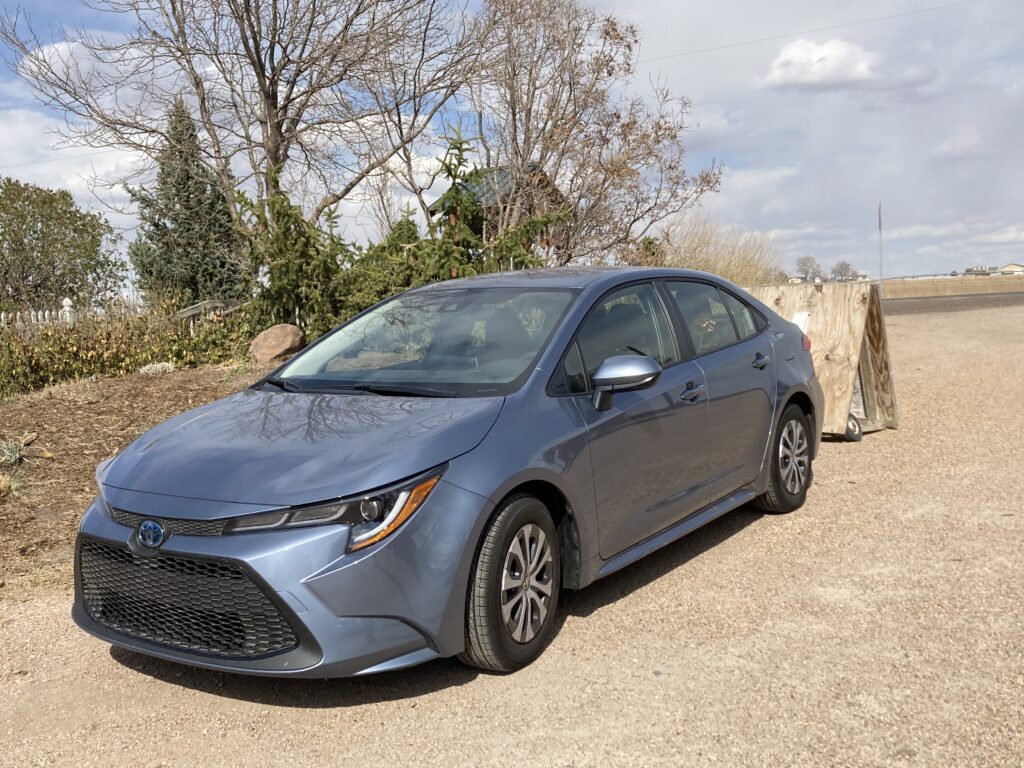 This country's expected eventual move away from the internal-combustion engine got a truckload of attention with production of the 2022 Ford F-150 Lightning all-electric pickup.
Most of us aren't yet ready to turn to fully electric for our transportation needs.
Some, though, are transitioning partway with purchase of gas/electric hybrid vehicles.
The most economically successful hybrid of the past 20 years is the Toyota Prius, which has depended upon extremely high fuel mileage to override a perceived lack in level of comfort and conventional exterior style.
By slipping a Prius power package into the third-best-selling-sedan in the country, Toyota came up with what perhaps is a far-more-appealing hybrid in the 2022 Corolla. It is available only in the LE, a lower trim level. The setup is a 121-horsepower Atkinson cycle 1.8-liter 4-cylinder gas engine, two dual permanent magnet synchronous electric motors, an electronic continuously variable transmission and, beneath the rear seat, a lithium ion battery, positioned to aid weight distribution.
The one I drove for a week was priced at a relatively low $27,191 with synthetic leather seats, cruise control, satellite radio, lane correction and automatic emergency braking.
The Corolla hybrid's fuel usage is EPA-estimated at 53 city/52 highway miles per gallon.
It was my main source of travel last week for 350 miles, including 110 miles from Greeley to Denver and back, several other highway drives and lots of in-town stop-and-go maneuvering. The transition from gas to electric power is very smooth.
The front-wheel-drive Corolla is a fairly slow, mild performer in its default driving mode, Eco; I used its Power mode at least half of those 350 miles for increased throttle response and steering pressure.
That didn't seem to affect its high fuel mileage, which ranged from around 56.6 mpg to 58 on the readout in the driver-information screen; I couldn't imagine it achieving that level of mpg through all the varied drives I made, so after 322 miles, I pulled into a service station gas pump, filled the Corolla's tank – it took 5.6 gallons for 322 miles, averaging 57.5 mpg. That is excellent.
An upgraded interior, besides the synthetic leather, includes heated front seats, power driver seat with lumbar support, leather-trimmed steering wheel, 8-inch touchscreen. Tightly positioned tiny buttons for cruise control on the steering wheel lend themselves to occasionally canceling the set speed when the intention is to increase or resume the pace.
The Corolla's curb weight is 2,850 pounds on wheelbase of 106.3 inches and overall length of 182.3. Wheels are 15-inch, with front struts and multilink rear suspension. Trunk space is only 13 cubic feet.
The Corolla Hybrid is assembled at a Toyota plant in Aichi, Japan. The Corolla was introduced into the U.S. was back in 1968.