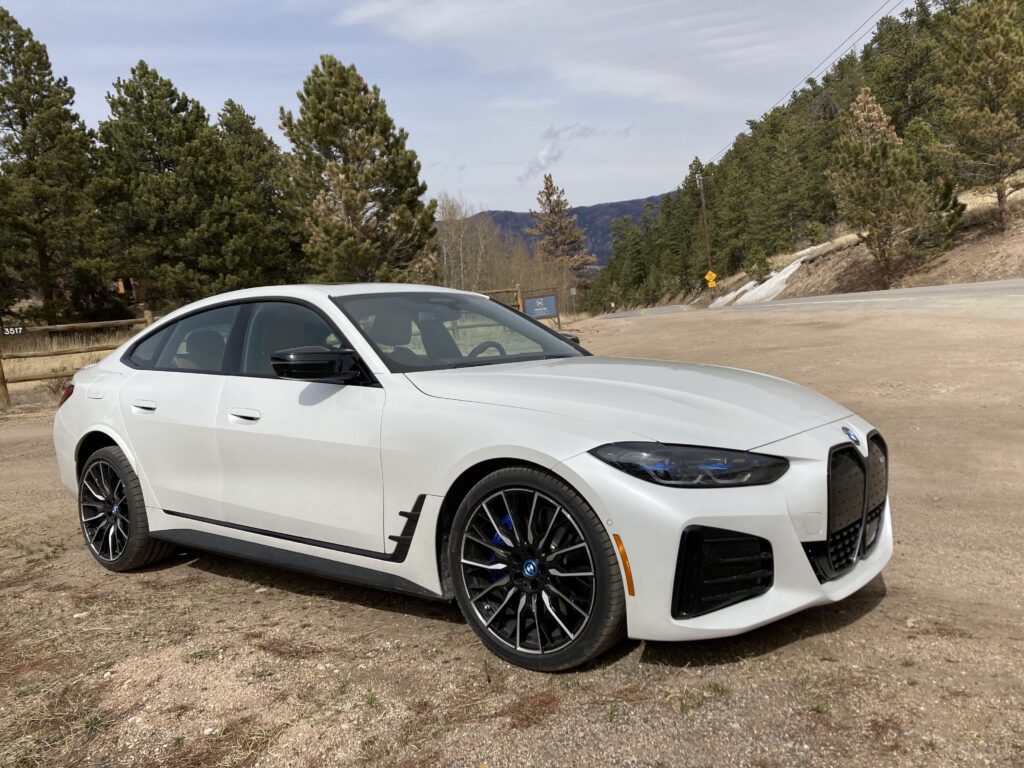 The third all-electric vehicle in six weeks came my way in April in the form of the BMW i4 M50 all-wheel drive, a coupe-styled four-door hatchback. It is the first electric car developed by BMW's M performance division.
The i4 M50 is a synchronous dual-motor "gran coupe," with a motor at each axle with combined 536 horsepower and 586 lb.-ft. of torque. A liquid-cooled lithium-ion battery pack of 81.5 kWh provides a projected driving range of 200 to 225 miles. Transmission is single-speed, direct-drive.
Two other recent electric tests were with the Ford Mustang Mach-e GT and the Mercedes-Benz EQS450.
On a Sunday, after church, Jan and I drove the BMW west into the mountains and enjoyed four hours of highway straightaways, narrow rural roadways, hill climbs and descents, short sprints, corners and bumper-to-bumper slowdowns at Estes Park.
Center of gravity for the low-slung, relatively heavy i4 is 1.3 inches lower than for the 3 series sedan. It's a road-hugger with agility. Handling has been the long-term forte for the Bimmers, dating back to the "oh two" models of the '60s and '70s.
And the power, oh, my gosh, off the line is near the quickest and twisting those uphill switchbacks is done in full-bore low, and beautifully loud, yes, characteristic engine roar in sport mode has been added with guidance of German film score composer/Academy Award winner Hans Zimmer (hired by BMW in 1919 to create sounds for electric concepts). Those 16-inch brake discs inside the 20-inch wheels lend some feeling of security.
Predicted range in the BMW's battery had topped out at 202 miles as we began our Sunday drive. On return to our garage at home, we'd driven 100 miles and the battery pack had 50 percent of its energy remaining, a favorable performance for the i4. Though it used excess in the climb-dominated first couple of hours of the trip, the return was filled with descent which moved energy use into the frugal column. Most of drive was split between comfort and sport plus use, though on return I occasionally enabled Eco Pro for more regeneration of energy and controlled speed.
The i4's handles are flush with the door sheet metal and easily slip off fingertips as they're lifted upward for opening. Legroom in the four-door hatchback is tight in the rear-seating area. An audio upgrade for the BMW electric is the 16-speaker Harman Kardon surround sound system.
The BMW i4 electric competes against Tesla Model 3, Ford Mustang Mach-e GT and other midsizer EVs. While the Tesla is slightly longer in wheelbase, 113.2 inches to 112.4, the BMW is almost 4 inches longer in overall length, 188.5 to 184.8.
Price of the BMW i4 M50 climbed from a base of $65,900 to $77,070 sticker with the following options:
High-performance M tech $2,500, driver assistance $1,700, HUD curved display $1,000, adaptive LED with laserlight $1,000, heated seats/steering wheel/lumbar support $950, parking assistant and active park-distance control $700, mineral white metallic paint $550.
BMW also offers a single-motor i4 eDrive40 of lesser power and more range.