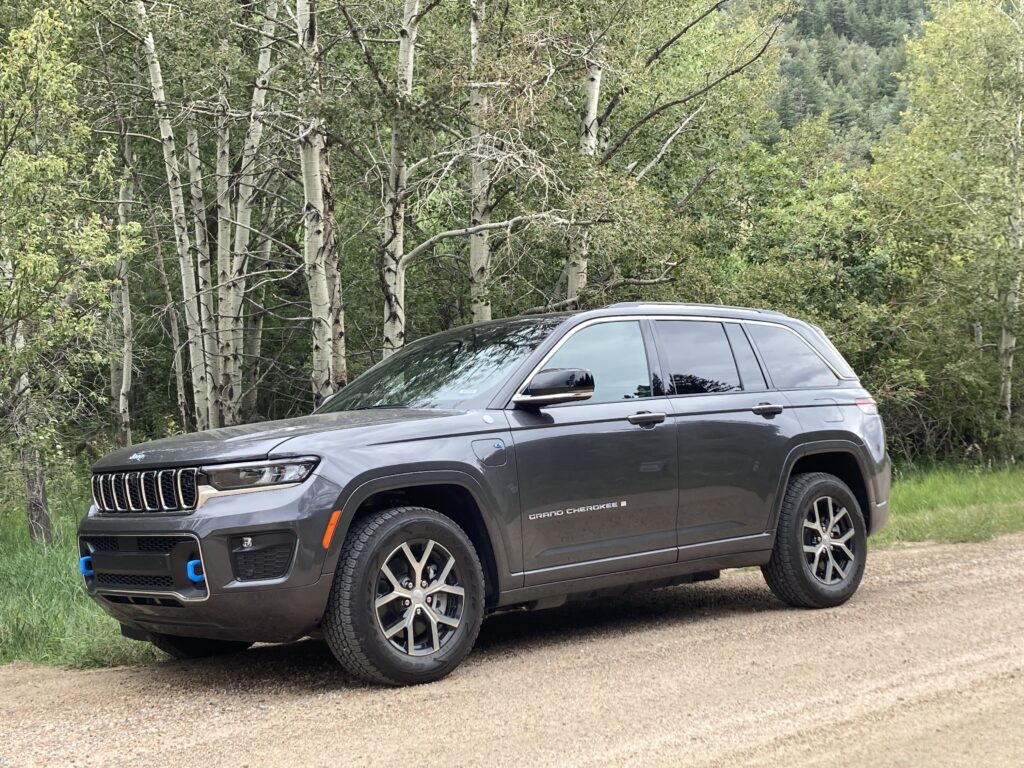 When the Wrangler, toughest Jeep of them all, was tested successfully last fall with the 4xe plug-in hybrid system, it became a must that the much-more-refined Grand Cherokee would soon get its turn.
The occurrence, for me, came with arrival of the 2022 Jeep Grand Cherokee Overland 4xe with a turbocharged 2.0-liter, 4-cylinder engine of 270 horsepower/295 lb.-ft. of torque with 8-speed automatic transmission. It is assisted by a belt-driven 44-hp motor and a 134-hp electric motor for combined horsepower of 375 and 470 torque. Electricity is stored in a 400-volt,17kWh lithium-ion battery pack which provides 25 miles of all-electric power. As long as there is charge in the battery pack, its 375/470 power rate exceeds that of the long-used 5.7-liter, Hemi V-8 internal-combustion engine.
The 25 miles of electric drive will, of course, lift the Jeep's fuel mileage and can be controlled by switching among three modes – Hybrid, Electric and E-Save, which shuts off the electric use. And, yes, with a bit of forethought, a driver can use the mode-switches to attain relatively high mileage readings.
I saved 20 miles of the battery pack for a return drive in descent from the mountains; for 91 miles we averaged 37.9 miles per gallon. For 318 miles of varied roads and terrain during the week, the overall average was 27.3.
Transitioning from electric to hybrid can result in a rough shift. The Grand Cherokee rides on Goodyear Wrangler 265/60R18 tires.
The small battery pack can be charged overnight from a 120 outlet; with 220, it can be done in 2 hours.
As we drove into the little mountain village of Glen Haven and parked at the General Store, across the street sat two pristine-looking Chevy Corvettes (a 2007 and 2005). Right out front of the store were two couples at a picnic table enjoying the daily-baked cinnamon rolls of the business. Yes, the Vettes belonged to them; Daryl and Lorraine McCown, Tim and Ann Krall of Estes Park. They had read, the day previously, my column in The Post featuring the 2023 Corvette Z51 Coupe.
The Grand Cherokee was redesigned this year, boasts a luxurious interior and continues to offer a compliant ride. The review model's only exterior indicators are front tow hooks in "electric blue" and blue "4xe" badges.
From a base just over $65,000, Jeep ran the sticker price to$75,303 with these options among others: Uconnect 5 Nav with 10.1-inch touchscreen display, Nappa leather seats, wireless charging pad, back massager for front seats, passenger-seat memory, 2nd-row window shade, four-zone temperature control, head-up display, surround-view camera, offroad group and rear backup camera washer.
Pleasant audio delivery comes from the 19-speaker McIntosh MX950 Entertainment System, including a 10-inch subwoofer for added bass quality and three small speakers atop the dash.