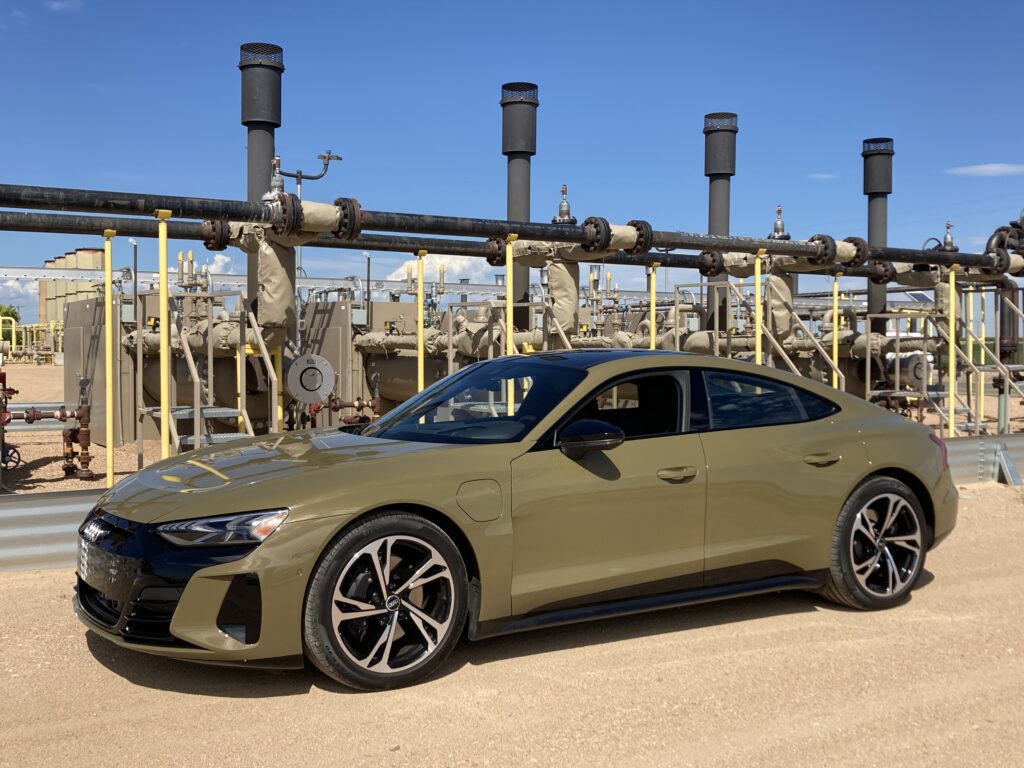 The all-electric automobiles, such rarity just a couple years ago, continue to roll in for review in much greater number.
The most recent to me in August, the 2022 Audi e-tron GT quattro, is the 10th fully electric I've driven thus far this year. Previously were the Chevrolet Bolt EUV, Ford F-150 Lightning, Kia EV6 Wind, Volvo XC40 Recharge, BMW i4 M50 Gran Coupe, Mercedes EQS450, Ford Mustang Mach-e GT, Hyundai Kona EV and a short run in the Tesla Model Y.
Lack of a working air conditioner in the Audi e-tron, combined with daytime temperatures in the mid-90s, limited full testing procedures. "The air conditioning system is not available due to malfunction," was the message delivered from within the Audi.
In order to avoid need for AC in the e-tron, Jan and I early on a Sunday morning headed over Fort Collins way for an outdoor breakfast at The Back Porch, north on Lemay Avenue. For our return drive, temps had risen into the high-80s, though with side windows partially open and by engaging the ventilated front seatbacks we felt fairly comfortable.
We pulled back into the garage at 11:30 a.m., having driven 58 miles and used up 61 miles of range from the Audi battery pack. With 94 miles of range remaining, I plugged the e-tron's charger into a 120 outlet in the garage.
Twenty-four hours later, before noon Monday, the plug-in had added 33 miles for a range available of 127 miles, a mild recovery, even for the 120 source. The Chevy Bolt EUV I drove the week previously added range with 120 at almost double that rate.
The sleekly built Audi e-tron GT is finished in tactical green metallic, a color maybe dismissed at first glance, though probably more favorable with familiarity to the electric sedan. Headroom in the rear seat is limited from the extreme slope of the roof. It has a small frunk (front-end trunk under hood).
The e-tron uses the same 93.4 kWh battery pack as does the Porsche Taycan, and dual electric motors (one for each axle) provide excellent all-wheel-drive service. The Audi's driving range is 238 miles, considerably lower than the Mercedes-Benz EQS450 electric. Regenerative braking is much lighter than many other electrics.
Three drive modes are comfort, dynamic and efficiency, with electronic power steering very quick. After startup, a bit of noise sounds as though an engine is running. It's not from the motor or any driving part of the e-tron, it is an Audi soundtrack providing simulated engine noise. I liked it, Jan thought it was kind of goofy. The Audi's MPGe is 81 city, 83 highway.
The interior is luxurious, with well-bolstered Nappa leather seats, Bang & Olufsen sound and user-friendly infotainment setup.
The Audi's pricey sticker of $118,740 includes $7,200 for a prestige package of adaptive cruise, active lane assist, Bang & Olufsen sound and head-up display; $6,000 for a performance package of rear-wheel steering, e-torque vectoring, 20-inch five-spoke design wheels and high-gloss black grille. Also added are the Nappa seats, remote park assist, Audi connect, wireless Apple CarPlay and wired Android Auto.