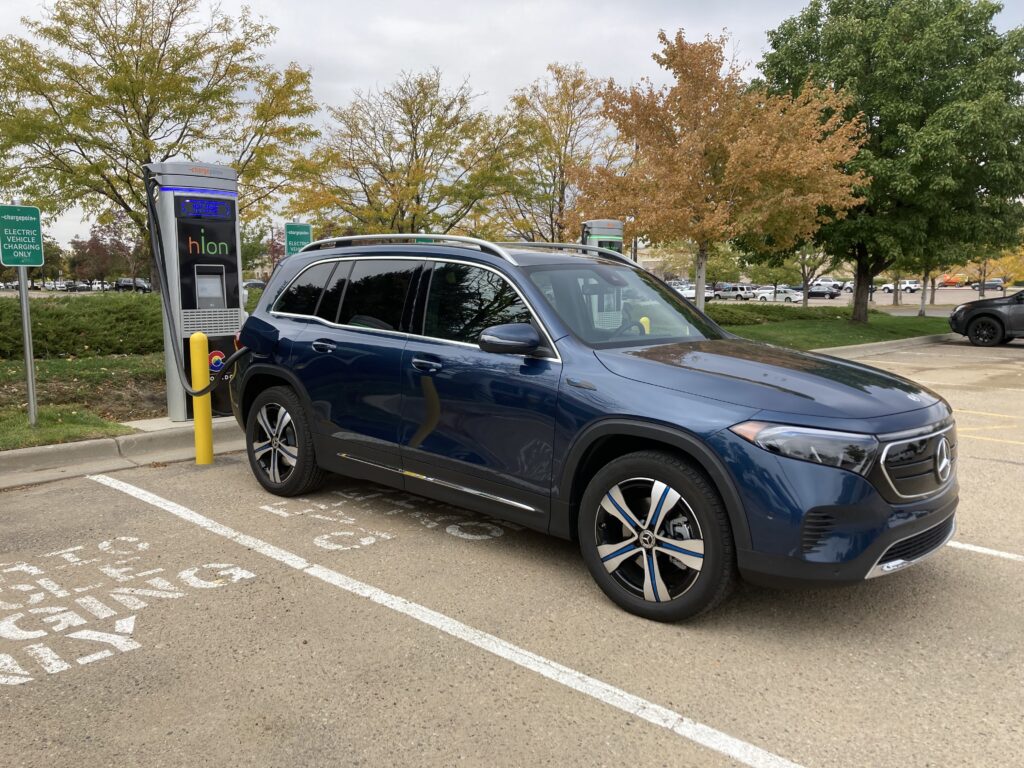 The 2022 Mercedes EQB350 all-electric SUV awaited me at 7:20 a.m. on an October Friday; I slipped into the pilot seat heading to Denver for breakfast with some old driver friends.
The EQB is a compact, smaller and much lesser-equipped than the full-sized EQS electric I reviewed in March.
Settled into the very firmly bolstered seatback, the EQB provided me the quiet ride expected in a luxury electric SUV. It is quick of steering and very responsive in performance. I left my house toward Colo. 60 and Platteville, then turned south on U.S. 85.
Almost instantly on feeding the address into the navigation system, it provided a mapped route and suggested I would be to my destination a couple minutes past 9.
That destination is the Original Pancake House – Cherry Hills out south on University Boulevard, Greenwood Village, where awaiting me were seven retired men who spent some years driving for the agencies which provide new cars and trucks for my automotive reviews in The Denver Post. They are Richard Husted, Lorren Ballard, Jim Boonstra, Pat Leonard, Ken Ruter, Roger VanStedum and Keith Warner. Also there as invitees were Melissa Schulte and Brooke Mutzbauer of Elk Grove Custom Homes.
A 70.5 kWh lithium-ion battery pack when fully charged delivers a driving range of 229 miles for the EQB 4Matic. The drive of 136 miles to the restaurant and back to Greeley resulted in a 159-mile reduction from the battery.
Much of the excess miles drawn from the battery occurred during the return trip, in which the U.S. 85 miles from the early drive were replaced with 10-12 miles-per-hour faster speeds on the return on I-25 as far as the Loveland interchange. Speeds near 80 seem to deplete battery charge at a higher rate than below 70 mph. The battery is covered with a Mercedes warranty of 8 years/100,000-miles.
I boosted range in the Mercedes at a charger in the parking lot at a Village Inn at Greeley, adding about 125 miles in 30 minutes for a cost of $22.90, including a parking charge of $1.50.
The 2-row, 5-passenger EQB, assembled in Kecskemet, Hungary, comes in at $60,100, just half the $122,000 sticker on the high-end EQS I reviewed in March. An optional third row is available on the EQB, but it becomes very tight in space.
An adjustable regenerative braking system is standard on the Mercedes. What is missing are lane-departure warning and lane-keeping assist, both are optional. Most luxury electrics and even cheaper models I've driven have been equipped with those two safety features.
The EQB350 is relatively heavy with curb weight of 4,718 pounds; overall length is 184.4 inches. Its front and rear electric motors combine for 288 horsepower and 384 lb.-ft. of torque. Driver can select among Comfort, Sport and Eco modes.
An interior highlight is the 64-color ambient lighting; also standard are panoramic roof, power liftgate and backup camera.
The EQB is rated at 98 city/93 highway in MPGe (miles-per-gallon of gasoline-equivalent, an EPA unit of measurement for the electric car's energy-consumption level).