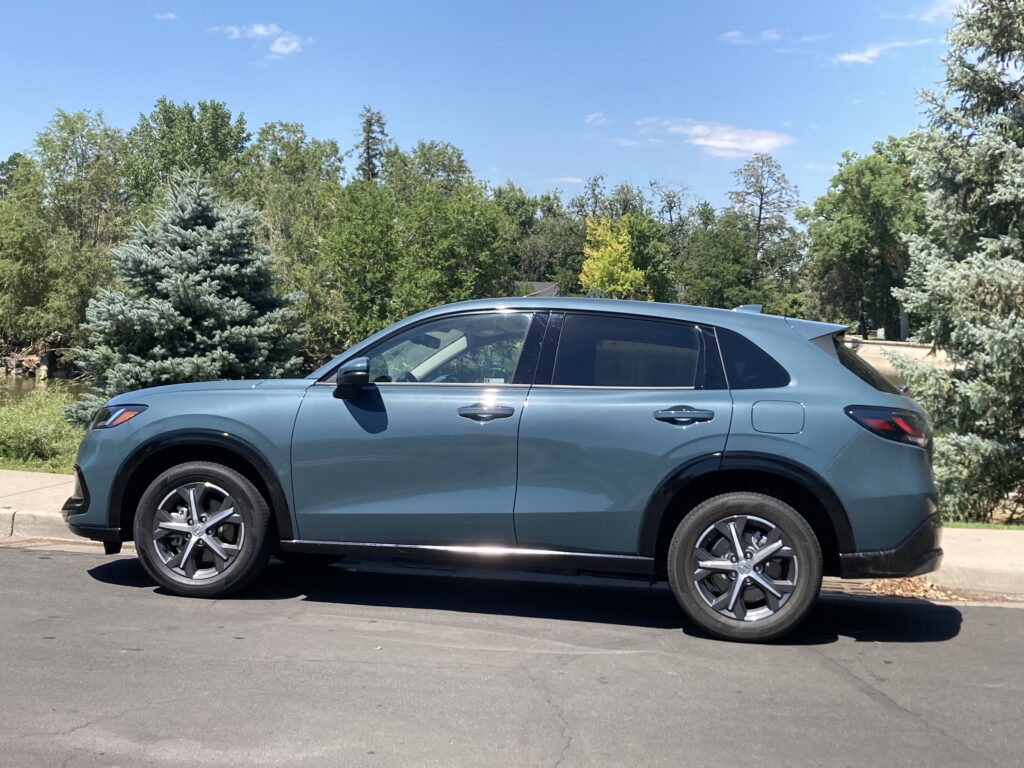 With 20 models competing full-throttle for attention in the subcompact SUV market, "it was essential that we upgrade now," said an official of the Honda car company.
It is a statement supporting the launch of the 2023 HR-V All-Wheel-Drive EX-L model for Honda.
The HR-V, along with the CR-V, Accord and Civic, are top four sellers among 10 models in the Honda lineup.
The new HR-V is 9.4 inches longer and 2.6 wider than the '22 model; that comes up only 2 inches short of the company's compact-sized CR-V in length. From its new grille to the clearly defined rear window with spoiler, the HR-V is aesthetically pleasing.
Its outward visibility is good and added as standard safety items are automatic emergency braking, lane-departure warning with lane-keeping assist and adaptive cruise control; it seems to be priced right at just over $30,000.
Any hopes for a swift move to the top of the subcompact SUV listings, though, will be slowed by the 158-horsepower, 2.0-liter 4-cylinder engine and continuously variable transmission. It is smooth enough for around-town and cruising the highway, but when a need arises for a surge of power, it is matter of patience. It lacks in acceleration.
Kim Parker, Jan and I, enjoying a drive to Saguache in late July, headed east in early August to join Kurt, Tammy, Ryan and Erik Wells at their weekend retreat at Jeffrey Lake near Brady, Neb., after a brief stopover at Sterling with Dave and Norma Wagner.
I-76 east of Julesburg leads to I-80 near Ogallala, Neb., and from there to Brady and onward the highway is filled with large freight-carrying trucks maintaining speed limit of 75 miles per hour and passing right along with all the travelers in cars and pickups. To safely mix in with the heavy traffic, it is important to have at hand strong passing power in order to move in and out of the passing lane; this is where the HR-V lags. For the 500-mile trip, the HR-V averaged 28.2 miles per gallon (EPA estimate 25-30).
The HR-V, which shares its enlarged platform with the Honda Civic, is equipped up front with nice leather seats, very comfortable, with decent legroom in the rear seat and good rear cargo space which held all our luggage.
The Honda had plenty of road noise, riding on Hankook Kinergy GT 215/60R17 tires. Its drive modes are normal, eco and snow. Handy are a wireless phone charger in the center console and tiny overhead capacitive light for each side of rear seating area ala airliner travel.
A $30,590 sticker price included a user-friendly 9-inch touchscreen with multiview rear camera, remote-start and dual-zone automatic climate control.
Among the many competitors in the subcompact SUV category are Mazda CX30, Subaru Crosstrek, Hyundai Kona, Kia Soul and Seltos, Buick Encore, Jeep Renegade and others.