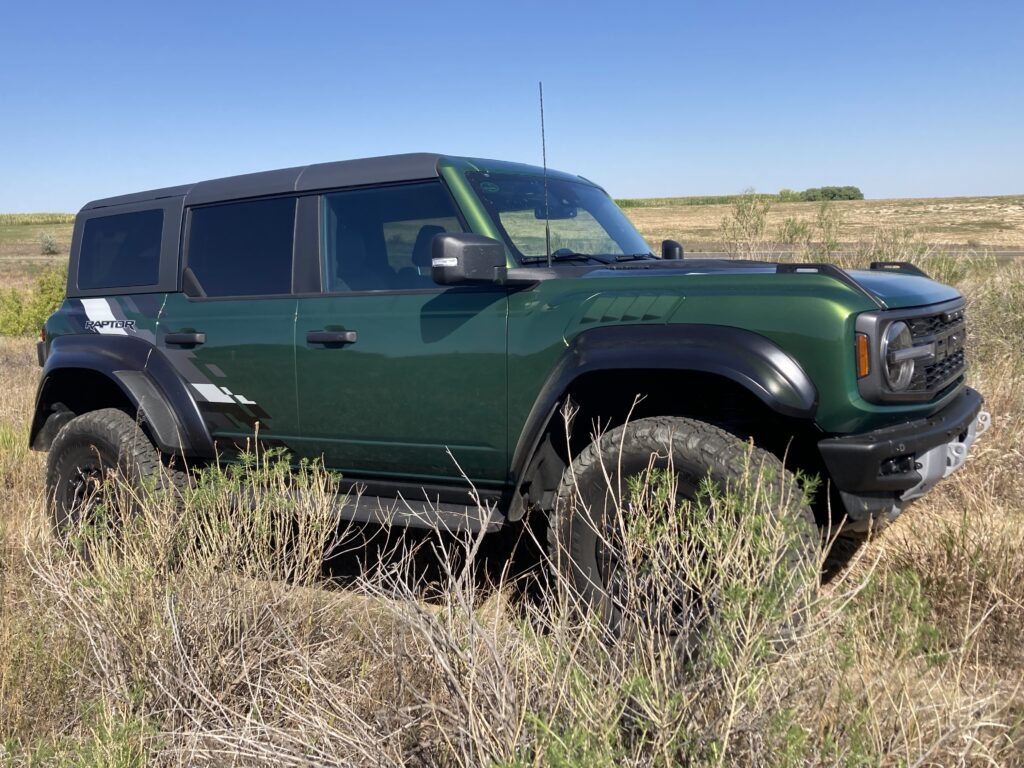 Ford casts a huge shadow with its new Bronco Raptor.
It's big and wide. How wide? A fraction short of 86 inches; that's 10 inches wider than a standard Bronco.
And it stands 6 ½ feet tall.
It rides on 37-inch tires ‑ 37X12.50R17LT B.F.Goodrich All-Terrains.
The Raptor is a ground-gainer for Ford in the newly revived Jeep/Bronco rivalry. A challenger to the Bronco Raptor is the Jeep Wrangler Rubicon 392, lifted 2 inches with upgraded shocks, topped off with a 6.4-liter Hemi V-8 squeezed under the hood.
The 5,730-pound Raptor is equipped with a 3.0-liter V-6, tied to a 10-speed automatic transmission, putting out 418 horsepower and 415 lb.-ft. of torque. Derived from Ford's 2.7-liter EcoBoost, it's a V-6 twin-turbocharged, direct-injection engine created by increasing the 2.7's cylinder bore from 83 millimeters to 85.3 and by lengthening piston stroke by 3 millimeters to 86.
Smoothness seems most dominant and satisfactory with the Ford 3.0-liter, particularly in midrange power, until a deep push into the throttle offers a surprisingly strong, quick response.
Atop the center console, convenient for the driver, is a terrain management system dial G.O.A.T. (goes over any type of terrain) which selects drive modes from Normal/Sport/TowHaul/Slippery/Offroad/Baja/ Rock Crawl. Magnesium paddle shifters add to the fun experience of manual-mode performance. Sport mode, for instance, increases pedal response and steering feel; Slippery lowers throttle response and optimizes shifting for the conditions.
The Raptor's ground clearance of 13 inches and long-travel suspension lend it traction over passages in the back woods that may turn back competitors. Ford claims the vehicle is capable of fording stream depth up to 3 feet (don't try this).
In addition to a relatively short, offroad climb and some in-town maneuvers, we drove to Sterling for a visit with sister Norma Wagner, recuperating from a fractured hip. A niece, Jana Lock, who drives a Ford Expedition, saw what we were driving, climbed into the driver's seat, proclaimed it an immediate favorite.
That 200-mile highway drive and another 100 miles from roundtrip to Denver, brought fuel-mileage readings of 17-plus mpg. The slower times, offroad and about town, were in the 14 to 15-mpg range.
Mounted to a swing gate at the rear is a spare wheel/tire and brake light which extend into the back-glass area, hindering view directly behind. A 360-degree camera is handy, and when backing the rearview camera turns on automatically.
Its exterior finish in eruption green metallic with Raptor graphics makes the big vehicle stand out among others. Amber daytime running lights emphasize the large FORD lettering at the grille.
Raptor fender flares, equipment and graphics added $3,770 to the $68,500 base price of the 2022 Bronco four-door Advanced 4X4. Sticker total reached $78,090, with other options beadlock wheels, interior carbon fiber pack, orange seatbelts and keyless entry.