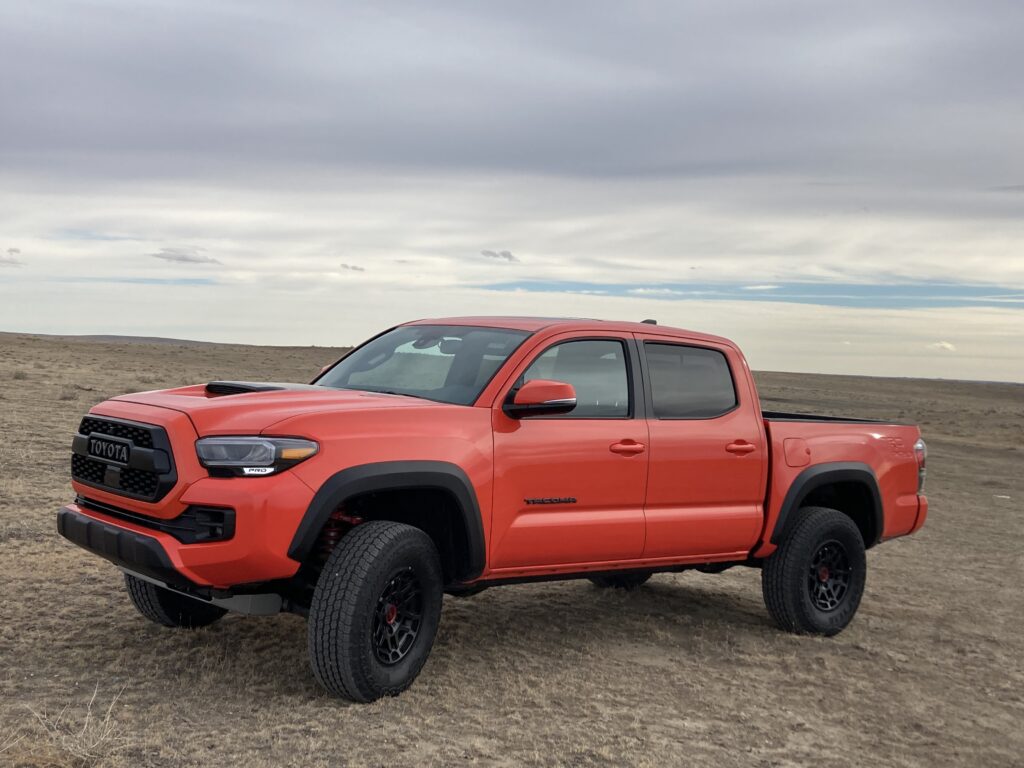 Sporting Toyota's newest color of solar octane, a vivid and bright orange, the 2023 Toyota Tacoma TRD Pro pickup carried us out north on a late November afternoon, then off to the east through some dryland ranch country before returning home.
The next morning was snow time (5 inches deep), lending better test of the Tacoma's TRD Pro setup of 4-wheel drive/traction control/electronic locking differential and 9.4-inch ground clearance. We had no trouble handling the winter blast; Tacoma is one of the best 4X4 systems among compact pickups.
Among major competitors for the Tacoma are the Jeep Gladiator, Nissan Frontier, GMC Canyon, Chevrolet Colorado and Ford Ranger. The Tacoma is the best-seller.
In line inside the A&W at Eaton for a bit of lunch at the start of our drive up northeast, I struck up a conversation with a gentleman wearing a Colorado School of Mines sweatshirt. Dave Scriven, president of Western States Mining Consultants of Casper, Wyo., was on his way home from Golden, where on Saturday he watched the Mines' Orediggers outlast Minnesota State, 48-45, in the NCAA Division II football second round.
Scriven, who played football for Mines in the late 1960s and received his degree in 1970, was driving a Ford F250 turbodiesel. He seemed very knowledgeable of the automotive field and we were in agreement that the F250 among full-size pickup trucks and the Tacoma among compacts were standouts.
A resounding point of dissent, though, came from him when I ventured an opinion that, with the rush of electric cars and trucks to the U.S. market, those traditional internal-combustion-engine-powered autos will share a 50/50 split in sales with the new electrics for some time.
Scriven doubts that will develop; "We (the U.S.) don't have enough electricity to support such a transition of electrics," he said. I enjoyed the exchange and wished Scriven and his Mines gridders "best of luck down the road."
As for the '23 Tacoma review model I was driving, it is equipped with TRD-tuned Fox internal bypass shocks, front skid plates and front and rear suspension lift. It is extremely capable offroad, though it lacks instant low-gear rpm performance from either its base 159-horsepower, 4-cylinder engine or its optional 278-hp, V-6. Its 6-speed automatic transmission seems dated, also. A 6-speed manual tranny is available with the high-end TRD Pro trim. The review model, with the V-6, averaged 18.6 miles per gallon overall (EPA estimate is 18-22).
Toyota's sticker price on the Tacoma TRD Pro climbed to $51,229 with the offroad enhancements, dynamic radar cruise and lane-departure alert, leather-trimmed heated front seats and premium audio touchscreen with subwoofer and amplifier. Lesser-equipped Tacoma 4X4's begin in the low $30,000s. The Tacoma was built in Guanajuato, Mexico.
While townspeople will "ooh" and "ahh" over the bright orange color, it might be best to park it far from the duck blind on those cold winter mornings for hunting.