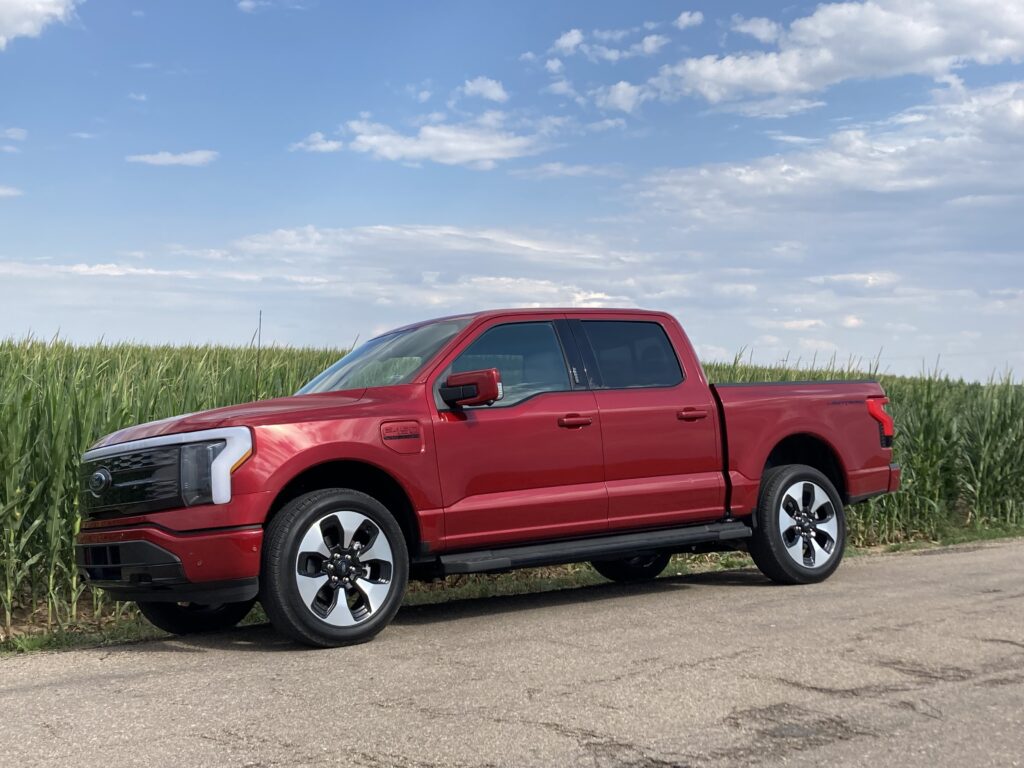 The 2022 Ford F-150 Lightning delivered more than I anticipated during the week it was in my possession.
It is very comfortable, easy to drive. The electric power generated great initial acceleration, and did it very smoothly, more so than a traditional V-8-powered pickup. It claims a 10,000-pound towing capacity.
Its 320-mile range was reassuring, and easily recharged. Four of us – Jan and me, Bill and Kathy Allen – were aboard for a drive into Denver from Greeley. After our return, the Lightning had covered 133.5 miles, and the range available had been depleted by only 122 miles.
The frunk (front-end trunk under the hood where the engine would have been in traditional truck) offers good storage space, easily accessed.
A 15-inch touchscreen infotainment system is excellent, as is the BlueCruise hands-free driving assist.
The all-electric powertrain includes a 131-kWh battery pack and a pair of electric motors, one for driving each axle. The crew cab's 5.5-foot bed houses a two-way charging system that can power an entire job site.
Due to unusually strong demand, the Lightning's 2022 model was sold out earlier in 2022; orders for new model year will resume in late summer. And yet, we must mention a couple of drawbacks to all this.
The review model I drove is the high-end Platinum trim level, with the extended-range battery pack and sticker price of $94,004. An F-150 Lightning can be bought in the $45,000 to $60,000 range, but it is the standard version with range of only 230 miles, and its two electric motors combine for 452 horsepower, a lesser amount than the Platinum's combined 580 horsepower.
Regarding the extended-range power; sure, it is stout as can be and will haul or pull a load, 7,000 pounds, 8,000, 9,000 and more. A load to the farm or ranch, or nearby camping, not so noticeable. A long haul, though, and that 300-mile range, some say, may drop by half, maybe even more. And the lesser-powered standard-range trim has tow capacity of only 7,700 pounds.
The Lightning's 48-foot turn circle seemed a bit wider than most traditional half-ton pickups and tended occasionally toward understeer.
Suspension is relatively soft for the Lightning, partly due to its utilization of a semi-trailing arm setup with progressive rate coil-over springs and a stabilizer bar. On their traditional gasoline and diesel-powered pickups, Ford, Chevy, GMC, Toyota and Nissan have used leaf springs for suspension of rear of their solid-axle pickups. Ram on its 1500 pickup suspends the live axle with five links and coil springs.
The Lightning Platinum is on a wheelbase of 145 inches, is 19 feet/3 inches in overall length, with curb weight of 6,350 pounds. Brake rotors are 14-inch in front and 13.8-inch at the rear. The truck's GVWR is 8,250 pounds.
Beginning prices for the various Lightning trims are Pro $41,769; XLT $54,769; Lariat $69,269; XLT Extended Range $74,169; Lariat Extended Range $79,169; Platinum Extended Range $92,669.