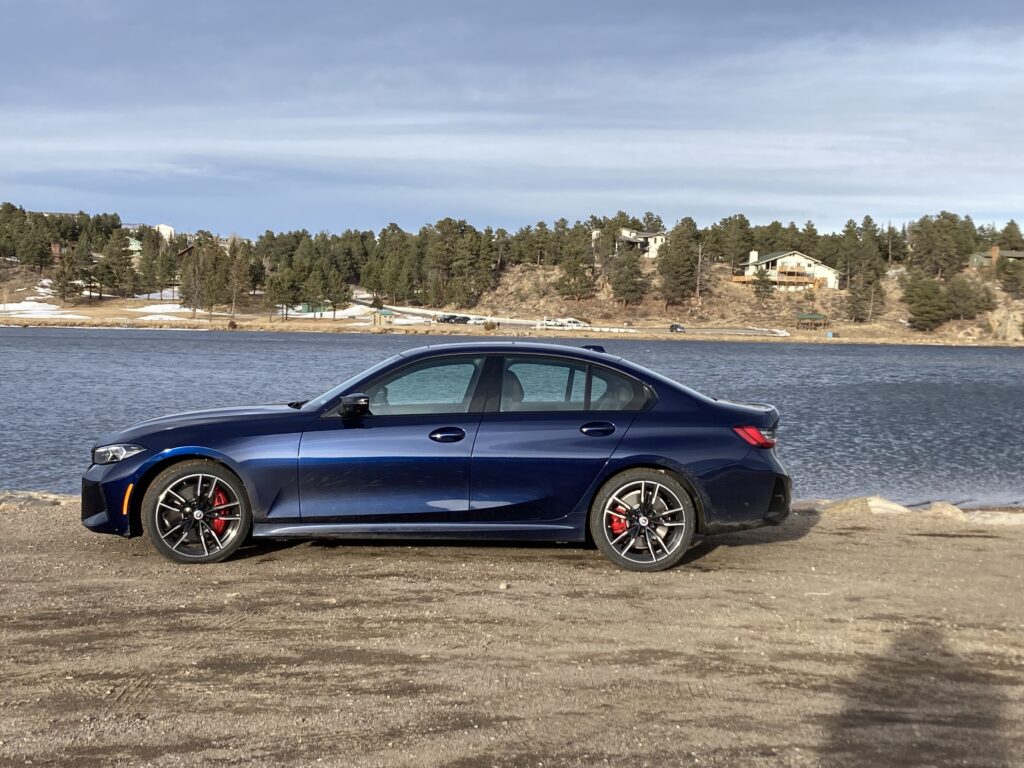 An 8-inch snowfall Wednesday morning, Jan. 18, set the course between my house and Starbucks for the 2023 BMW M340i four-door sedan and me, and with xDrive all-wheel control and Bridgestone Turanza all-season touring tires the low-slung Bimmer's grip was as good as I expected.
Streets in my neighborhood had not yet been plowed and the BMW churned through the deep pile with minimal hindrance.
The snow test was a bonus, for Jan and I had made a 135-mile run on Friday of last week through some mountain canyons – finessing the curves in these areas are where the BMW builds its rep for handling.
I've driven lots of BMWs. Lots of Mercedes, too.
Both of the German premium car builders are still producing wonderful sedans. When BMW sent the 2023 M340i xDrive here, I mentioned that it is a competitor of the Mercedes-Benz C class 4Matic AMG.
"Of those two brands, which do you suppose you've driven most," I was asked. "Does anyone keep track," he continued.
"I do," I said, "I keep track." Over the past 45 years, even with a few diversions from the driving duties, I've tested 108 BMWs and 103 Mercedes. That's not as many as the number of Fords and Chevys that have come my way, but it is more than the Hondas and Subarus.
What an enjoyable drive it was aboard the Bimmer M340, over to Loveland, on up U.S. 34 as far as Drake, then the back road through Glen Haven to Estes Park, slipping onto U.S. 34 as far as the entrance to Rocky Mountain National Park, and back to Estes, down the canyon and home.
I've made this drive many times, and let me say of the BMW M340, its cornering capabilities may be the best of anything I've piloted to Estes. My first-ever run up the canyon was in my 1948 Ford V-8 two-door sedan in the summer prior to my senior year in high school many years ago.
Complementing the longtime sportiness of the 3 series in recent years is noticeably more comfort and softness.
The review model was equipped with BMW's famed 3.0-liter, twin-turbo, inline-6-cylinder of 382 horsepower; tied to its 8-speed automatic transmission is a 48-volt mild hybrid system of added horsepower for a boost in passing power and added acceleration. An M sport package delivers adaptive suspension, steering and differential.
The M340 is 185.7 inches in overall length, with wheelbase of 112.2 inches. At 17 cubic feet, its trunk space is larger than that of the Mercedes C300 sedan.
The mountain drive in the M340 recorded fuel mileage of 27.8 miles per gallon, right in the middle of the EPA estimate of 23 city and 32 highway.
The BMW's sticker price of $67,160 included Harman Kardon surround sound, dynamic cruise, heated steering wheel and mocha vernesca leather.