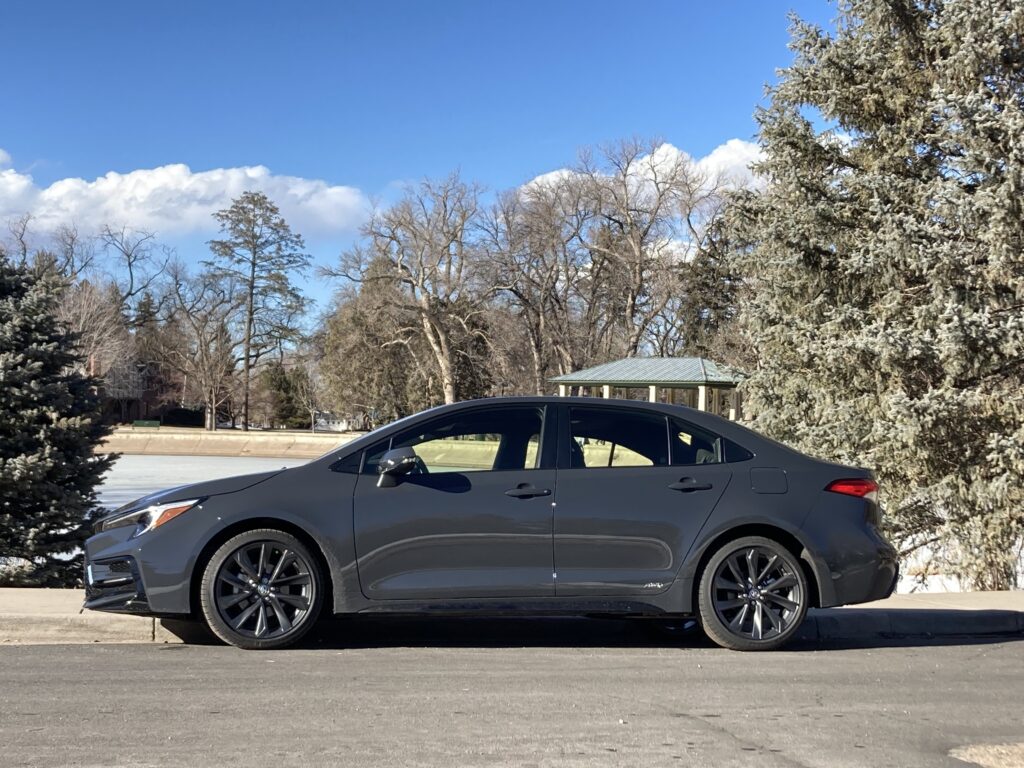 Okay, friends, this one's for all of you who have suggested I drive a car of much-lesser expense on occasion.
It's a popular compact four-door sedan, a gas/electric hybrid with expanded horsepower.
And, if the hybrid feature isn't enough especially for us Coloradans, its maker has added all-wheel drive, which is put to good use in this snowy winter of 2022-'23. All this for $30,000.
It's the 2023 Toyota Corolla Hybrid SE AWD; it illustrates sleekness from its sharply sloped nose all the way back to a short-overhang rear deck.
While the car was parked for a photo at Glenmere Lake in Greeley, neighborhood resident Joan Adams walked alongside it, stopped and commented on how well she liked the exterior color. What color is it, she asked. Well, manufacturers go to great lengths to distinguish their particular choice of hue, such as "solar octane," "midnight lake blue," "diffused sky."
I, too, liked the color and had already checked out its definitive name – "dark gray," I told her. She's driven Toyotas through the years, including a 1986 pickup for 352,000 miles, and seemed quite impressed with the Corolla hybrid.
Horsepower has been boosted from 121 to 138 for the Corolla's power sources, a 1.8-liter 4-cylinder engine and two electric motors. The second motor is rear-mounted to power the rear wheels when needed in response to front-wheel slippage.
Teamed with a continuously variable transmission, the hybrid power still is on the light side, though the transition between front-drive and AWD is seamless. By engaging Sport drive mode, the Corolla accelerates much more responsively than when in Eco or Normal mode. The tradeoff in use of Sport is a decline in fuel mileage.
EPA estimate for the Corolla hybrid is 47 miles per gallon in city, 41 on highway and 44 combined. My overall average after use of all three modes was 40.4 mpg. It rides on Dunlop 225/40R18 tires.
The review model had no power seat, even for the driver, and no heated seats. The interior, boasting good back-seat legroom but somewhat tight in headroom, is fairly plain-looking, with durable sport fabric-trimmed seats. Trunk space is wide, though fairly shallow and amounts to only 13.1 cubic feet.
The Corolla is 182.5 inches in overall length on a wheelbase of only 106.3 inches. Its narrow track is barely wider than 60 inches. Curb weight is 2,850 pounds. It is built at Aichi, Japan.
Pricing begins around $28,000 for the Corolla SE with all-wheel drive and hybrid power; the addition of JBL premium audio, power outside mirrors and blind-spot monitor, boosted sticker price to $30,518. Other trim levels are the cheaper LE and more expensive XLE.
For 2023, all Corolla hybrid models are equipped with Toyota Safety Sense 3.0 precollision system, lane-departure steering assist, proactive driving assist and deceleration assist. Hybrid-related items are covered with an eight-year/100,000-mile warranty and the hybrid battery with 10-year/150,000-mile warranty.