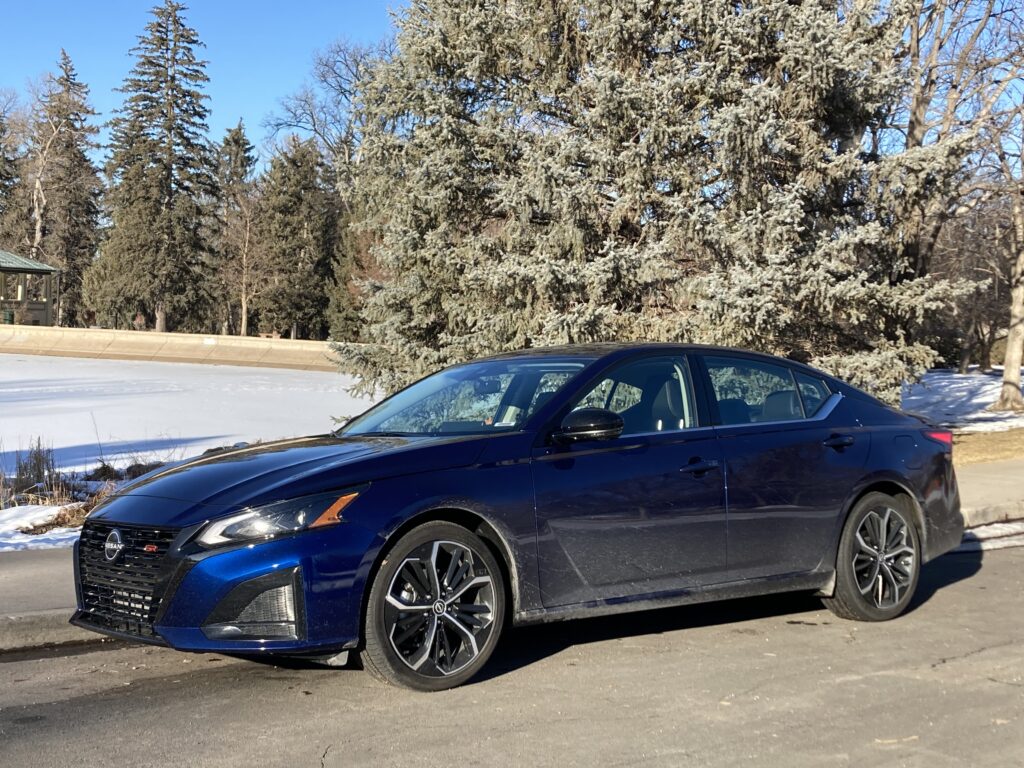 A steady increase in roominess over the years has lifted Nissan's sleek midsize sedan, the Altima, into a competitive position for 2023 with the segment-leading Toyota Camry and Honda Accord. Japan-based Nissan depends on a combination of the Altima and the Rogue compact crossover for almost half of its sales in the U.S. I drove the new Nissan Altima SR four-door into northeastern Colorado.
Also in my possession recently was the 2023 version of the Leaf SV Plus, a front-drive, all-electric, compact hatchback sedan.
On its shiny side, the Leaf has a newly styled grille, a great-looking 5-spoke aluminum-alloy wheel design (if you buy the SV Plus model) and offers a smooth ride.
The other side of the Leaf are the range providers. The Leaf SV Plus is equipped with a 60 kWh lithium-ion battery and 160 kW electric motor for EPA estimated range of 212 miles; The Leaf S has only a 40 kWh battery and 110 kW electric motor for estimated range of 149 miles.
The Leaf, which has been around since 2011, has not been a big seller; it's those relatively low range estimates that have lessened the sales potential.
Leaf pricing starts around $30,000 for the S and $35,000 for the SV Plus (sticker price on the review model brought to me is $36,985). The Leaf last year was 12th-best-selling fully electric vehicle in the U.S.
Back to the internal-combustion-engine-powered Altima, which I drove with Bill and Kathy Allen and Jan aboard, out east on U.S. 34 (and I-76) to Sterling. In visiting with sister Norma and Dave Wagner, Jan Lock and Rick Wagner, we were told Sterling now has a public charging station for electric cars and that work has begun on location for a Starbucks store, reinforcing status for Sterling as the trade center for northeastern Colorado.
Underhood in the new Altima is a 2.0-liter, variable-compression turbocharged 4-cylinder engine of 236 horsepower and 267 lb.-ft. of torque. The turbo boost diminished somewhat the normal drone of the continuously variable transmission (CVT), with paddleshifters also in the mix.
Overall performance was very satisfactory; the Altima averaged 32.4 miles per gallon for the 210-mile drive. Its EPA estimate is 25/34. Aided by the boost, there was no apparent lag in passing power on I-76. Ride comfort was compromised by sport suspension for better handling.
Overall lengths of the top-three-selling midsize sedans indicate how closely aligned they are – Honda Accord 195.7 inches, Nissan Altima 192.9 and Toyota Camry 192.7. In its early years of existence, the Altima was shorter at 185 inches. The Accord's added length contributed to its edge in trunk space at 16.7 cubic feet to 15.4 for the Altima and 15.1 for the Camry.
ProPilot Assist, engaged by a blue button on the steering wheel, keeps the Altima in the center of its driving lane with minimal input from the driver, maintains a preset distance from the car ahead even in slowdowns and accelerations. The ProPilot was first installed in a Nissan product in 2018. Other safety items are automatic emergency braking, blind-spot and rear cross-traffic alert and around-view monitor.
The Altima's appearance became more distinctive this year with new front fascia styling which on the SR trim includes a special "black chrome" grille finish and, inside, a dual-stitch interior fabric design and expanded center-console storage. Rear-seat legroom is a plus.
The '23 Altima, assembled in Canton, Miss., carries sticker price of $36,440, including 12.3-inch color touchscreen display with navigation, wireless Apple CarPlay and Android Auto, Bluetooth hands-free phone system, Bose audio, leather sport seats, power moonroof, heated front seats, leather-wrapped steering wheel and shift knob, traffic sign recognition.
Low-end pricing begins around $27,000; all-wheel drive is available on certain models. Besides Camry and Accord, other midsize competitors for the Altima are the Hyundai Sonata, Subaru Legacy, Chevy Malibu, Kia K5 and Volkswagen Passat.
Production is ending this year for the Nissan Maxima, which competed against the Toyota Avalon in the full-size sedan market.