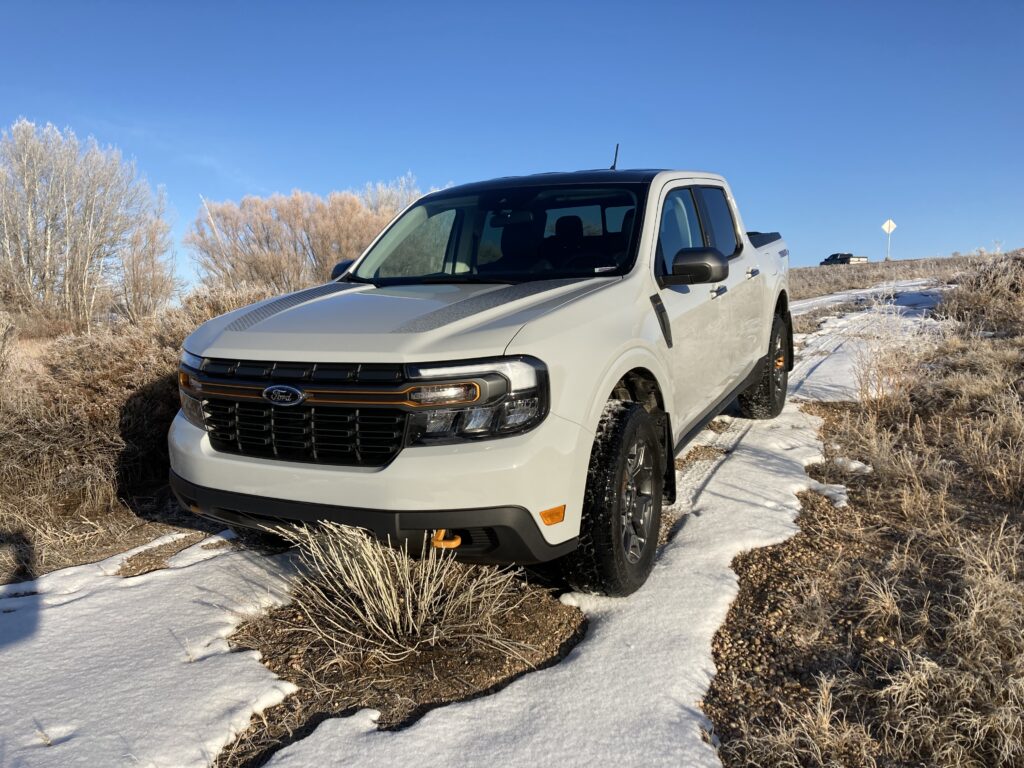 Consumers undoubtedly will be shopping for an electric version of the Maverick pickup several years down the road from now, as Ford apparently is waiting only for an expected decline in battery prices before adding the electrified model to the Mav.
The Ford Maverick, which went on sale in late 2021 for the '22 model year, is one of the hottest small pickups available.
In fourth-quarter results reported in January 2023, the Maverick with 22,568 sales outperformed the Chevy Colorado (20,602), Nissan Frontier (19,830) and Jeep Gladiator (17,587) for runnerup position behind the longtime popular Toyota Tacoma among compact pickups.
If Mavericks eventually roll off the assembly line packing electric power, they will complement Ford's lengthy dominance in full-size pickup sales from its F-150 and F-150 Lightning Electric models.
My first test of the little Maverick was in May '22 in its unibodied, front-wheel-drive, gas/electric hybrid version, based on the Ford Escape and Ford Bronco Sport. It delivered an average of 37.2 miles per gallon from its 191-horsepower, 2.5-liter 4-cylinder engine, an electric motor and continuously variable automatic transmission.
Coming my way early this year was the 2023 Maverick with turbocharged gas-only engine, all-wheel drive and the new Tremor Offroad Package, including 1-inch lift for added ground clearance, enhanced front and rear suspension and towing capacity increased from 2,000 to 4,000 pounds with the turbo and AWD, but without the Tremor package.
The turboed 2.0-liter 4-cylinder engine is mated to an 8-speed automatic transmission, generating 250 horsepower/277 lb.-ft. of torque, and its EPA estimate is 22/29 miles per gallon. The Tremor finish lends the Maverick a tougher look, with strong stance. Its bed is only 4 feet, 6 inches in length. The Mav showed solid traction in the snow, with little slippage.
The Maverick is more carlike in ride and handling than, say, the little-bit-bigger Ford Ranger, a body-on-frame pickup. "This is the product for people who never thought they wanted a truck," said Ford President and CEO Jim Farley Jr., of the Maverick.
The '23 Ford Maverick, in Lariat Tremor AWD trim level, carries base price of $29,440; the Tremor option, plus bedliner spray-in and Ford Co-Pilot 360 with adaptive cruise, lane-keeping and blind-spot alert, boosted sticker tab to $37,485. This is almost $10,000 pricier than the front-drive Mav I drove last year.
A very close competitor to the Maverick is the new Hyundai Santa Cruz, also of unibody construction, 4 inches shorter than the overall length of the Maverick, and with a small bed slightly shorter than the Mav's. Volkswagen also is expected to produce an all-electric small pickup in the near future.
Ford officials have hinted that preceding the arrival of an electric Maverick will be a PHEV (plug-in electric hybrid) version.