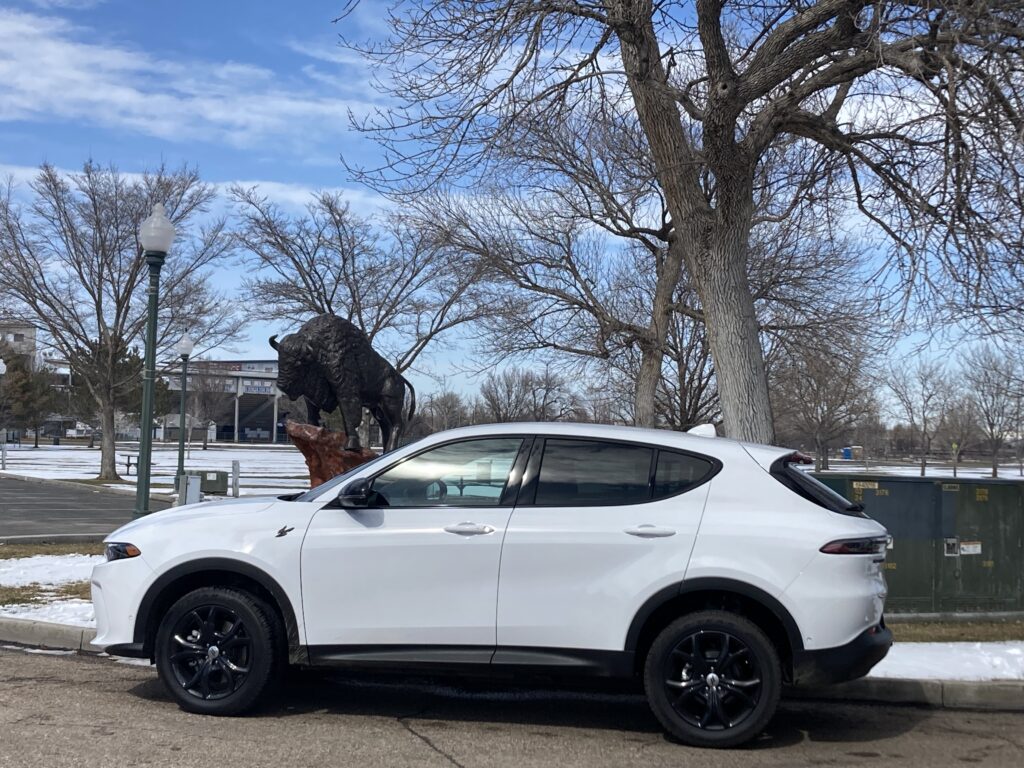 The 2023 Dodge Hornet has been flitting all about Denver and northern Colorado in this cold week of early spring; it didn't sit still till it reached the Colorado Convention Center in preparation for the 2023 Denver Auto Show.
The Hornet, an all-new compact crossover, was listed as one of top attractions as the car show returned to the convention center for the first time since 2020.
The Dodge Hornet GT Plus is powered by a turbocharged 4-cylinder engine, 9-speed automatic transmission and standard all-wheel drive. A plug-in hybrid version, called the Hornet R/T, is expected to go on sale this summer. The gas-powered and hybrid models are the first small product for Dodge dealers since the Dart sport sedan showed up for a relatively short run 10 years ago.
The Hornet is being built alongside the Alfa Romeo Tonale in a Stellantis factory in Naples, Italy.
While the Alfa will compete against luxury competitors Audi Q3, BMW X1 and Mercedes GLA, the Hornet considers its prime challengers are Mazda CX-30, Honda CR-V, Toyota RAV4 and Hyundai Tucson.
Prospective Dodge buyers apparently aren't bothered by the Italian build site, as a company spokesman explained that more than 14,000 orders were received in less than 24 hours after the Hornet's reveal.
The Hornet is a sporty handler, and gets improved performance from a Sport button on the steering wheel which lends an instant boost of 25 horsepower for 15 seconds. Its 2.0-liter Hurricane engine develops 268 horsepower and 295 lb.-ft. of torque.
Front-end enhancements include a "mail-slot"-style grille in the front fascia and integrated heat extractors in the hood. Stiffness-stressed suspension increased handling capability and four-piston Brembo brakes add safety control. EPA fuel-mileage estimates are 21/29.
Inside, Harmon Kardon sound is excellent, and the little Hornet has a real horn, to be heard above the normal street noise.
From a base price around $36,500, the tab climbs to $40,215 with black-finish touches for the "cue-ball" white exterior, active driving assist, intelligent speed assist, surround-view camera and drowsy-driver detection.
Dodge resurrected the Hornet model name, having acquired rights to the name from the Chrysler Corp. purchase of American Motors Corp. in 1987.
I well-remember the original Hornet as a Hudson in the late '40s and early '50s. The Hudson company built cars in Detroit from 1909 to 1954, when it merged with Nash-Kelvinator to form American Motors.