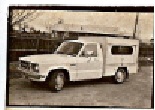 (My first review of a pickup was 40 years ago, the mini-built Ford Courier, which appeared in The Denver Post on April 7, 1979. The Courier was provided by the Denver regional office of Ford Motor Co. Following are excerpts:)
Nearly 10 percent of new trucks sold in the U.S. last year were of the mini-pickup variety.
Driving about Denver in a Ford Courier puts the growing popularity and acceptance of the little units in an understandable light. Because of their small stature, the minis are easy to handle, economical and they'll carry a somewhat respectable load.
The optional 2300-cc, 4-cylinder engine is a good runner and strong enough to handle the duties required of such a vehicle. Cold-blooded tendency is overcome with a manual choke. Mechanically-minded purchasers will be delighted withal the room beneath the hood.
Frequent downshifting is required in city driving, but the 4-speed transmission is an easy shifter. The Courier produced an average of 17.5 miles per gallon of fuel in start-and-stop town driving. The EPA rates the Courier at 22 miles per gallon.
Built for Ford by Toyo Kogyo of Japan, the Courier carries a base price of $4,861, including white-sidewall tires, power front disc brakes, 6-foot box and 4-speed transmission.
Optional items included the 2300 engine (2000 is standard) for $174.20, AM push-button radio for $78.90, tinted glass $28.30, swing-lock western mirrors $51.80 and rear step bumper $83.60. Freight charges of $110 brought the pickup's price to $5,387.80. An unusual enclosed rear body was mounted on the Courier, pushing the vehicle's value to $7,094.55.
The Courier, on a wheelbase of 106.9 inches, has a 1,400-pound capacity for cargo and passengers. Wing windows aid ventilation in the cab, and the unit possesses a fast, effective heater.